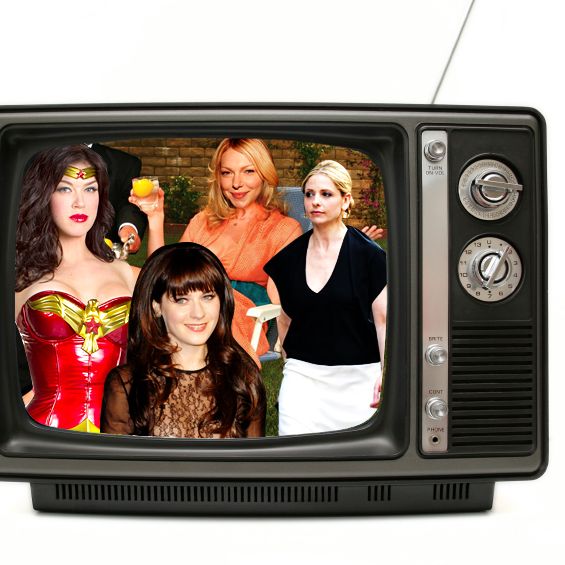 Photo: Danielle Berman/Photos: iStockPhoto(TV), Courtesy of NBC (Wonder Woman), Courtesy of Gallery (book cover), Frazer Harrison/Getty Images for COS (Prepon), Splash News (Gellar), Craig Barritt/Getty Images (Deschanel)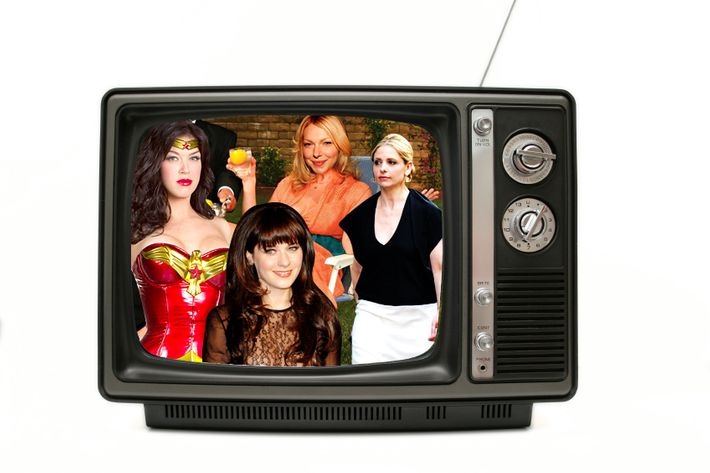 Liz Lemon would be proud: While it's still too soon to say for sure, there's a good chance next season's prime-time lineups could be populated by an unusually large number of new shows revolving around strong female characters, primarily in comedies, but also in drama. According to our industry insiders, plus recent reports in both Variety and Deadline, femme-focused projects are among the most buzzed-about projects as we race toward the week of May 16, when all the major broadcasters (plus the CW and TNT) will unveil their new wares. Even more encouraging: Rather than offering strong women as seen through the eyes of sympathetic male creators (like David E. Kelley or Michael Patrick King), many of these would-be series hail from the minds of scribes with actual lady parts. Read on as Vulture takes the female-friendly contenders for series orders (we left off the CW's development because literally every single show it's working on is about strong women) and breaks them into categories based on the archetypical TV star they most resemble.
The Chelseas
We're used to men behaving badly on TV, from Charlie Harper to Michael Scott. Now, perhaps either playing off the popularity of Ms. Handler or anticipating the success of Bridesmaids (or, conversely, forgetting the abject failure of NBC's Kath & Kim ), TV types are actively mulling making room for the bad girls.
- ABC's Apartment 23, from writer Nahnatchka Khan, features Krysten Ritter as a bitchy party girl who makes Barney Stinson seem domesticated.
- CBS is considering Two Broke Girls, from the oft-slutty mind of stand-up Whitney Cummings; it's got Kat Dennings and Beth Behrs as two barely legal Brooklynites trying to make ends meet.
- Fox puts Zooey Deschanel — fresh off of the ribald Your Highness — at the center of New Girl, a comedy about hooking up from Liz Meriwether (No Strings Attached).
- ABC's Good Christian Bitches revolves around ex-mean girl Leslie Bibb returning home to Dallas following a scandalous divorce. She's trying to clean up her act, but her old pals do their best to live up to the show's title.
- And of course, there's an NBC comedy inspired by this category's namesake: Are You There, Vodka? It's Me, Chelsea has Laura Prepon as a loud young woman inspired by the younger version of Chelsea Handler.
The Roseannes
Remember the nineties, when TV moms shed their robotic June Cleaver smiles and started acting the way any sane woman dealing with screaming kids and immature husbands might act? Perhaps inspired by the modest success of ABC's Patricia Heaton–led The Middle, we could soon see a new wave of cranky (or at least more realistic) maternal types.
- NBC has a half-hour from Parks and Rec writer Emily Spivey starring Christina Applegate as a sharp-tongued working mom (with Will Arnett as her stay-at-home husband).
- Fox's I Hate My Teenage Daughter has Jaime Pressly and Kate Finneran playing women tormented by offspring who are a lot like the mean girls who picked on them when they were kids.
- The same network is also weighing Bent, in which Amanda Peet plays a Type-A mom who's just gotten divorced and is now flirting with a hunky contractor she's hired to "remodel her kitchen." So that's what the kids are calling it these days?
- And then there's ABC's appropriately titled Bad Mom: Jenna Elfman returns to TV as a woman who had been letting her own mom (Frances Conroy) raise her kids. She's now trying to do it herself; hilarity will ensue!
The Buffys
There are so many female crime fighters looking for prime-time spots this year that we've broken them down to two categories. First: Girls who have mystical superpowers.
- You don't really need us to explain the concept behind NBC's Adrianne Palicki–as–Wonder Woman revival, do you?
- CBS, which never met a ghost or angel it didn't like, is behind an as-yet-untitled show in which a woman dies — and then teaches her husband how to be a better surgeon from beyond the grave! Call it Touched by an E.R.
- The same network also has TV's actual Buffy, Sarah Michelle Gellar, as a woman who inhabits the life of her twin sister. We're not sure if she has superpowers, per se, but c'mon: It's Buffy!
- Over at the CW, Heavenly is about a young female lawyer who literally saves people's souls, with the help of an ex-angel. No, really.
- Then there's the as-yet-untitled show starring Poppy Montgomery as an NYPD detective who remembers everything. No, literally: She's got a freakish memory. Do you even have to ask if this is for CBS?
- While there's no crime fighting going on in the CW's Secret Circle, the show's about a young woman who moves to a small town and becomes part of a coven of witches charged with waging war against evil. So, that's sort of like catching crooks, right?
- Finally, we're putting Awakening in this category because the CW drama is about two sisters fighting each other at the start of a zombie uprising. Zombies are sort of like superheroes.
The Cagney and Laceys
Not every gal needs superpowers to solve mysteries and fight bad guys. This batch of dramas offers strong women kicking ass.
- You don't really need us to explain the concept behind ABC's Charlie's Angels revival, do you?
- Or NBC's Prime Suspect, starring Maria Bello in the role we still think only Helen Mirren can handle?
- Hail Mary has Minnie Driver as a suburban mom who moonlights as a private eye. It's on CBS, which did this show more than twenty years ago under the title Scarecrow and Mrs. King.
- ABC's Partners is about two female detectives who are secretly half-sisters. Why they're keeping it a secret, we don't know.
- The CW's Cooper and Stone is about two female detectives who not-so-secretly are good friends.
- The Alphabet also has a new contender from female-empowerment queen Shonda Rhimes dubbed Damage Control; no crime fighting here, but the lead (Kerry Washington) does help people deal with PR crises. That involves some butt-kicking, no?
The Joans
It took a few years, but broadcasters are finally trying to capture some Mad Men mojo — but instead of cloning Don Draper, this category features shows in which retro women take center stage.
- NBC's Playboy chronicles the women who worked in Hugh Hefner's social clubs. It's Showgirls, but with better costumes.
- Over at ABC's Pan Am, the stewardesses (as they were once called) fly the not so friendly, no doubt sexist skies at the dawn of the jet era.
The Mary Richardses
These spunky young lasses are just starting out their careers. Are they gonna make it after all?
- Rachel Bilson returns to TV via the CW's Hart of Dixie, a fish-out-of-water dramedy in which she plays an NYC doc who ends up practicing medicine down south. It's from the creators of Gossip Girl.
- The CW's also behind Danni Lowinski, about a new law-school grad who opens her own office at the mall.
The Rachels
We could've called this category "The Carries," but this is broadcast TV: The romantic adventures of these women in the city will almost assuredly be rated PG. And, if they move forward, they'll mostly be on NBC, just like Friends was.
- The Peacock's untitled Kari Lizer project makes Studio 60's Sarah Paulson a romantically challenged woman who makes like George Clooney and helps people deal with career changes and downsizing.
- NBC also has another untitled comedy, this one written by and starring the aforementioned Cummings. She plays one-half of a young couple trying to navigate rocky relationship waters.
- Former Will & Grace scribe Jhoni Marchinko is behind NBC's I Hate That I Love You, which — assuming it gets on the air — could be network TV's first lesbian love story: Girl meets girl, girl falls in love, girl gets pregnant.
- Fox gets into the rom-com game with Iceland, Andy Bobrow's tale of a young woman (Kerry Bishe) trying to find love with the help of her friends after the loss of a close friend.

DISCLAIMER: We're legally bound to inform you that this Pilot Trend Story contained forward-looking statements that are based on the beliefs of Vulture's editors and reflect our current expectations as informed by agenda-possessing talent agents and network suits. They are subject to risks and uncertainties that could cause actual results to differ materially from those contemplated in those forward-looking statements. In other words, no guarantees, folks! If most of these shows don't get picked up, it could be a total sausagefest in prime time come fall.