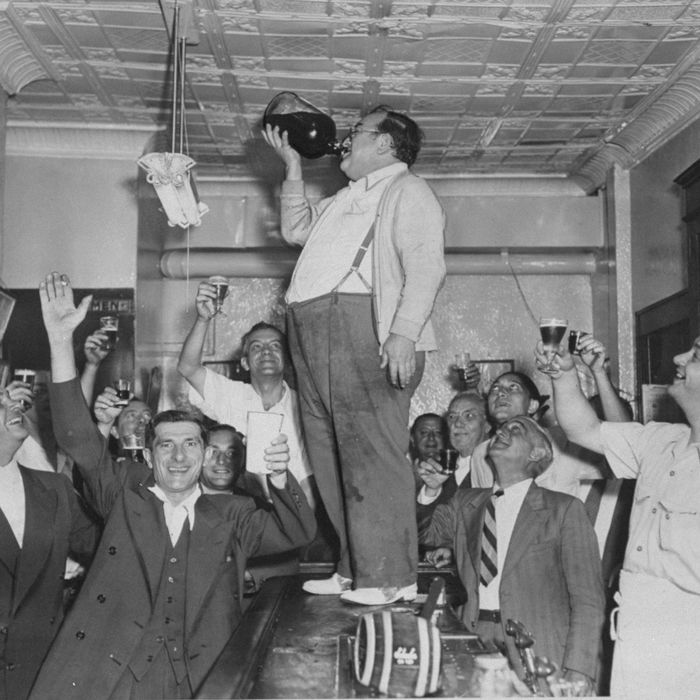 Photo: Bill Meurer/NY Daily News Archive via Getty Images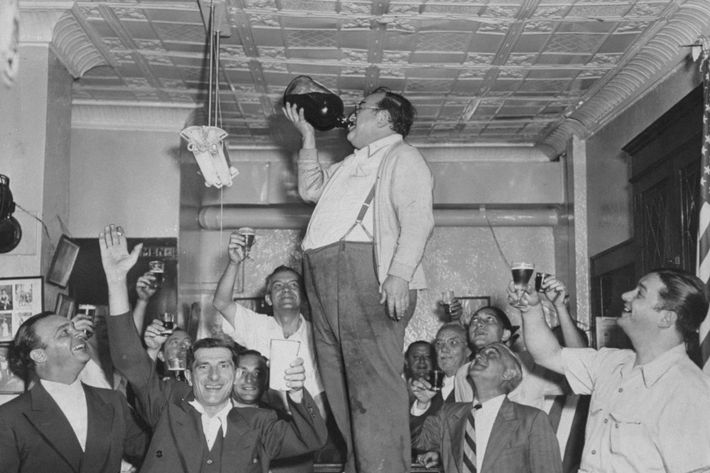 Back in the days when the broadcast networks dominated the media and were flush with cash — we're talking up until about ten years ago — upfront week was a far more glamorous, ritzy, and debauched affair. Shrimp piled as high as Ted Knight! A parade of stars that stretched from here to Loni Anderson! Top-shelf liquor that flowed like Moonlighting dialogue! At the end of another gloriously profitable year, the networks were happy to spend extravagantly to celebrate their successes and look to another year that would be even better. That's a far cry from the current, restrained state of upfronts. This week, the humbled, struggling networks showed a few flashes of razzle-dazzle: cameos by the Warblers at Fox, Xtina and Cee Lo belting out songs for NBC. But for the most part, things have been pretty workmanlike: a few charts and graphs touting ratings, brief clips of shows, an inspirational message or two about the continued power of broadcast TV, and then off to the pleasant but not over-the-top parties. (ABC, which should want to make advertisers forget about its near-fourth-place finish with as much extravagant catering as possible, was once again too cheap to even bother with a bash.) Frankly, it's much more fun to live in the past, so we checked in with a few veterans of those bygone party days to get a taste of what life was like back in the days of broadcast domination. Warning: Pants may be dropped.
The biggest difference between now and then, according to our small-screen historians, was the size and scope of the onstage spectacles. Presentations would sometimes stretch more than three hours, with the stars of both new and returning shows all coming out to talk about their projects. NBC, which has held its upfront inside a Hilton ballroom for the past two years, used to regularly rent out Radio City Music Hall for its unveiling. One year, the Peacock built a giant replica of the Titanic and had it appear to float on to the stage at Radio City, all to hype its 1996 mini-series about the ill-fated ocean liner. In the nineties, Disney-owned ABC had the cast of The Lion King perform multiple numbers during its upfront; a few years later, CBS recruited the Who to tout the arrival of a CSI spinoff. "There was certainly a different ethos … a real effort to put on a show, with the impression that money was no object," says one journalist who's covered the upfronts for upwards of two decades.
The parties that followed the presentations were often just as excessive. One studio chief remembers noshing at the Museum of Natural History, and a few parties were held on aircraft carriers; Tavern on the Green was also a frequent site for revelry. "The major thing I remember is the food," says Steve Sternberg, a former research chief for several ad agencies. Walls of shrimp and other sea creatures were nonnegotiable requirements at these events; these days, it's all about sliders and the make-your-own-sundae bar. Even the parties adjacent to the upfront were bigger: The now-defunct William Morris Agency would rent out the 21 Club on the first night of upfronts for a soiree that would attract virtually every network and studio chief, plus a glittering array of on-camera talent. Suits would trade gossip about which shows were getting picked up and where they were being scheduled; journalists who snagged an invite feasted on an endless buffet of scoops.
Sternberg notes that the parties really weren't sales tool for networks; instead they were more expressions of gratitude. "Remember, until the mid-eighties, the three major broadcast nets controlled 90 percent of the viewing audience," he notes. "These parties were basically a thank-you to clients who were spending millions of dollars with them and really had little choice as to where to spend their money." The upfront orgy was in some ways a celebration of the industry, both for advertisers and those who worked in TV. "There was definitely a last-day-of-school feel to the upfronts," one industry vet says. After all, execs spent all year developing dozens of pilots while simultaneously fighting the ratings battle. The summers were mostly left to reruns, so come May, the net execs were ready to celebrate and relax. And the celebrations sometimes got a bit out of hand.
Those covering the biz would hear much more "talk about bad behavior," our veteran journalist says. He recalls the upfront story "about an executive who had his wallet stolen by a call girl, who lifted it while his pants were around his ankles." A longtime network insider notes that during the eighties, when there was a wave of young execs in power at the networks, it was easy to witness "a heightened level of immaturity on the part of so many supposedly mature high-level execs." It helped that there were no cell-phone cameras around or social-network sites on which such pics could be spread within minutes. "People have to be much more aware of their behavior now since they know any idiot with a cell phone could snap a picture of them and send it to TMZ," the veteran exec says.
This leads us to the upfront tale that became an industry legend: the tale of Warren Littlefield supposedly dropping his pants. As the story goes, passed down from ad buyer to ad buyer, it was a May afternoon in 1994 and NBC — a dominant No. 1 at the time (no, seriously, it used to be on top!) — had just announced a new fall schedule to advertisers that included the stunning and completely unexpected news that Frasier would be leaving its Thursday-night perch and flying to Tuesdays, where it would take on the then-mighty Roseanne. At the network's party after their lavish party, Littlefield, NBC's programmer at the time, allegedly stood up on a bar and mooned the crowd. We called Littlefield to fact-check this once and for all, and he pointed out that the story had been embellished with age. "We were feeling very good about the move and very confident," Littlefield remembers. "So at some point in the evening, as we were all celebrating, I made sure everyone in the place had a drink. And then I got up on top of the bar and shouted out [fully clothed], 'Who says NBC doesn't have balls?'" Today, sadly, the best you'll find is a marketing exec mumbling over a rum and Coke, "Who says we don't have the best cume rating for same day plus seven in the demo of ages 18 to 25 on Friday nights? Oh, Fox does? Never mind then, I'm taking the subway home."