Photo: Mary-Louise Price; Kevin Winter/Getty Images (J.Lo), iStockphoto (crystal ball)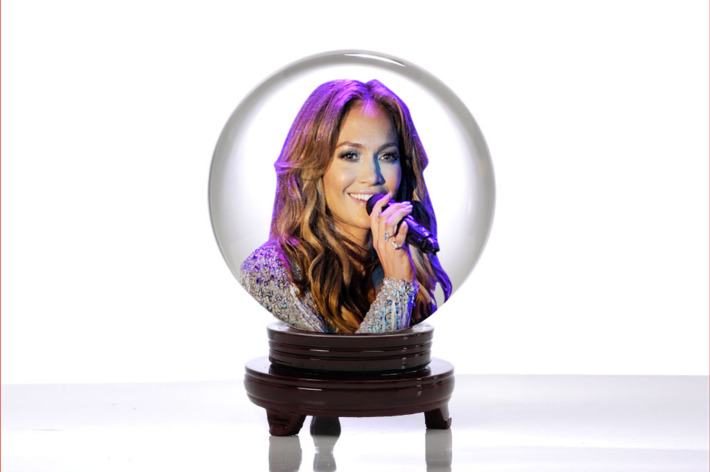 With her penchant for overpraising contestants, Jennifer Lopez is American Idol's own perfectly coiffed sphinx: It's impossible to tell whom she's really rooting for, because she says nice things about everybody. Still, even an impossibly evenhanded judge like J.Lo has got her preferences, and with her new album Love? out this week, we employed Vulture's crack lyrical analysis team to figure out whether Lopez's new songs indicate a predisposition toward Scotty McCreery, Lauren Alaina, Jacob Lusk, Haley Reinhart, or James Durbin. Suffice it to say, after our highly scientific lyric parsing, things don't look good for some of these Idol wannabes.
"On the Floor"
"Grab somebody, drink a little more," J.Lo sings, despite the fact that Scotty, Haley, and Lauren are not yet of legal drinking age. Bias?
"Good Hit"
In this song, Lopez gives shout-outs to many different regions of the country, conveniently skipping over the southern birthplaces of Scotty and Lauren to tout California (home of James Durbin and Jacob Lusk) and, effectively, Haley's home state of Illinois ("I'm Midwest pimp tight," brags J.Lo).
"What Is Love"
But wait! Could the constant, Auto-Tuned repetition of "Na-Na" in her song "What Is Love" indicate a preference for Lauren Alai-na? There is still hope, young one.
"Until It Beats No More"
Why did Jennifer Lopez choose Stefano Langone to go into the finals, and why did she support him so strongly when America kept putting him in the bottom two? Perhaps she's got a thing for contestants with tragic vehicular backstories, as proven by this song: "I survived / I was hurt / Thought I died." And now we know.
"Starting Over"
If you wish Lopez would be just a little tougher on the Idol contestants, it's not going to happen. In fact, the utopia-leaning J.Lo would rather do away with her position entirely, she sings. "I wish that everybody would stop judging / Pointing fingers, its cutting." Steven Tyler is nodding sagely right now. (Meanwhile, Randy Jackson thinks she's in it to win it.)
"Everybody's Girl"
"Can you love her, can you love her, can you love the girl?" J.Lo asks over the soundtrack of a robot rhythmically farting. Can you, America? Because Haley and Lauren would really appreciate it.
"Take Care"
"I need my baby like I need air," Lopez sings in this album closer. "Baby what you want / What you want / Want want?" We can tell you, J.Lo: Babies want to eat, and as the readers of Paul F. Tompkins's recaps know all too well, no Idol contestant is trying harder to get his baby fed than James Durbin. When J.Lo's album asks us "Love?" it's not a rhetorical question: With three songs in his corner, it's clear that her heart beats hardest for Idol's blond rocker.