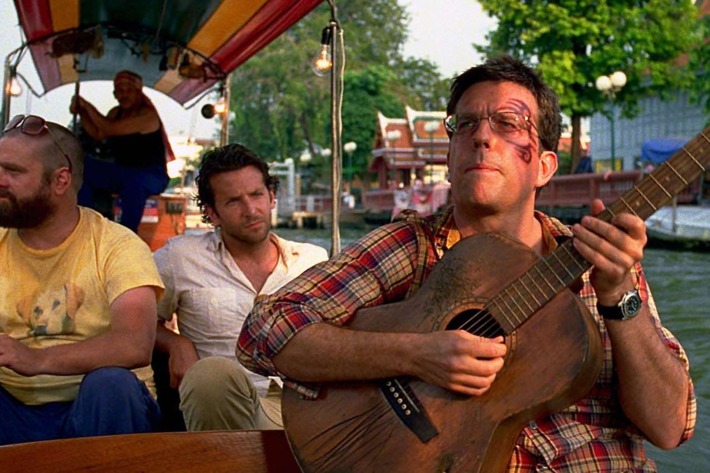 This Weekend's Winner: Memorial Day! This was the highest-grossing Memorial Day holiday weekend ever: $280 million in gross receipts. Way to, um, support the troops, everybody! Also: The Hangover Part II won the title for biggest-ever opening of a live-action comedy.
The Weekend's Losers: DreamWorks Animation's Kung Fu Panda 2 may have grossed an impressive-sounding $62.2 million over the last four days, but its kung fu is not very strong when compared to its immediate predecessor: Panda 2 made $48 million from Friday to Sunday, or a full 20 percent less than the $60.3 million the original Kung Fu Panda made during the same period in 2008.
How It All Went Down: Despite its vaunted place in the bachelor party oeuvre, you don't open to nearly $140 million domestically by appealing solely to guys — and The Hangover Part II was nothing if not a broadly appealing comedy. Warner Bros. audience research showed a split nearly even between males (49 percent) and females (51 percent), as well as between young (54 percent under 25) and old (46 percent over 25.)

Of course, it's also worth pointing out that some of the success of The Hangover II is likely due, in part, to the precipitous free fall of Disney's fourth Pirates of the Caribbean: On Stranger Tides. Despite still appearing on an astounding 9,000 screens, the venerable Captain Jack plunged 56 percent from Friday to Sunday, grossing just $50 million.
Surprisingly, too, a full 13 percent of the far-raunchier Hangover Part II's audience was under the age of 18, a sure sign that 13 percent of America's kids have the coolest parents ever, or, equally possible, a dire warning that 13 percent of America's teens may soon become wards of the state.