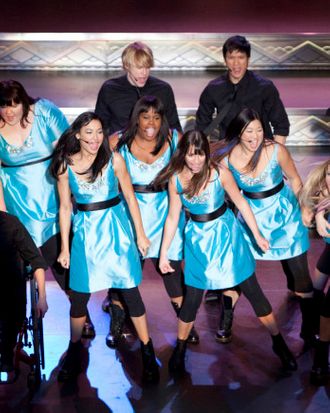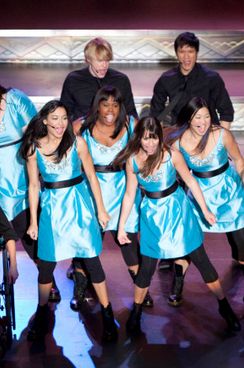 There's some fresh ammo today for Glee haters looking to advance the notion that a backlash against the show has set in. According to just-released Nielsen numbers, virtually no one watched the premiere of The Glee Project, the much-hyped Oxygen reality show in which Ryan Murphy tries to choose a new (temporary) cast member. Just 455,000 folks tuned in for Sunday's 70-minute premiere; in the key demo of adults 18 to 49, the tune-in was just 211,000. Even adding in viewers from a same-night repeat only raises the total audience to a still-weak 719,000. These numbers are pretty shocking, given how much marketing muscle Oxygen put behind the launch, as well as the fact that Fox's Glee is a top ten show and reviews for Glee Project were generally positive. So what happened?
It certainly didn't help that Oxygen decided to debut Glee Project opposite the Tony Awards (arguably the Oscars for many Gleeks) and a thrilling Game 6 of the NBA Finals (which drew viewers from everything on TV). Also, Oxygen has never aggressively programmed Sunday nights with originals before. But we also suspect the show's timing may have been off: While Glee was red hot when Oxygen first ordered the spinoff last summer, in the past year, Fox's musical dramedy has cooled with audiences, both in terms of ratings and buzz (although it's still a monster hit and an MP3-selling machine). It's also worth wondering whether Glee Project might rep a sort of tipping point for talent-competition overload, with Fox's So You Think You Can Dance and NBC's The Voice and America's Got Talent already soaking up tons of viewers interested in watching real people try to become stars.
The good news for Glee Project is that the cable business model could allow the show time to grow. You can expect Oxygen to air repeats of the show as often as it can throughout the week, hoping to build buzz. (OWN: The Oprah Winfrey Network has successfully used word of mouth to help increase awareness for Season 25: Oprah Behind the Scenes). And Oxygen insiders note that cable has a history of turning around slow-launching series: Back in 2004, sister network Bravo's Project Runway barely made a blip in the ratings when it debuted. But after lots of extra marathon broadcasts, audience levels for Runway nearly quadrupled within the space of a year, turning the show into a signature hit for Bravo (until Lifetime stole it away). Oxygen execs are said to be very happy with how Glee Project turned out creatively, so we wouldn't be shocked if repeats of the series started popping up on other NBCUniversal networks very soon (you could also just watch episode one on Hulu right now). Don't stop believin', guys!