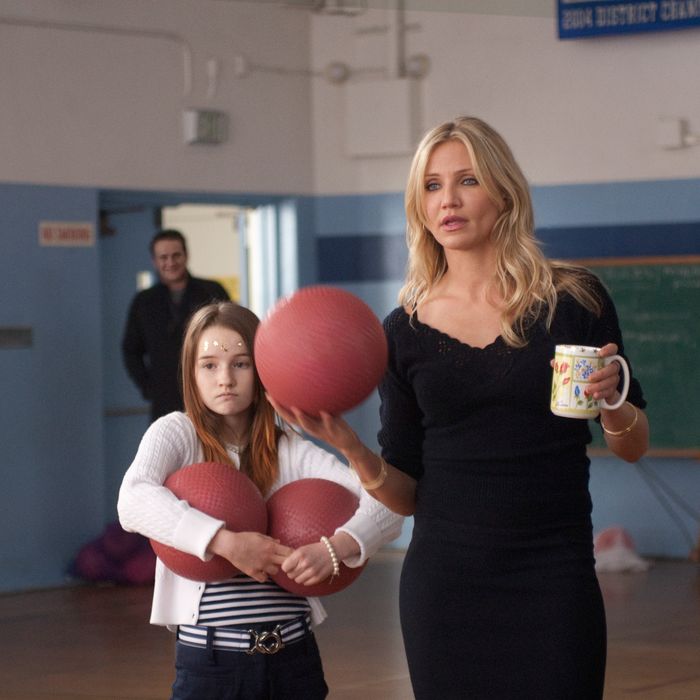 Photo: Photo Credit: Gemma LaMana/?2011 Columbia TriStar Marketing Group, Inc. All Rights Reserved. **ALL IMAGES ARE PROPERTY OF SONY PICTURES ENTERTAINMENT INC. FOR PROMOTIONAL USE ONLY. SALE, DUPLICATION OR TRANSFER OF THIS MATERIAL IS STRICTLY PROHIBITED.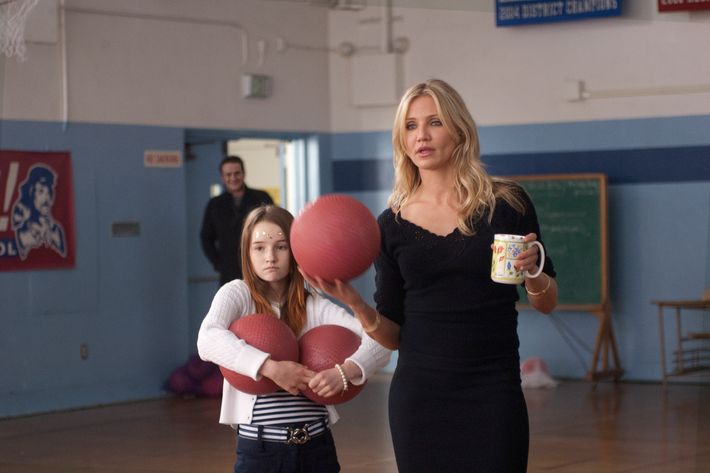 Can someone explain to me the many sniffy reviews of Bad Teacher, written atop so many high horses that you'd think the critics were running for Congress? It's a good, raunchy, gonzo comedy in the spirit of Bill Murray pictures like Meatballs and Stripes, but with a woman (quite a woman) talking dirty and drinking too much and smoking dope and using everything in her arsenal to get what she wants. She cheats, she lies, she dresses like a hooker. She's incorrigibly sleazy and opportunistic in the great American degenerate movie huckster tradition. There's no Apatow story structure requiring the character to grow up — or, at the other extreme, no extraneous barf and poop jokes à la Bridesmaids to prove that girls can be as gross as guys. Bad Teacher is free of redeeming social value, which, in an age of tsk-tsk-ing whoremongers and abstinence-preaching unwed mothers is plenty redeeming for me. You go, Ms. Ho!
Cameron Diaz plays Elizabeth Halsey, the conniving alcoholic, druggie middle-school teacher who'll do anything to get the money to buy herself some bigger boobs so she can marry rich and not have to do the job at which she's, yes, bad. How bad is she? Bad, bad. Every scene is contrived to make you gasp, "That is a bad teacher" — much as Bad Santa, another R-rated film about a person not living up to the responsibility of interacting with children, made you gasp, "That is a bad Santa." No, she doesn't seduce her 12-year-old students, which would be NC-17 bad, but she probably would if she thought she could make money off the deal. Tits don't come cheap.
Diaz does not walk when she can sashay, and almost always in short, tight dresses and stiletto heels. She looks, frankly, used — dissipated, hung-over, her makeup smeared, her wide mouth looking unusually lewd. She's wonderful. Of course, she's often wonderful, even in high-profile embarrassments like Knight and Day opposite a mugging Tom Cruise who was trying too hard to be funny. Diaz doesn't need to mug. Her great big features are both gorgeous and clownlike, and she uses her bod like a shiv. Bad Teacher gives her a virtuoso opponent in Lucy Punch, a terrific Brit comic actress who often plays sexpots but as fellow teacher Amy Squirrel is the soul of primness. The square Ms. Squirrel is so broadly conceived that even John Waters might wince, but Punch eerily blands out her features, and her passive-aggressive perkiness ("I just know you're going to get your teacher on!") is a thing of beauty and horror. She made me recall how, at the age of Ms. Squirrel's students, my friends and I would mutter, "Up Up With People's ass … "
There's also a male Bill Murray figure in Bad Teacher, the woefully out-of-shape gym instructor Russell Gettis (Jason Segel), who watches Elizabeth with amusement, admiration, and unconcealed lust. Segel doesn't have much to do, but his scenes with Diaz are blessed respites from her classroom cruelty, and the character's off-screen life is intriguing: He could well be the center of his own slob comedy being shot on the other side of the school. One thing, though: As taken as Russell is by Elizabeth's gonzo ways, he doesn't collude in her bad teaching. He thinks she should do something — anything — else.
The Office writers Gene Stupnitsky and Lee Eisenberg ring plenty of variations on their central joke, proving just how many ways there are for a teacher to be bad — from writing "Stupid," "Stupider," and "Jesus Christ" on papers to showing (and sleeping through) inspirational teaching movies like Stand and Deliver and Lean on Me instead of inspiring students with her own teaching. Director Jake Kasdan gives the actors room to breathe — and, in some cases, hyperventilate. There are sterling turns by Thomas Lennon as a hapless administrator and Phyllis Smith from The Office as Elizabeth's mousy colleague. And Justin Timberlake once again defies expectations as an insipid little bespectacled nerd with a fortune from his family's watch business — a performance of gentle weirdness that builds to a non-sex sex scene that has some of the most inspired nerdy-dirty language I've ever heard.
Although Elizabeth isn't punished for breaking almost every law there is, ethical and legal, she's not rewarded, either. Where she finally ends up is very satisfying — even touching. Maybe Bad Teacher does have redeeming social value, but that would have to be defined somewhat more broadly than it is now, to incorporate things that can get you put in prison.
Related: The Star Market: Is Bad Teacher a Good Move for Cameron Diaz?