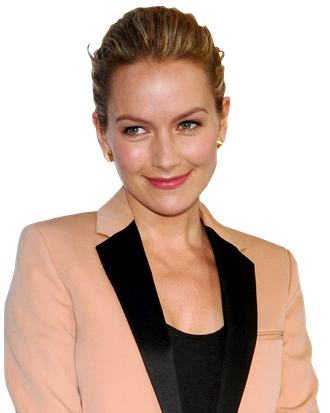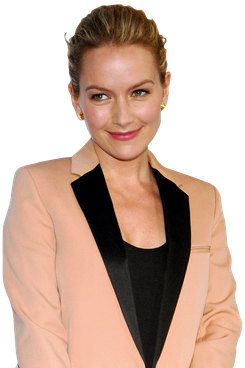 On her old show, Ugly Betty, Becki Newton was the pretty one. On her new show, the long-delayed Love Bites, she's the pregnant one. The NBC series is an anthology rom-com in the vein of He's Just Not That Into You or Valentine's Day — a procession of loosely connected stories, anchored by a few core characters — that was supposed to be NBC's big new show of last year. But it got delayed, management changed, Newton shot a pilot for CBS that didn't get picked up, and now Bites has been burned off over the summer. We spoke with Newton, who is in Atlanta, hanging out on the slapstick set of a new Farrelly brothers movie, about how her real-life pregnancy impacted Love Bites, cheating on NBC with CBS, and where Michelle Trachtenberg goes wrong in tonight's episode.
Annie was supposed to be a virgin. How was that going to play out, originally, before your pregnancy changed the course?
I don't think that could have played out for long. There's not a lot of room. It would have become all about who she's going to lose her virginity to, and then when that happens, it would be over. We used some of that idea for Cassie [played by Krysten Ritter], who pretends she's a virgin. But happily, my pregnancy opened up the character of Annie. And I was ginormous shooting that pilot, because we had to redo it. I was eight-and-a-half months pregnant; I was about to pop! And yet, Annie doesn't think of herself as pregnant. "I'm not really a future mom. I can still date!" This of course gets her into these awkward, horrible situations. She's the total opposite of what you think a pregnant woman is.

How will the show change once Annie gives birth?
You will see Annie have that baby — well, you won't see it, but you will see the storyline conclude. And if there's a second season, you'll get to see how that changes Annie's life. She thought it wasn't a big deal to be her sister's surrogate, but it gave her a purpose. And although she didn't think she would, she now loves this baby. But this isn't treated like a cliffhanger. That's what's unique about this series: The arcs are short enough and the scenes are long enough that nothing is ever left unresolved.
In the middle of all the drama that went down with the show — the cutback on the order of episodes, the mid-season bump — you signed on for a CBS pilot. To use a dating metaphor: Were you in an open relationship with NBC?
[Laughs] It is like dating other people.

Which could be great if that's what you wanted, but also shows a lack a commitment on their part. Were you happy that you were free to pursue other shows or frustrated?
NBC allowed me to pursue other options because I think, at a certain point, they weren't overly committed [to Love Bites]. I don't know if frustrating was the right word for how I felt, but I've learned shows take many different routes to getting on air, and I can't control the results. Everyone involved is very proud of our work on Love Bites, however it played out. We're happy people. I know some people were frustrated, but I've learned I can't control the results, no matter how hard I try. Before Ugly Betty, I was just doing commercial work the week before, and then suddenly the next week, I was on a pilot. Some shows just hit right away. Some don't. All I can do is look for things that are fun and inspiring.

Michelle Trachtenberg is in tonight's episode, and she makes banana bread for a guy, which freaks him out. Would it have scared him as much if she baked cookies?
I feel like when there are over five ingredients, it suggests commitment. Rice Krispies Treats would have been a better gift for someone you just started dating; those clearly don't take a lot of time. Although I made bread for Chris [Diamantopoulos], and now he's my husband. Michelle's so funny in this, so we're going to see more of her. She's coming back.

You met your husband on the New York City subway? Usually when guys hit on you in the subway, it's not cute, it's creepy.
It could have been creepy and weird, and when my son gets older, I'm going to tell him, "Don't talk to girls on the subway!" But Chris walked by, and we noticed each other at the same time, we were looking at each other in a way that was an invitation to talk, so we started chit-chatting. And years later, well …
What's it like watching him on set as Moe in The Three Stooges?
With all the stunts, falls, and kicks, he's coming home every day bruised and battered. When our son, who is six months old, first saw him in the wig, he was terrified! But then he quickly figured out it was his dad. [The baby] loves being on set. I just hold him, and Sofia Vergara comes over and makes him laugh. Everyone plays with him. And my son gets to watch the Stooges! I can't think of a better way to entertain him. There's just something about watching Moe poke Larry in the eye that never stops being funny.

Do you feel like you still have unfinished business with Ugly Betty?
I could have played Amanda until she was a 90-year-old receptionist. [Laughs] And she would still feel like she was a supermodel. Playing her was so much about the mannerisms. But Annie is a real person, and that was an adjustment. It took a while to let go of Amanda so I could play a normal person.