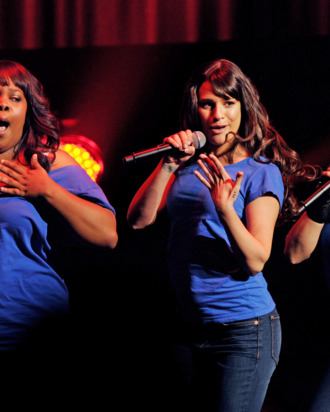 Photo: Kevin Winter/2010 Getty Images
You can start programming your DVRs now: Fox has just announced how it plans to roll out its new and returning series this fall. Not surprisingly, its two biggest newcomers — The X Factor and Terra Nova — will kick off right at the start of the season, on September 21 and September 26, respectively. Glee will also return during premiere week, kicking off season three on September 20. But fans of Bones might want to sit down for this news: The show's new season is being held all the way until November 3.
It's not that Fox wouldn't like to have Bones on earlier. But with star Emily Deschanel (and her onscreen alter ego) pregnant, it wouldn't be surprising if producers wanted to give her as much time off as possible. What's more, the combination of the launch of The X Factor (it will air two-hour episodes on Thursdays early in its run) and the fact that Game 2 of the World Series will be a week earlier this year (on October 20) combined to make a November debut a more attractive option. (UPDATE: Bones creator Hart Hanson just told us he's "oddly – and uncharacteristically –… OK with this push to airing in November. For one thing, the Fox honchos were good about explaining their programming logic so… I understand that it's not slapdash or ill-considered. But this year the late premiere works for us in that it will probably allow us to air the six episodes we are likely to be able to shoot before Emily has her baby. If we started earlier, we would not be able to supply enough episodes to get us to Christmas. My personal bias is to run as many episodes as possible in the same time slot in an unbroken string, which the late premier allows us to do." In other words, dear Bones fans, you can hold off on the hate e-mails to Fox.)
Elsewhere, Fox's announced scheduling for X simply has the show airing two-hour episodes on Wednesday and Thursday through October. However, it's possible the network could decide to reduce the Wednesday or Thursday episodes to an hour and instead schedule specials or other unscripted programming behind X. For now, the only show getting a post-X berth is comedy I Hate My Teenage Daughter, which will premiere on Thanksgiving Eve, November 23, at 9:30 p.m.
As for the rest of Fox's lineup, Zooey Deschanel comedy New Girl will debut behind Glee on September 20, followed by the return of Raising Hope. Fringe checks back in on September 23, with the network's animated lineup back in originals on September 25. House begins what might be its final season on October 3, while new Jonah Hill animated comedy Allen Gregory gets a launch behind the "Treehouse of Horror" episode of The Simpsons on October 30. And finally, criminals of the world might want to lay low during Halloween weekend. While Fox canceled the series version of America's Most Wanted back in May, as promised, the franchise will be back as quarterly two-hour specials. The first will air Saturday, October 29.

Related: In Praise of Bones
Fox's New Season Analysis: The Network Plays It Safe to Stay On Top (No More Lone Stars)
Judging the Season Finales, From Best to Most Baffling