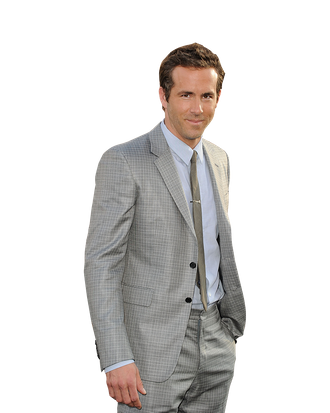 Photo: Jason Merritt/Getty Images
Ryan Reynolds has been steadily climbing the Hollywood ladder for years now. The 34-year-old got his start in television in the late nineties, broke into the public consciousness as Van Wilder in 2002, and finally broke out of the frat-boy mold in the late aughts by becoming a rom-com leading man in smashes like The Proposal. After all that hard work, performed with abundant, unceasing, and nonthreatening charm, this weekend Reynolds finally gets his reward: a shot at a potential franchise. Superhero flick Green Lantern, starring Reynolds, arrives in theaters today. Can it push Reynolds further up the ladder and establish him as an A-list action hero? We asked industry insiders this and the weekly Star Market question: If Ryan Reynolds were a stock, would you buy, sell, or hold?
Stock History: Reynolds began his career as a teen actor in his native Canada, but made his first splash on the small screen with the late-nineties sitcom Two Guys and a Girl (and, briefly, a Pizza Place). On that show he introduced the harmless, handsome cool-guy persona that would work so well for him in his early hits, 2002's Van Wilder ($38 million grossed off a $5 million budget) and 2005's Waiting … ($18 million off a $3 million budget). In between those films, Reynolds displayed his range, bulking up and losing his shirt for a supporting role in 2004's Blade: Trinity and then dealing with evil in a different form in 2005's Amityville Horror, which took in $108 million. But it was the rom-coms that really changed the game for Reynolds. 2008's critically acclaimed Definitely Maybe did a reasonable $55 million, and then came The Proposal with Sandra Bullock, a surprise hit that grossed $317 million and immediately turned Reynolds into a serious player. (Also helping was his real-life romance with and unexpected marriage to Scarlett Johansson.) Since then, Reynolds has worked steadily on smaller fare (there was hope that his cheap, innovative indie Buried might take off, but that didn't happen), leading up to the decidedly not small Green Lantern.
Peers: Tom Hardy (33), Michael Fassbender (34), Jake Gyllenhaal (30), Channing Tatum (31), and Ryan Gosling (30)
Market Value: It may have taken a while to get here, but, at this point, Ryan Reynolds has a proven box-office record. Still, it's not a sure thing that a guy with strong female appeal whose biggest hit is a chick flick will be able to make himself over as an action hero. Sure, if Green Lantern does well — and, after early troubles, the tracking is looking good — it will help Reynolds immensely, but since like all superhero movies, Green Lantern is being marketed as much on its brand and CGI wizardry as it is on its star, there may remain a bit of a question mark about Reynolds's ability to open more original macho movies. But that question should be answered pretty definitively in the coming year. Reynolds has a slew of manly projects lined up: Safe House with Denzel Washington, R.I.P.D with Jeff Bridges, and he's also attached to another superhero venture, Deadpool. And balancing out all the tough stuff is a film in Reynolds's proven comedic sweet spot, this summer's Change-Up with Jason Bateman.
What Hollywood Thinks: "The choices up until The Green Lantern have been very good," says one agent. "Buried was really a compelling thriller, and his performance was much better than the marketing." But the agent's not feeling so hot on Lantern: "I am sure he'll make bank and increase his 'quote,' but artistically I don't know why he'd squander the capital from the Sandy Bullock movie to do this. Here, his talents are being [wasted]; he's not being the Jimmy Stewart he ought to be. He's, like, the best version of Ashton Kutcher, and that's a compliment: He's charming, benign, sophisticated, and he green-lights movies. He should be more careful. The other Ryan — Gosling — would never [do this]."
A manager is more understanding: "You have to have several missteps to get yourself in trouble. He hasn't, so I don't think [Lantern] hurts him one way or the other. Probably, it will help him. He'll be seen more in that than anything he's ever done. Plus, [if it fails] he's wearing a mask. The late [agent] Ed Limato's philosophy was, if you're doing something iffy, back it up with two other projects — you're either on a roll, or at least there's something to distract from the last failure. He has three movies coming out and the one with Denzel, Safe House, is supposed to be very good. He's in very fine shape."
Adds a publicist, "Look, no one is throwing hardballs at you when you're promoting Green Lantern, so it's really a chance to expose the person's personality, one's good side. From a PR standpoint, it leads to a deeper understanding of them. What you want is to come out of it is it's not just The Green Lantern: It's Ryan Reynolds as The Green Lantern. It's actually how Harrison Ford became a star after Star Wars. It's a second skill, but [Reynolds] seems very good at it."
The Analysis: As always, box office is of utmost importance. If Green Lantern hits, the floodgates open for money-printing — and career stabilizing — sequels and spinoffs and merchandise. If Green Lantern misses — or opens big, but then drops off precipitously — Reynolds takes the blow and moves on to his next project, which just got a whole lot more important. Like the manager says, he hasn't had major missteps, so he can afford a few. That said, if you look at Reynolds's upcoming slate, it's clear he's aggressively trying to make himself over as a more macho leading man. If audiences are hesitant to buy tickets to see him as such, he may have to retrench and return to what he's proven at — comedies. Of course, that's not so bad.
The Bottom Line: Reynolds is in a win–stay even situation right now. Green Lantern could either dramatically boost his career or leave it pretty much as it was, and the former option is looking more likely.
Rating: Buy
Related: David Edelstein Reviews Green Lantern [Vulture]
Star Market: Will Blake Lively Become a Movie Star? [Vulture]