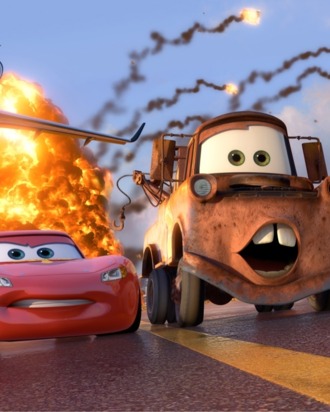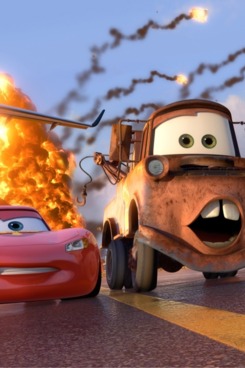 This Weekend's Winners: Cars 2 was No. 1 with a bullet … the bad kind, a hollow point fired by critics that pierced Pixar's creative flawlessness. Sure, the sequel won the weekend with an opening gross of $68 million, besting weak audience tracking (it was on track to gross as little as $50 million). But the reviews? An astonishing 44 percent from top critics on Rotten Tomatoes. As for Sony's foul-mouthed Bad Teacher, it had even worse reviews (27 percent on Rotten Tomatoes — though our David Edelstein liked it), but it still opened to an estimated $31 million. With a budget of only $20 million and no legacy to be mourned, perhaps that makes Teacher the true winner?
This Weekend's Losers: With an $18.5 million take, Green Lantern is estimated to have dimmed by 70 percent, putting it in the same league as Eddie Murphy's disastrous The Adventurous of Pluto Nash in 2002. Bad news, too, for otherwise well-reviewed documentary Conan O'Brien Can't Stop, which despite an innovative distribution approach, couldn't really get started: It grossed barely $100K.
How It All Went Down: With eleven consecutive blockbusters under its seatbelt, Pixar could proudly claim to have never made a weak film in its entire history. But clearly, with Cars 2, Disney's corporate merchandising priorities won out: Lackluster critical reviews and poor word of mouth must have contributed to its unusual 10 percent box-office drop off from Friday to Saturday. That's something that almost never happens with Pixar movies; family films generally see an uptick on Saturday, not a dip.
Still, it's a little-known fact that the first Cars was actually a money-loser theatrically in 2006. However — and this is a big "however" — it still went on to become the most profitable film in the history of Disney thanks to its insanely robust merchandising of kiddie products. (In fact, even as I write this post, my 3-year-old son is running away from my wife and her toothbrush, wearing nothing but his Lightning McQueen underwear. You win again, Disney!) So while the film may have supplied a crushing reality check to film optimists who believed that there could be such a thing as an infallible filmmaker (first Shutter Island, and now this?), Cars 2 will undoubtedly do just fine, thank you.
Meanwhile, if there is relief at Disney for exceeding weak expectations, there is jubilation over at Sony Pictures. Bad Teacher, despite even-more-unkind reviews, is well on its way to recouping theatrically well before summer vacation ends. That's a good thing, too, because it scored a C+ CinemaScore rating (Cars 2 got an A-), and as CinemaScore chief Ed Mintz once explained, "A 'C' is an 'F'." So Bad Teacher should enjoy the victory this weekend, as it will probably be stuck in detention next weekend.
It did prove, however, that Sony Pictures' bold, Bridesmaids-like gamble on marketing Diaz to the exclusion of other male stars was worth the risk. Looking at most Teacher billboards and posters, you'd never know that her ex-flame Justin Timberlake or How I Met Your Mother and comedy movie star in his own right Jason Segel were her co-stars. Nevertheless, the ladies still turned out: Audiences were nearly two thirds (63 percent) female and, as expected for an R-rated comedy, well over half (57 percent) were age 25 and over.
Finally, while Fred Allen used to joke that "the first thing that strikes a visitor in Paris is a taxi," Woody Allen's Midnight in Paris has clearly struck a chord with moviegoers: It's become Allen's highest-grossing film in 25 years, and is well on its way to becoming his highest-grossing film of all-time. Paris slipped less than 9 percent to gross a little less than $5 million in its sixth weekend. Positive ions, indeed!