Photo: Dave Kotinsky/2011 Dave Kotinsky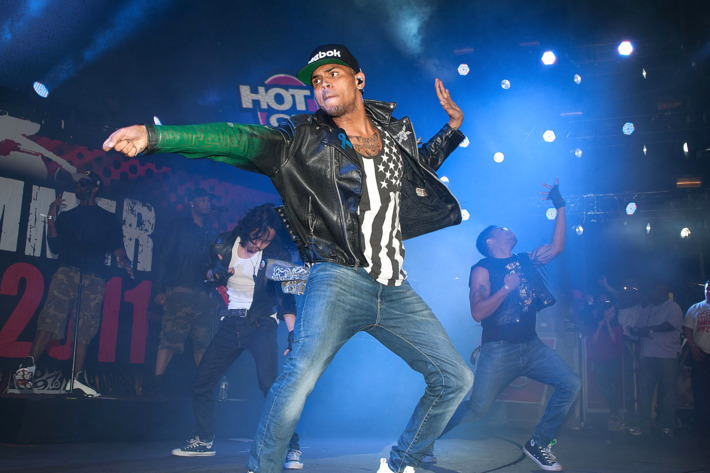 Summer Jam, Hot 97's annual overstuffed hip-hop showcase, took place last night at New Jersey's Giants Stadium with sets and appearances from loads of people: Lil Wayne, Rick Ross, Drake, Chris Brown, Fabolous, Diddy, Wiz Khalifa, Waka Flocka Flame, Mobb Deep, Lloyd Banks, regular Lloyd, a small child hopefully related to Juelz Santana, quite possibly every single person every member of Dipset has ever met all together onstage at the exact same terrifying time, and many! more! It was sometimes thrilling, sometimes exhausting, generally overwhelming, and also pretty funny. Here are five things that happened:
1. As he usually does during his sets, Chris Brown had pre-selected an attractive young lady to be the lucky recipient of a devastatingly sexy onstage lap dance. For whatever reason, though, Brown got a bit more forceful than is generally called for in these situations, and his thrusting, to be honest, made us a bit uncomfortable. Not as uncomfortable, one would imagine, as the girl being thrusted upon, but still. Also, seen to the side in the backstage area during the lap dance was a frantic runaway Breezy fan, impressively eluding security for 30 seconds or so as she tried to rush the stage. She was cool with the thrusting.
2. In the aisles, dodging his way through impromptu multi-member grind sessions, was a guy in a sombrero. He seemed to be a big hit.
3. Right before Lil Wayne's set, Hot 97 on-air personality Mr. Cee ran through an emphatic pump-'em-up playlist, complete with exhortations to the crowd. He moved quickly from the standard "if [blank] is in the house, make some noiiiiise" format, though, working his way into truly impressive minutiae. At one point, anyone who had driven a car to Summer Jam — one, specifically, that they owned, and that had no visible scratches — was instructed to proudly identify themselves.
4. Cam'ron kicked off the Dipset appearance with his 2006 single, "Touch It Or Not," which contains the line, "I'm so active, you being so drastic / got something for your face, fuck Proactiv." Ah, memories.
5. Rick Ross, a natural exhibitionist, was decked out last night in a gaudy Versace number open at the chest. We happened to be looking at the big screen right during his stage entrance, at which point the cameraman (presumably unintentionally but, really, who knows) happened to be shooting a close-up of Rick's chest. And that, friends, was a lot of Rick Ross boob action.