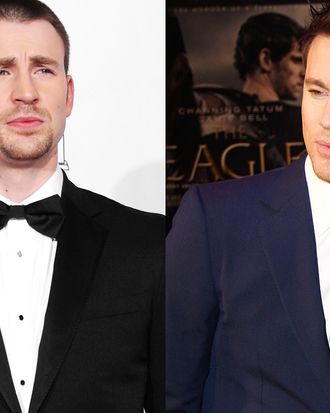 Photo: evin Winter/Getty Images , Dave Hogan/Getty Images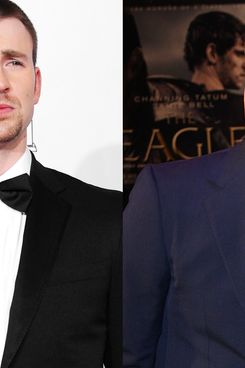 At the end of Channing Tatum's recent cover story with GQ — after the reporter, our very own Intel Jessica, has enjoyed several spontaneous and drunken adventures with the actor — Tatum tells her, "I can't wait till you have the next interview with someone in this industry. If anyone tops this, you have to call me and be like, 'You just got topped.'" Well, to judge from his enjoyable cover story in the new issue of GQ, Chris Evans is trying very hard to top Channing Tatum. (Stop that. Stop thinking what you're thinking.) Let's compare their alcohol-aided adventures, shall we?
Reporter
Tatum: current New York Magazine writer Jessica Pressler
Evans: former New York Magazine writer (and current editor of The Hairpin) Edith Zimmerman
Setting
Tatum: a stranger's house, a bar, and a jail in the California desert town Randsburg
Evans: the pub Sonny McLean's and the club Voyeur in Los Angeles, an SUV, and the Thompson LES hotel in New York
Alcohol Consumed
Tatum: two bottles of silver Patrón, Jager shots, several bottles of Bud Light, countless tequila shots
Evans: at least two full steins of Sam Adams, several glasses of white wine
Impromptu Sleepover Spent In …
Tatum: … the California desert, where Tatum and Pressler camped outside in their Snuggies
Evans: … Evans's house, where Zimmerman impulsively crawls out a window during the night before Evans puts her back to bed
Potential Flirtation
Tatum: "You know that's kind of weird, right?" says Tatum's wife, Jenna Dewan, when he calls her to explain where the interview is occurring. "I mean, that you're sleeping in the desert overnight with a girl?"
Evans: So much palm-kissing, arm-squeezing, and knee-touching that Zimmerman dethrones Captain America actress Hayley Atwell as Evans's most essential summer love interest. The story opens with pec-stroking (and a cameo from one of your Vulture editors), and when told by Zimmerman that he is nailing his interview, Evans coos to her, "You're nailing it also. I'm going to write an article about you."
Pool Table Used For …
Tatum: … playing pool with local miner "Ordinary Tom," who teaches Tatum and Pressler about the properties of tungsten
Evans: … a "jump over the pool table" contest
Eccentric, Friendly Local
Tatum: countless colorful Randsburg residents, including the toothless Vik, who is described by her husband thusly: "She's in remission now, but she lost her teeth and her tit. She used to be built like a brick shithouse."
Evans: "a very pretty, blonde, possibly Asian transsexual" who gives Zimmerman a ride back to her hotel
The Star Appears Shirtless This Many Times in the Accompanying Photo Spread
Tatum: Once
Evans: Once
The moral to this story, then: Handsome young actors have gotten much better at giving interviews, though hangover cures have probably not improved correspondingly, so beware.
American Marvel [GQ]