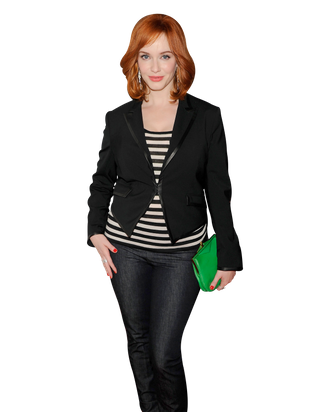 Photo: Andrew H. Walker/Getty Images for Screenvision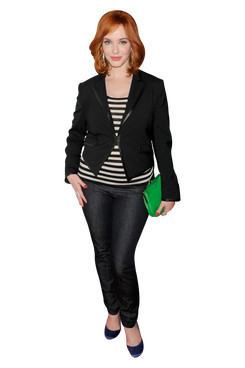 Desperately trying to get our Mad Men fix in this long Mad Men–less season, we caught up with Christina Hendricks last night while she was hosting a private Johnnie Walker pre–Father's Day whiskey tasting. Between sips of Black, Gold, and Blue-Label — neat, with water and on the rocks — we chatted with the lovely Mad Men star about the series' delay, her performance at Sunday's Tony Awards, her upcoming film projects, and her love of Gossip Girl.
You're doing a number from Company at the Tony Awards. Are you nervous about that?
Yes! I'm human. [Laughs.]
It's live TV.
Yeah. It's, you know, a whole community of people that I admire and I'm less familiar with, and I feel like I'm going onto their stage, so I hope they just accept me and I'll just, like, hide in the group, you know.
Everyone kept saying that you're a natural comedic stage actress. Was that news to you?
I think I'm hilarious! But it was one of the first times I've been able to do sort of a broader comedy kind of thing, and it was really fun for me.
With Mad Men, what were you thinking about while those negotiations were dragging on? Were you worried about it?
No. I knew that it was going to come back, and I knew that there was no way they could do it without Matt, and I knew that they respected Matt's vision, and that it would all work out in the end. It's very common for shows to go through re-negotiations with networks; it's what happens. I just wanted it to kind of hurry up is all.
Do you miss Joan Holloway when Mad Men is off season? Or it's just a job, you leave her at the office?
No, I love her, I always miss her. We work really, really hard and really intensely in the thirteen episodes that we do, and we're all ready for a break. But then after about two months, we're all kind of calling each other being like, [pleading tone] "I want to get back to work, and I love it." So, you know, we usually have a six-month hiatus, but that's a little too long for me because I love going to work on Mad Men.
Do you watch TV? What do you watch?
Well, we're big Top Chef fans, because we like to cook. That's one thing that we really love. Uh, we watch Fringe, really enjoy that. And I always like Grey's Anatomy. I like Parenthood a lot. Those are, like, the ones I go to.
You filmed Drive with Ryan Gosling and Carey Mulligan. What was that like?
It was amazing. It was with this director named Nicolas Winding Refn, who also directed a film called Bronson, and when I saw that film it was one of the best things I'd seen in a really long time. Of course everyone knows how wonderful Ryan and Carey are. But just working with that director was a real experience and playing a completely different character than I play on Mad Men was really, really fun.
What is she like?
She's a girl that's, like, down on her luck, in the bad group, making bad decisions all the time.
Carey Mulligan told one of our reporters she spends the movie staring at Ryan Gosling.
Right. She gets to stare at Ryan Gosling. Ryan Gosling sort of roughhouses with me.
You're also in the movie I Don't Know How She Does It. What was that like?
It was fantastic. There's all these rumors around town about how wonderful and nice Sarah Jessica Parker is, and they're all absolutely true.

Jessica Szohr is also in How She Does It.
Yes, but I never got to meet her. We didn't work together.
Do you watch Gossip Girl?
Yes I do! Are you kidding me?
You do?
Yeah, every week.
Who do you think Blair should end up with, Ed Westwick or the …
Or the prince? [Pause.] Well, that's the big question, isn't it? I never thought someone would ask me that question. Well, I love Ed Westwick. I just love his outfits, if nothing else, so.