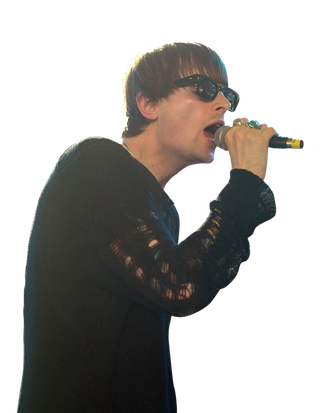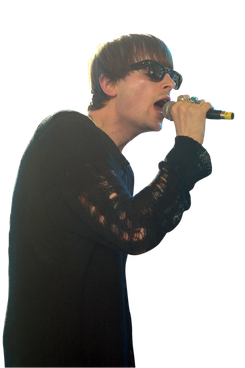 It's 3:30 a.m. on a recent weeknight outside a private second-floor rock club above a deli on Avenue B. Wes Eisold, the man behind Manhattan synth-pop project Cold Cave, is smoking with a D.J. friend and two beautiful high-heeled girls draped in chains. This is the tenth stop of the night, and not the last. Twelve hours earlier, I'd met Wes at a bar near his apartment on Houston Street in the East Village. He'd just returned from a two-month tour with the Kills, the craziest one he'd been on — and he's been touring since 1997. The tour, promoting the critically acclaimed Cherish the Light Years, was a success, though Eisold admits halfway through he realized they were an electronic band playing to a blues-rock crowd. "I'm depressed as fuck," he said as our first drinks arrived. "This is the first time I've come home to New York to no one."

We saw one another over a two-week bender — one of hundreds we've been on since meeting in the mosh pit of a hardcore show a decade ago — to hash out Eisold's insanely unique rise. Born with only one hand, he fronted the influential Boston hardcore band American Nightmare in the early aughts; years later, he became a millionaire by accident when Fall Out Boy's Pete Wentz appropriated his lyrics. He lived in closets and on couches in dozens of cities, owned a bookstore, published prose and poetry volumes, and was once seen swinging a two-by-four at a frat boy in a 50-man brawl on the streets of Boston. Now, with Cold Cave, he's a Pitchfork darling. Eisold charts his strange trajectory.
Cold Cave confused a lot of people from the hardcore punk scene you grew up in.


Being honest turns people off. The world's so absurd and crazy now that people just want escapism. I do, too, I guess, but must be looking in the wrong places.
As the son of a Navy captain, you bounced around a lot. Where did you first feel at home?



Because I grew up as a military brat moving every year or two, I was always the new kid, and I was always the new kid with one hand. Meaning the weird kid. So music was all I had. I spent some of high school at the U.S. megamilitary base in Stuttgart, Germany. At that time, I was really into the Boston music scene, randomly, from the Swirlies to hardcore, and Boston was the coolest hardcore scene. When I moved to Maine my junior year of high school, I was excited to be close to Boston.
And you were straight edge, meaning no drink or drugs.
One of the [seminal Boston thugcore band] Blood for Blood guys was from Maine, and he introduced me to the straight-edge kids in Boston, from Ten Yard Fight and In My Eyes. I related to those kids. A decade and a half later, a lot of us are still friends. That was a real scene: one of those isolated times that you know that what's happening in your city at the time is special.
You've said that being a roadie for those bands inspired you to start your own.
Yeah. American Nightmare started in 1999 and wasn't popular for a while. Even when it caught on a bit, people were pretty ruthless with their thoughts about me personally. It took some getting used to, but I just figured it meant I was doing something right. Sometimes I think I'm subject to cheap shots because some people may view me as less than them — as physically inadequate — and I think it can be difficult for those people to handle that I do what I like to do and if they consider what I do successful, even though I don't, it can be even harder for them.
Did haters make you leave Boston?
I left Boston after coming home from a long tour and the cops had kicked us out of our apartment because our roommate had snorted all the rent money. Oh, cocaine. 

Then I moved to San Diego and lived in downtown. People think of beaches mostly, but downtown San Diego then was a dark scene, one that keeps disappearing from America. Lots of sailors blowing severance money, hookers, dim daytime bars that were a little different than the East Coast. Seedy but romantic. Like a scene out of the movie Hardcore with George C. Scott.
California wasn't for you either, though, right?
No. I moved to Richmond for a minute in 2006. I wanted to write and thought I'd go to school for a bit. I had family and some good friends there but was a stifled by the size of the town. I tried to go to school but wasn't qualified for the VCU writing program, so I enlisted in the community school. The first day in class there was a kid with an American Nightmare tattoo staring at me and I felt kind of uncomfortable, so I never went back.
Maybe I moved to these places because I was familiar with the awkwardness and the ill ease of being the new person in an old town. It's a youthful, painful reminder of love, the hunt for it, the magic of an ideal life that doesn't exist for me. I've only written songs in my life about one thing: love. The idea of love versus the practicality of it, the dream of love as heaven that spoiled us as children.
How did moving around a lot affect you?
Fuck, I still move a lot. It's habit. And I don't really like it. This means location, interest, the music I'm making … and also relationships, I'm ashamed to say.
 So I ended up in Philly at what most people would consider a squat. No toilets or running water. Gaping holes in the walls. I squatted for love.
While in Philly, you found out that Pete Wentz had "borrowed" your lyrics for several songs on the Fall Out Boy album Infinity on High, and you ended up settling out of court.
The Fall Out Boy thing was strange, because I was eating ramen one day and bumming a ride the next day to D.C. to the Navy Federal Bank to deposit a check. The only thing that really changed after that was I didn't have to live in squats. Good timing, because I was feeling like I was at the end of things, life especially. I didn't blow money on cars or partying. I blew it on psychologists.
Money didn't save you?
Not at all. I was feeling pretty isolated a few months later. In 2008 I fled to Walla Walla, Washington — the best-named place I've lived — to stay with poet Charles Potts in a ballet studio and wrote a lot without distraction. Most of the poems in my book Deathbeds are from there or were finished there.

You also opened a bookstore.
I did! In Philly I took over a storefront from the [art magazine] Megawords guys. It was a bookstore/arts space called Juanita and Juan's. I had a little time and thought to carry the books and records that I would like to find in a store. Of course there was no money to be made selling $100 Peter Sotos and Dennis Cooper books in Philly's Chinatown, but that wasn't the plan. It was a sex/massage parlor before I was in there. I thought the store and the books and me would just keep each other company, at the very least, and maybe life would give me a happy ending.
When did you switch back to music?
Cold Cave started while I was still in Philly out of necessity. I wasn't in a band and was pretty tired of relying on other people to make music that I could sing to. I wasn't always into every song from the bands I've been in but felt I didn't have a say. I wanted to make my own music and the last thing I cared about was if it was any good or not. It just needed to be mine.
Having only one hand left me with few options for playing music, so synths, drum machines, and computers made sense to me. That's why I try to make it clear that this band isn't so much about music as it is about not having a choice. It's about aesthetic and lifestyle — insert one-armed-lifestyle joke here. Funny when scenes made up of supposed free-thinking people start reminding you of the rules a few years later once change is introduced.
Is New York just another stop or an endpoint?
Who knows. The other members I was playing live with lived in New York and I didn't have much in Philly, so I moved up here. Not that Cold Cave is a band — it's me — and I've had nine members and I respect them all. The music is the least important part. It's just a vehicle for working out fear.
Are you happy with Cold Cave's positive critical success?
So far the bands I've done have become more popular after they've broken up. I couldn't tell you why, but it took people a while to get it. Who knows with Cold Cave.