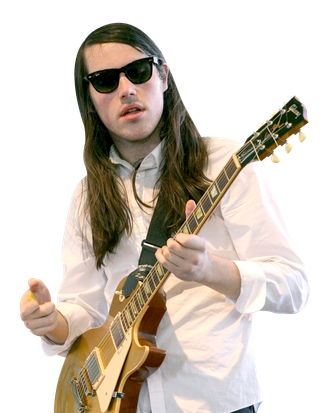 Photo: Karl Walter/Getty Images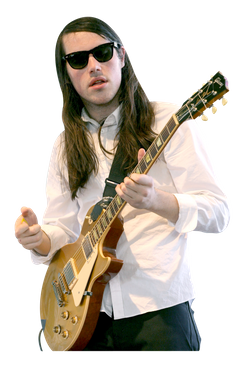 In early 2010, Cults — a then virtually unknown New York act headed by a couple, guitarist Brian Oblivion and singer Madeline Follin — posted a few tracks onto their Bandcamp page. In the year or so since, the band has signed with Columbia Records, released a self-titled debut to raucous critical acclaim, and traveled the world playing its nostalgic brand of summery jangle rock. During some rare downtime for the band, Vulture chatted with Oblivion.
The response to the album has been overwhelmingly positive. What's that like?
It's a really surreal kind of thing. As far as your life as a musician, nothing really changes. We have tours booked all the way to November. The album comes out for you, but it's been done since January. You hope that more people come to the shows. Or something.
Any backlash yet?
I haven't really read anything about the band in the last month. You'd be amazed how these little comments can just gnaw at your brain. Like little maggots just burrowed away somewhere. It influences you one way or the other. Even if someone says something good about your record, it's not necessarily what you found good about it. All the songs we wrote in that mindset ended up being shit and not making the record.
What was the recording process like for Cults?
It was so positive for us as a growing band, I want to do it this way for the rest of my life. We'd go into the studio for like two weeks, work with our engineer, Shane, then we'd go on tour for two weeks, then we'd go back in the studio for two weeks. We kicked the demos out, listened to them, played them live, and it allowed us to figure out who we were over that span of time. There was no concept, no broader image of what the band was supposed to be. The early interviews were hard because we had no fucking idea. We were just writing a bunch of songs that weren't tied together by anything.
Has the band's success changed your relationship with Madeline?
We live together and we're dating. It's amazing to travel the world with your girlfriend and to go to some cool places. It's also a little stressful sometimes because you have a lot of arguments as a band and you try very hard to not let that bleed over into your personal relationships. The other guys in the band have been my best friends for like eight years. We grew up in San Diego, we all live in New York, and we've been friends since high school. I get in fights with them or they get in fights with Madeline, but the next morning we'll get up and it's like, "Hey man, I got you coffee, let's get over it."
When did you know that the album was finished?
On the very last day of mixing, we had just gotten back from Christmas break, and we'd written this song called "Bad Things." We were just supposed to smoke weed and listen to the album, but we [had] this song, and it had to be on the record. We were working until eleven in the morning through the night on the very last song. We knew that song was the missing piece for us.
Are you already thinking about the next album?
We're doing demos. Right now we're obsessed with refining and locking in the live show. Actually locking in is a bad expression, because I don't ever want it to be stagnant. We've gone through four drummers, we lost a guitar player, we're now playing as a five-piece. It took a year to kind of pull the record together, so we're just finding our identity as a live band. I was talking to somebody about the whole idea of sophomore slump: you put together this musical mesh of everything that you've ever worked on, and that's your first record. The second one, you've spent eight months touring, doing press, then you get in the studio for two or three months and you're supposed to make something great.
Is there an urge to keep putting stuff out while the going is good?
The reason our band is at all doing well is because we decided to say "fuck you" to that attitude. We could have put our record out so much earlier. When we put out our first few songs, we already had nine recorded from that session. We could have put the album out a month or two later, but a lot of those songs didn't make the record. They weren't what they should be. Now we're better songwriters. The whole ";strike whiles the iron's hot" thing, that's what happens with a lot of bands that break quick. They rush themselves and end up regretting it later.

You've been lumped in with a few other boy-girl groups out right now like Sleigh Bells and Tennis. How do you feel about that?
The whole thing just shows a broader trend of girls finding a respectful place in music. Naturally, guys make bands with girls and girls make bands with guys. I think people make too big of a deal out of it most of the time. It's almost sexist in a way. "Oh, boy-girl band." No, it's just a band. Bands come in all shapes, sizes, and genders. Maybe it's some kind of desire to artificially create a scene or something, but we don't really know any of them ourselves.
So how have you run through four drummers already?
Well, our first drummer was one of my really good friends and then he had another not-to-be-named band walk up to him and say, "Hey, how much are Cults paying you? I'll pay you double." So he left. Then we had a drummer that played two shows and then he had to go back to college. Then we had a drummer who played a few shows with us and then he broke his arm. But he [hurt] his arm on tour and continued to play. Then he went home and was like, "Hey guys, you know how my arm was all swollen? Yeah, it's broken." That was badass. Now we have a drummer who just graduated college and once again was one of my friends from high school. It's like Spinal Tap, man.