Photo: Veronica Summers / Splash News/? www.splashnews.com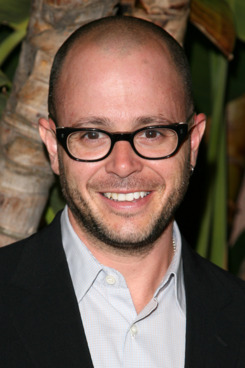 In a new column, Chuck Klosterman posits that the inevitability of spoilers has begun to negatively affect the screenwriting process. As in, no one wants to attempt a mind-blowing twist ending they know will be revealed before the movie. Damon Lindelof seems to agree!
He tells Chuck:
I'm in the process of thinking about whatever my next TV show will be, and I'm constantly thinking about this very question. I know whatever I make will carry the scent of Lost — it's like I've just left a strip club. There will always be this belief that what I make will not be what it seems. I've become such an unreliable narrator. So as I think about my next project, I want to create a feeling that immediately says to the audience, I Am Exactly What I Appear To Be. Sometimes I wish we were in the old Alfred Hitchcock days, when I could just sit in a recliner at the start of the program and say, 'Ladies and gentlemen, there are no shenanigans here.' But of course, in this era, that would have the total opposite effect. In the olden days — and by olden, I mean like four years ago — I would be inclined to just try anything. I would just write whatever interested me. But now, if I thought of a major twist, I wouldn't do it unless it was a home run. Because at this point, a base hit is not acceptable. And once you decide to do something like that, you're faced with the question of, `What am I willing to do to hide this?' Am I willing to lie to pretty much everyone I know? Is it worth lying to the crew and to everyone I work with? Because that's the only way you can pull it off.
By the way, does this mean there are no twists in Lindelof's new sci-fi movie, 1952? Or is this another ruse?
Every so often, a random contrarian will publish an essay titled, "In defense of spoilers" (or something along those lines). The writer inevitably explains why the concept of media outlets (or rogue bloggers, or quasi-celebrity Twitter accounts) preemptively ruining movies or books or TV shows is an infantile complaint and a minor nuisance. Not surprisingly, almost no non-critic takes this argument seriously. It comes from a purely egotistical point of view; the writer believes his or her thoughts about a piece of art are more valuable than the art itself (and therefore can't be constrained by the collective experience of the audience).
Appropriately enough, Vulture is one of the "random contrarians" Klosterman speaks of: In 2008, Dan Kois wrote a post called "Spoilers: In Defense of the American Watercooler." Kois's position wasn't that the genius of critical opinion is worth spoiling a movie, though; it was that by so aggressively accepting the sanctity of the "spoiler alert" we were missing out on the old-school watercooler-discussion viewing experience. The point is, we can all agree that there's no reason for anyone to go out of their way to spoil something for you. It's just that, at this point, we have to accept the possibility as an inevitability. As a viewer, that means trying harder to watch things on time so that you can take part in the conversation. As a creator of content, that maybe means creating twists clever enough that even if they are spoiled, they hold up — or creating twists and then lying about them to pretty much everyone you know.
By the way, does this mean there are no twists in Lindelof's new sci-fi movie, 1952? Or is this another ruse?
Are Spoilers Flipping the Script? [Grantland]