Photo: Christopher Polk/Getty Images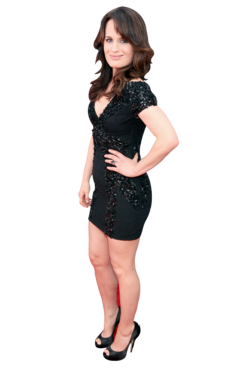 Elizabeth Reaser isn't anybody's idea of a perfect mom in the upcoming indie The Art of Getting By. Her Charlotte Howe is a woman who spends her days lounging around in negligees and trying to slip midday lovers past her teenage daughter, played by Emma Roberts. That's about as far as you can get from Esme Cullen, the flawless matriarch of the vampire clan in the Twilight films, Reaser's most well-known role to date. She's also popped up on Grey's Anatomy and as Will's girlfriend Tammy on The Good Wife (watch your back, Alicia), and she'll soon be seen in the new Jason Reitman–Diablo Cody film, Young Adult. Vulture talked to Reaser about tickling Freddie Highmore, drumming in an all-mom movie band, and — the big question — which is sexier: Twilight or True Blood?
Was playing Charlotte an antidote to playing Esme, the picture of maternal perfection?
That was exactly it. I was fascinated with someone who would behave like that, who was clearly free of inhibitions, who's okay with herself and is not a perfect mother. Esme is perfect. There's not a bad word you can say about Esme. She does everything right. She just loves with every ounce of her being, while Charlotte is drunk, walking around in a negligee and tickling her daughter's underage boyfriend! [Laughs.] I think women who don't understand boundaries are fascinating. I sort of modeled her after a girlfriend of mine who is the most fun, the most outrageous, life of the party — hang out with her and you will end up in the hot tub at the end of the night. And that's what I thought about in terms of Charlotte. It was a little bit of a leap for me, that scene in the garden where I tickle Freddie Highmore, because I kept thinking of him as the boy from Finding Neverland. But he's not a boy. He's a young man.

Emma Roberts plays your daughter, Sally, but your relationship to her feels more sisterly than it does maternal.
It is more sisterly, more like friends. They're close. Charlotte sees something in Freddie's character because she's been around the block, and she knows that we don't appreciate those boys when we're young. She tries to impart that wisdom, but Sally's not having it. I love how Emma calls me "Mom" offscreen; she even called me on Mother's Day! We just really hit it off. We ran around the Lower East Side, the meatpacking district. She knows, like, 8 million people! She's really smart, sophisticated, worldly. She's like a 45-year-old woman in the body of a 20-year-old.

Did she pepper you with Twilight questions?
Yes! She's a bit of a Twihard. I remember she was Team Jacob at one point. She definitely played it cool, though. Those movies, I'm always surprised when older kids are obsessed with them. You'd think they'd be too-cool-for-school for them. But the films seem to capture all ages. I've met a lot of Twi-Moms. I get a little uncomfortable when they start talking about Taylor Lautner's body, because I'm like, "He's a baby! Don't talk about him like that!" But the movies definitely capture the imagination of even older women. I'm 35, so I guess I would be a Twi-Mom.

You're too young to be playing all these moms!
Bless you! And I'm not a mom myself. People who don't know me see me as motherly, for some reason. People who know me, they think it's really weird that I'm playing the mom.

Was your own mom supportive about your acting career? You went to Juilliard …
Juilliard brought her around. She was way more supportive of me being an actress and having a career than, say, starting a family. Because she came up in a different time and she had kids, and she sees me as having all these opportunities and she wants me to live that out to the fullest. She once said to me, "Having children is overrated."

Was pursuing a career in the arts easier once she married your stepdad? [Editor's note: the late billionaire William Davidson, who owned the Detroit Pistons.]
Absolutely. Most everybody needs some sort of a benefactor. Granted, she didn't marry him until I was 18, so I wasn't exactly living large! [Laughs.] I worked at a golf course, an Armani Exchange, all kinds of jobs. But now that I'm older, I know I'm not going to starve, most likely.

In both your upcoming film Young Adult and on the season finale of The Good Wife, you have women trying to steal your men. What's up with that?
I know! I didn't know about The Good Wife at first, and then people started texting me. Even my mother was like, "Will cheated on Tammy!" He cheated on me, before, didn't he? Didn't he get it on with some other girl? Or was it before we had the talk?

You did say, "Don't fall in love with me."
I did say that, and that's the dumbest thing you can say to someone. Although, actually, it's brilliant, if you want someone to fall in love with you and you're a gamester. But I don't see how Alicia and Will can sustain that relationship. I mean, she's still married! I think Tammy and Will have an interesting connection and it's authentic. I really like that she's unapologetic. I think she'll be back.

How would you compare Diablo Cody's script for Young Adult to Juno or Jennifer's Body?
I wouldn't have guessed that it was the same writer except that it's very funny and very intelligent. It's so perfectly crafted. It's one of the greatest things I've ever read since I was in school. And if you see what Charlize [Theron] is doing, I mean, I thought Charlize was hilarious. That was one of the greatest performances I've ever seen in front of me on a set. From the moment she walked into the hair and makeup trailer, she was so in it, it was terrifying and hilarious and brilliant. For me, I was more obsessed with playing the drums, because my character's in a band. It's called Nipple Confusion, and it's an all-mom band, all moms with babies at home. They play some very cool nineties indie rock, like Teenage Fanclub.

True Blood is about to start up again. Are you a fan, considering the show shares Twilight's vegetarian-vampire idea?
I love True Blood! I'm definitely Team Eric. And Team Alcide. I must say, I just love how he's protective of her and sweet to her. The way Bill betrayed Sookie, that was so upsetting. I didn't even expect that at all. And I love Anna Paquin. She's such an odd, cool character. It seems so completely outside of the world of Twilight. I mean, theirs is so much more sexy!