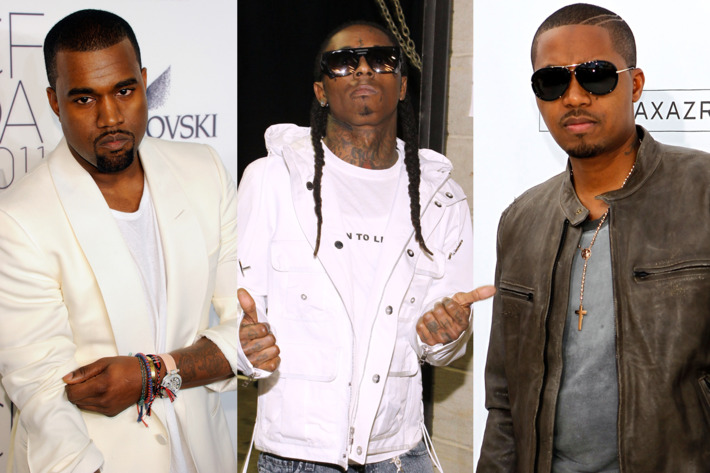 Feeling at all down on this lovely Tuesday morning? Hopefully an abundance of new music from famous rappers will make you feel better.
Update: Def Jam has released a statement about the new Kanye track. They say:
The version of the Kanye West recording "Mama's Boy" that arrived on blog sites earlier this week is entirely bogus and unsanctioned, and violates the artist's creative intentions. As is often the unfortunate case, an unknown party or parties got a hold of Kanye West's vocal track and added their own soundbed to it, effectively and falsely releasing it as a Kanye West track from the My Beautiful Dark Twisted Fantasy sessions. The result in no way resembles the final song Kanye West intended his fans to hear, and he is deeply disappointed that one of the most personal, meaningful and special songs he has ever written would reach people in this way. Needless to say, measures are being taken to identify and prosecute the persons responsible for leaking this material.

First up: Kanye West with "Mama's Boyfriend." As you may recall, 'Ye premiered the song a cappella at the Facebook offices, but it didn't make My Beautiful Dark Twisted Fantasy. Originally, that felt right: With no beat, the raw-nerve lyrics were awkwardly on the nose, inappropriate for MBDTF's more nuanced feel. The finished, just-leaked version, though — which pairs young Kanye's pain with a swirling College Dropout–y beat (early versions sampled Billy Joel's "Moving Out") — makes much more sense. Which does lead you to wonder: What else was Kanye throwing away during the album sessions? NahRight suggests "Boyfriend" could end up on a deluxe album rerelease, so we might yet find out.

Next: Nas with "Nasty," the first single off his recently announced new album, Life Is Good. For a variety of reasons — namely: Nas's detour with the collaborative Damian Marley album Distant Cousins; the arguably unwarranted ambivalence that greeted his last solo album, 2008's Untitled; and his self-appointed position as the vanguard of hip-hop — a new Nas album isn't quite the cause for celebration it once was. (Also: Life Is Good? Really?) That doesn't mean his flow has gotten any less impeccable, though, and "Nasty" is another retro showcase of the skills. Over a mitigated boom-bap beat, Nas goes hard: "I come from the will of Ezekiel / to pop thousand dollar bottles of scotch / smoke pot / and heal the people."

And lastly: Lil Wayne with "Dear Anne," his long-rumored sequel to Eminem's "Stan." Wait, you're thinking, a sequel to another rapper's song? That's so weird. Yes it is! Meaning: Even if this doesn't quite live up to the merits of its inspiration, you have to give Wayne credit for continuing to push the boundaries of what is a normal thing to do on a rap song. By the way, RapRadar says this will not be on Tha Carter IV.

In conclusion: If any other famous rappers want to jump on the new music trend today, that is cool with Vulture.