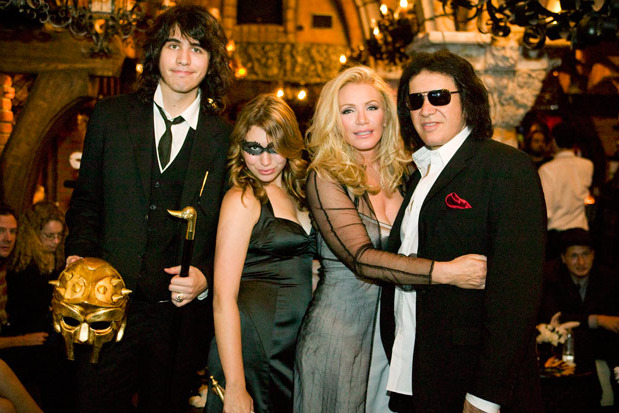 Gene Simmons and his longtime partner Shannon Tweed have been making the talk-show rounds this week to promote the new season of their A&E show, Gene Simmons Family Jewels (which premiered Tuesday night), and show off their distorted interpretations of human emotions. On the Today show, they engaged in some kind of misery ritual at the altar of Kathie Lee and Hoda; then they went on Joy Behar only to have Shannon "storm" off the set. And the parade of sadness worked: Almost 2 million people tuned in to watch the premiere.

Simmons, Tweed, and the producers of the show insist that this is all "real." "f-u, I don't fake my feeling[s]!" Tweed tweeted to an incredulous fan. Tweeted the show's producers, "For you haters that say this is staged, you have no clue. This is a real family going through real [shit]." Let's grant that premise: No one here is lying. But that doesn't mean they aren't performing. Even Simmons and Tweed's children, Nick and Sophie — who legitimately do seem genuine and well-adjusted — wind up playing the ironic-voice-of-reason role for the show. Sophie even describes herself as an "actress on Gene Simmons Family Jewels." Observation distorts the observed, dragon boots or not.
Viewers have been down this road dozens of times before, but with Jewels we've reached a new kind of ouroboros: The reality-show constructs have permeated our cultural consciousness so thoroughly that fakery has been metabolized into honesty. It's a weird, distorted honesty, but it's not exactly lying. It's more like waving at a video camera: Why do people do that? It's sort of strange and it looks so unnatural, and yet to the person waving it feels almost instinctual. And that's where we've landed with Simmons, who's practically a pioneer of American persona-building. His behavior reeks of being artificial, but he thinks he's just waving.
Today:

And Joy Behar: