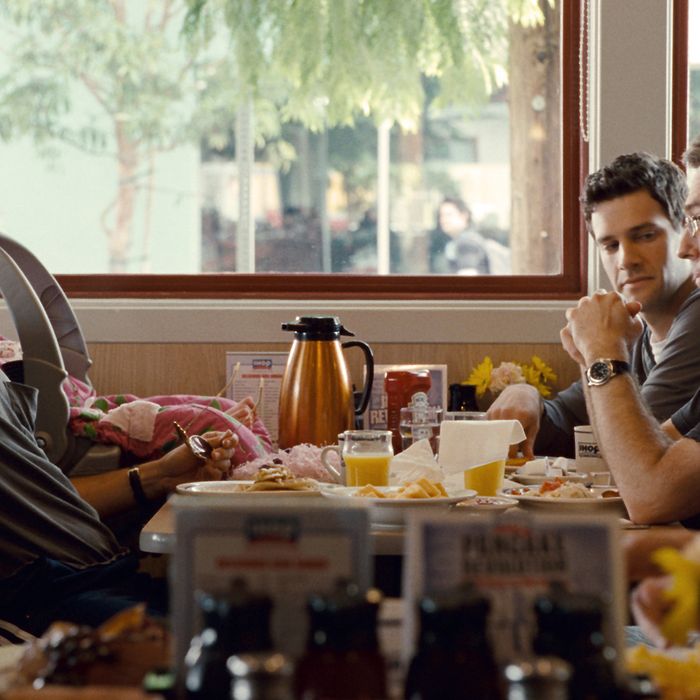 Photo: Courtesy of Warner Bros. Pictures/(c) 2011 Warner Bros. Entertainment Inc. and Legendary Pictures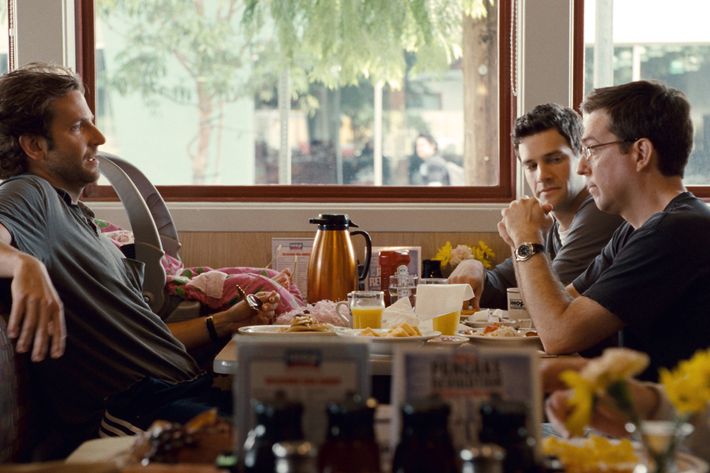 Watching all the product placement in the gross-out The Hangover Part II, one has to wonder if brand managers ever weigh content when deciding what they want their products to be associated with. After all, what were IHOP's thoughts when signing up one of their restaurants as the setting for Bradley Cooper appalling diners by screaming the C-word? "IHOP: Come for the fruit compote, stay for the profanity!" (An IHOP rep declined to comment.) Of course, this is probably a stupid question, one which can easily be answered in the form of grosses: The movie made $140 million domestically, which is a hell of a lot of exposure. In other words, bring on the C-word, just make sure the Rooty Tooty Fresh and Fruity is showing!
Particularly incongruous were the baby brands that popped up in Hangover II: As Cooper's Phil departs the IHOP booth in disgust, the camera dotes lovingly on his toddler, resplendent in her Itzy Ritzy car seat, and then zooms in close on his "BeHip" floral diaper bag, with its prominently displayed Ju Ju Be logo. A spokeswoman for Ju Ju Be and Itzy Ritzy, Geneva Wasserman, said that "while the scene is not appropriate for non-mature audiences," the company was nonetheless "happy to have been included in it and would do it again even knowing the subject matter of the scene." Wasserman also later e-mailed Vulture to note that "a customer from Itzy Ritzy commented on their Facebook page that 'it was cool to see a familiar product that isn't made by a huge Corp (coke, GM, Ford, etc.) in a mainstream film.'"
We did find one brand, however, that wanted to distance itself from the film: Budweiser. When the Bangkok buds gather 'round a beach bonfire, Phil brings out a six-pack of what he proudly calls "American beer: Budweiser" — which, of course, triggers the film's required alcohol-fueled amnesiac bender that includes drunken, unprotected anal intercourse with a transsexual Thai stripper. However, Budweiser's iconic red-white-and-blue labels have been painted out of the scene at their request. We'd assumed that Anheuser-Busch didn't want to be seen as the entire catalyst for such a debauched adventure (let alone to be part of a movie called "The Hangover" — that would be like Marlboro signing on for a movie called "Smoker's Hack"). But the reason for their lack of participation was more specific: "The brother-in-law in that scene was underage," explains Mike Bulthaus, director of marketing communications at Anheuser-Busch. "We invest a lot of money in our efforts to combat underage drinking. It's an issue we take seriously."
Indeed, according to Warner Bros.' own market research, a surprising 13 percent of the opening-weekend audience for The Hangover Part II was under the age of 18. But how many of them were under 14 months and were tempted to buy the car seat?