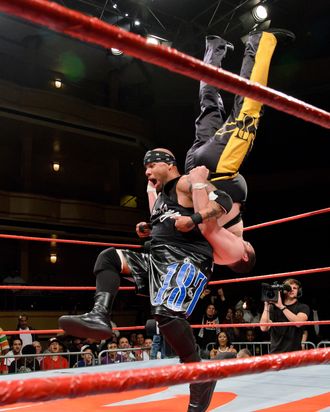 Photo: Miguel Cruz/www.miguelcruzonline.com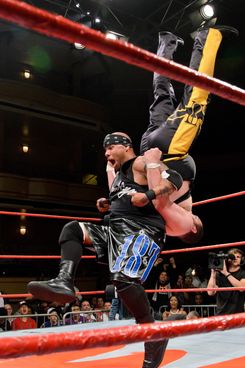 What we are about to see, according to the bearded announcer in a tracksuit and thick glasses, is the latest chapter in "the age-old battle of the Bronx versus Brooklyn." Melle Mel, Grandmaster Flash and the Furious Five's pioneering rapper, is facing off against Uncle Murda, an independent artist once signed to Jay-Z's Roc-a-Fella Records.
Then, nothing happens. The crowd grows restless. "Fake Kid Cudi!" someone yells at the announcer (who does, in fact, look exactly like Kid Cudi). The announcer counters with exhortations to buy T-shirts and more reminders about the after-party. Finally, the rappers and their crews emerge. They came through a black curtain framed in colorful paintings: bright, skewed perspectives of a sunny city block at the corner of "Mean Street" and "Tuff City."

Welcome to "First Blood," the inaugural event of the Urban Wrestling Federation — an experimental hybrid league formed earlier this year — held the Friday before last at New York's Hammerstein Ballroom. One of the UWF's many taglines: "Hip Hop meets Pro Wrestling the street meets insanity meets mayhem." (In the last few months, this line has been tweeted by the UWF no fewer than 27 times.)
"Could I marry the hip-hop urban culture — the gang intrigue of the hood — and turn it into kind of a Grand Theft Auto action in a wrestling ring?" recalls league founder Steve Karel, from the balcony section of Club Amnesia NYC during UWF rehearsals, of the epiphany he had about a year back. Karel is too busy to sit down, so we stand and survey the transformed club scene below, where tables and lounge furniture have been pushed aside to make room for a small wrestling ring. Shirtless, sweaty men are practicing hits, holds, and flops at half speed.
The word "urban" comes up frequently with Karel. "I do a lot in the erotic space in urban," he explains. "Tons of pay-per-view with in-demand. Soft-core erotic. Hip-hop parties, small concerts. I have an affinity to work in the space. I really don't know why. Maybe it's because I would date a black woman occasionally."
While Karel's rap-wrestling nuptials might seem a bit ungainly at first, there are precedents. Former examples of successful cross-pollination include Def Jam's pro-wrestling video-game series, which spun off three titles between 2003 and 2007. In 2000, Wyclef Jean had a minor hit with "It Doesn't Matter," a pop-rap single featuring Dwayne "The Rock" Johnson spouting his famous catchphrase. And, most notable: For years now, fans have scoffed at hip-hop beefs as contrived marketing schemes heavily influenced by the WWE's infinite layering of arbitrary beefs between faux-villains and faux-heroes. Historically, 50 Cent has been particularly adept at the tactic, although his latest attempts have been fairly fruitless.
But the UWF is the most explicit marrying of the concepts to date. "The idea is to have this battle of the hoods," Karel says. "The wrestlers are the goons. The shot callers are the rappers. The credibility of the seriousness of the product is very, very important. This is hard-core run-what-you-brung, foot-to-the-floor, day-one-day-zero. You're not going to see any blowing bubbles or blowing up balloons."
Karel is true to his word: There is no bubble blowing at First Blood. For most of the evening, the ring area resembles a rap-concert stage overrun by hangers-on, only with much better choreography and no actual rapping. The crews are led by the aforementioned Melle Mel and Uncle Murda, along with increasingly more peripheral industry personalities like Billy Blue, Cuban Link, Brisco, and Big Block. The rappers are neither wrestling nor rapping. They are the wrestling overlords, presiding over the staged violence from a safe distance.
Earlier, we catch up with Melle Mel, whose bodybuilder physique is something of a symbolic bridge between the two platforms. He makes the UWF seem as natural a development as any other recent permutation in hip-hop, explaining that wrestling was a source of early inspiration for him and the Furious Five as they crafted their public personas. "When I first started watching wrestling, it used to come on a UHF channel, and there was an announcer named Gordon Solie," Mel recalls. "That's when it was the Valiant Brothers, the Funk Family, the Briscoe Brothers. Being young and from the Bronx and watching wrestling, and trying to sell something, you go about selling it almost like wrestlers do. Those are the best salesmen."
We press: Do these demographics actually have anything to do with one another? Does the "urban" segment of the population really care about entertainment that has traditionally appealed to heavy-metal and country-music fans? He thinks for a moment. "Wrestling's demographic is kind of an 8-to-80 kind of thing. And [nowadays] hip-hop, in itself, is more 'middle America' than it is 'urban' anyway."
During the event, eerily calm segues are punctuated by bouts of thunderous, repetitive rap music leading into short, playful speeches and the high-flying, woozy acrobatics of professional wrestling. A short, portly, and defenseless man named Lowlife Louie is beaten over the head with a folding chair until — very real! — blood sprouts from his head. Light-skinned African-American women, by turns aloof and animated, peacock in skimpy outfits and long fingernails.
During the premiere face-off, Mel and Uncle Murda watch as their goons battle, slamming each other repeatedly against the metal barricades that protect the first row of spectators. Mel, wearing a white fedora atop his long dreadlocks, laughs and cheers on his crew with the same exuberance as Tupac in Above the Rim. (On a related note: In conversation, Mel refers to pretty much everyone and anything in sight as "baby.") But Uncle Murda, draped in blue denim and a Yankee fitted cap pulled low over his eyes, is more subdued, finding little energy to even converse with the scantily clad vixens. Hunched with his elbows on his knees, he takes turns passively observing and scrolling through his phone. We're pretty sure he, and Brooklyn, won.