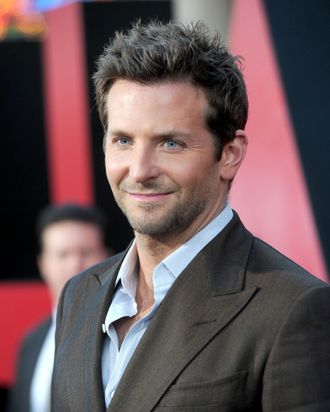 Photo: Alberto E. Rodriguez/2011 Getty Images
Bradley Cooper has given countless high-profile interviews on behalf of The Hangover Part II, but the one where he came off best was never even intended to be seen in the United States. That would be his recent appearance on a Gallic chat show speaking perfect, fluent French, which became a swoon-inspiring YouTube phenomenon that even persuaded some pundits who'd dismissed the actor to reevaluate him. On May 20, before the video exploded, Hollywood Elsewhere's Jeff Wells was still calling Cooper a "fizzy-souled showbiz whore"; on June 1, after viewing the clip, Wells posted the video and grudgingly admitted, "Like those who play piano and can quote Shakespeare at length, I've always been impressed by French-speakers." Maybe Cooper should try this French thing a little more often! Or, alternately, are people starting to realize that they had been kind of a dick to him?
Because really, why was he so divisive in the first place? A NextMovie blog post called him the "most polarizing actor in Hollywood," but Cooper has hardly fed into that perception himself. Though his good looks and his occasional squiring of famous actresses may have contributed to the rancor, it's more than likely that audiences had simply come to associate the 36-year-old too strongly with his two breakout roles: Wedding Crashers, where he played a fratty asshole, and the Hangover movies, where he plays a smug jerk. In recent months, Cooper has committed to playing the title role in a remake of The Crow and Lucifer in Paradise Lost, and for people who know him only as Phil from The Hangover, those projects sounded like a stretch.
But for people who were already following Cooper's career before he became a box-office star, it's his facility for jerky roles that came as a surprise, since he was more likely to be typecast as the perennial sensitive sweetheart. Before Wedding Crashers, Cooper was best known for playing the best friend to Jennifer Garner in Alias — i.e. the guy who was so beta-male that Michael Vartan was an action hero in comparison — and before that, he'd played a winning supporting role in Wet Hot American Summer, where he bottomed for Michael Ian Black in a summer camp shed, then gay-married him. Suffice it to say, neither of those would be high on Phil's Netflix list.
Over the last few months, Cooper has proven his versatility (in Limitless, which was a bona fide sleeper hit that he carried on his shoulders), his smarts (he's writing the script to Hyperion, a sci-fi novel optioned by Graham King), his humility (he's said that as much as he wants to direct Hyperion, he doubts anyone would let him, and he launched a self-effacing bid for the role of Tom Buchanan in The Great Gatsby through the New York Times), and his charm. He's been a great talk-show guest no matter which language he was speaking, and for his current Esquire cover story, he even prepared a stuffed-squid dinner for the journalist interviewing him. It almost seems too over-the-top — can a male movie star really be so charming and guileless? But why not say oui? After all, George Clooney can't do it all by himself.