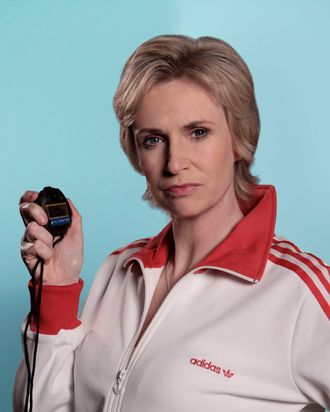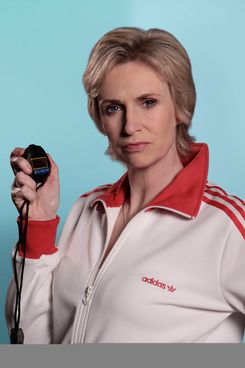 We would like to be overjoyed at the news that Jane Lynch is hosting this year's Emmy Awards. After all: Party Down. Best in Show. Cindi Lightballoon on two episodes of Arrested Development. Lynch is one of our most beloved character actors — funny, endearing, and very quick-witted. Sounds like a perfect Emmy host! Unfortunately, we have this nagging fear that while Jane Lynch has been announced as the emcee of September's kudos, the broadcast will actually end up being fronted by Sue Sylvester. And this would not be good.
One TV insider we talked to summed up our concerns: "She's extremely smart, she's fast on her feet and very, very likable. [However], you know it's going to begin with Sue in her tracksuit, running around to all of the different shows and screaming at people with her megaphone." Sadly, yes, we've had the same instant nightmare about that damn tracksuit floating around various TV soundstages like Billy Crystal on his way to Pilates. And this is not just paranoia: Thursday's press release hinted at just such a Sue-ification of the Emmys. "I'm looking forward to singing [Us: awesome!], dancing [totally down!] and sporting my finest tracksuit [oh, shit]." Plus, Fox has not been shy about using Sue as an ambassador for the show at big public events. For the past two years, Lynch, in character as Sue, has opened the network's upfront presentation by barking at advertisers. There's precedent here, people.
Now, before the Gleek Army starts warming up their voices to shout at us, we're not here to start another debate about the wildly up-and-down nature of Glee. Or even settle the legitimate question of whether the character of Sue Sylvester, once one of the show's brightest spots, might now actually detract more from the show (because the writers so often make her a cartoon) than she adds to it (by providing a much-needed villain and serving as a counterbalance to the unbearable lightness of Mr. Schue). These are all worthy topics, but our mission here is more focused: We're trying to make sure Emmy producer Mark Burnett and the producers of Glee don't turn September's awards into a Sue-pacalypse. This means no opening segment featuring 100 dancing Sue Sylvesters in matching tracksuits. No sketches in which Sue makes a pretaped visit to Pawnee and beats up Tom Haverford, or heads to Cougar Town to drink Merlot, or solves a murder for the Bones brigade. No duet in which Sue and the title character of Despicable Me debate who's meaner.

Quite frankly, we'd argue that the best course for Burnett and Team Emmy would be to avoid having Lynch do Sue at all (an opinion Time's ever-insightful James Poniewozik seems to share with us). There'll almost certainly be a Glee-related musical number during the Emmys anyway; why pile on the Glee hype by dragging out the damned tracksuit and bullhorn again? This is not to say that Lynch shouldn't acknowledge her now-iconic alter ego. And if Emmy writers can come up with a cool, funny way to tweak the sourpuss person of Sue, why not. But Sue Sylvester is already massively overexposed; the less she appears on the Emmys, the better.
While some Hollywood insiders are convinced Burnett won't be able to resist overusing Sue at the Emmys, there might be reason for hope. While Lynch's agent didn't respond when we reached out, Vulture did talk to Fox insiders Thursday who told us the network is very much aware of the potential for overexposing Sue (and Glee in general). One source we talked to even hinted that Burnett is already way ahead of us, and is planning to let Lynch be Lynch — rather than Sue. If true, this is encouraging. Now we just have to convince Burnett to use the Emmys to reunite Lynch with the cast of Party Down. Or at least let her show off some of Constance's animal impressions.