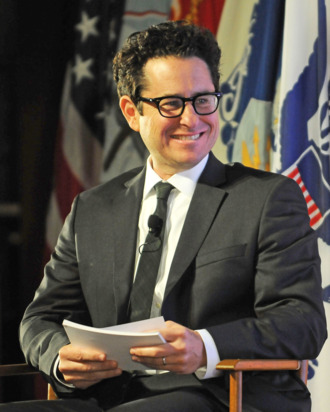 Photo: Mark Sullivan/2011 Mark Sullivan
Talent agents, normally an unflappable bunch, were startled by a disquieting rumor that spread rapidly late Tuesday morning: J.J. Abrams — Hollywood's most successful TV and feature film one-man band — was planning on leaving his longtime agency, William Morris Endeavor. By late Thursday afternoon, it was more or less official: Deadline Hollywood Daily categorized Abrams's departure from his William Morris handlers as a "sabbatical" — one that he would need to take "before deciding who'll make his deals in the future." However, Vulture suspects this isn't your everyday Hollywood-player testing of the marketplace: Insiders say that Abrams didn't just fire his agency yesterday, he may have just fired Hollywood itself.
There are a few wild conspiracy theories as to what Abrams is up to, and though they are simple ones, they're not to be totally discounted in a town filled with outsized egos. Theory One: "Super 8 overperformed, but it overperformed underwhelming expectations," says a well-placed source. "He can't blame Paramount, since he fought them on the marketing [insisting they keep it as secretive and oblique as possible], so why not fire his agent? It could be a classic case of political misdirection." The source then floats Theory Two: "It could be as simple as what he says in private. Which is, 'David Lonner was my agent at [WME], and he left. Then John Fogelman was my guy [at WME], and he left. I don't have any of my guys there anymore.'"

But it's really Theory Three that makes the most sense: Sources familiar with Abrams's plans tell Vulture that they believe his break is, in fact, not temporary at all, and — contrary to Deadline Hollywood's assertion that a "feeding frenzy" among talent agents eager to sign Abrams had erupted — the writer-director-producer is not expected to sign with any talent agency at all.
First off, veterans of the business point out that rarely does someone fire their agent and then look for someone new: Usually a client surreptitiously finds new representation and then breaks it to their old rep, which makes Abrams's move curious. It points to a possibly much bigger plan: As one top TV agent tells us, "He wants to be a mogul." That is, someone capable of controlling his own destiny, and not merely a talented producer-director for hire who has to ask permission to make his visions a reality. His model is said to be Super 8 inspiration and producer Steven Spielberg: specifically, latter-day Spielberg — the one with a studio of his own. "He may have said to himself, 'What do I need an agent for, anyway?'" says one top producer, "Which would really scare a lot of people." After all, big, bold-face players like him may only make up 10 percent of an agency's client list, but they provide 80 to 90 percent of its commissions.
The idea of Abrams striking out on his own is scary for studios, too, because he is one of the most prolific creators working in Hollywood. In March 2009, Paramount extended its first-look arrangement with his company, Bad Robot, through 2013. At the time, studio chairman Brad Grey went so far as to say that Abrams had "become part of the fabric of Paramount" — and to be sure, he has: Abrams has directed three movies for the studio (Mission: Impossible III, Star Trek, and Super 8) but also produced genre titles (Cloverfield), comedies (Morning Glory), and soon drama (Infinitely Polar Bear), and he's expected to return to direct a sequel to Star Trek this fall. He's also still got a megabucks overall deal with Warner Bros. TV, which views Bad Robot as one of its biggest assets (in addition to the returning Fringe, Abrams is producing CBS's Person of Interest and Fox's Alcatraz for next season). In short, Abrams doesn't need agents to go looking for work for him; it finds him soon enough. And so, as our insider flatly theorizes, "J.J. Abrams is never going to be a client of any agency ever again."
When Abrams's former rep John Fogelman left WME, we surmised that they might end up working together soon; while at WME, Fogelman put together some enormous packages for Hasbro, including its deal at Universal Pictures and the launch of a new TV network, HUB, in partnership with Discovery Channel. He could, potentially, make a similar move for Abrams, turning him and Bad Robot into an extensive brand. Fogelman could be to Abrams what David Geffen and Jeffrey Katzenberg were to Spielberg: the business mind to his creative one. Our spy notes that "J.J. isn't interested in the business side so much," and while his Bad Robot partner Bryan Burke oversees production of most everything at their company, he isn't the sort of guy with the big banking connections or high-finance skills to take it from a production company to a global multimedia studio.
Agency sources tell Vulture that Fogelman has been talking about a possible Hollywood venture with Spanish communications conglomerate Telefonica, one of the world's largest mobile-phone companies. Could he be raising money for a new Abrams venture? Fogelman isn't saying. But we'll bet that even if Abrams calls collect, Telefonica — or any other backer — will gladly accept the charges to hear what he has to say.