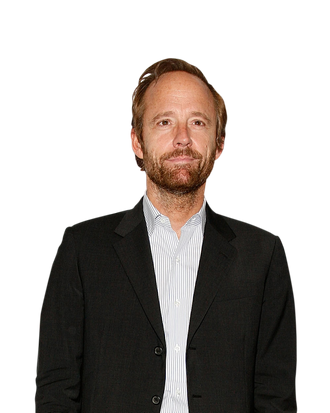 Photo: Andy Kropa/Getty Images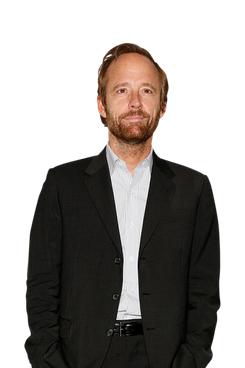 John Benjamin Hickey gives eight Tony-nominated performances a week in the Broadway revival of The Normal Heart, in which he plays a gay New York Times writer coming to terms with the AIDS epidemic in the early eighties. Simultaneously, he's filming his second season of The Big C, as Laura Linney's twitchy, stinky, anti-consumerist brother, Sean. We spoke with Hickey about being overworked and loving it, sleeping "like a showgirl," and zoning out on the dangerous good looks of Normal Heart co-star Lee Pace.
The Tonys are around the corner. You ready?
Oh yes, the Tonys are in three weeks, four hours, and sixteen — just kidding. It's my first nomination! I'm so honored because the plays out this season are so good! I try my best to avoid clichés, but I can't help it here: Whatever happens, I feel like such a winner already.
You're going from Stamford, Connecticut, where The Big C is filmed, to the stage of The Normal Heart almost daily.
Work is like a drug. I'm jonesing for more. It's gotten more addictive than I had realized. I get anxious when I have nothing to do now.
How are you taking care of yourself?
I just went to J.Crew because I'm swimming in my suits and need all new stuff for the Tonys parties. I lost a ton of muscle weight from doing the play. You burn off so much. We're all a little thinner from when we started. All you can do is drink lots of water, eat a lot of almond butter, and before I go to sleep I load up on tons of pasta so that I'll have energy the next morning. The worst is waking up at 3 a.m. from hunger; it happens on this schedule! Also, you sleep as much as you can. You sleep, as they say, "showgirl hours," which means sleeping till noon.
Caffeine must be your best friend.
Actually caffeine is too hard on my system. I'm a delicate boy from Plano, Texas. I can't do the coffee all day, enchiladas and margaritas all night thing.
Between all the different sets, cities, and locations, where do you actually sleep?
I own a two-bedroom apartment in the West Village, but I think if I had to it again, I'd like to try Brooklyn. Because Dumbo and Williamsburg and stuff, it's like the new village. My neighborhood now is all 21-year-old European supermodels. I go to the international newsstand on the corner, and they're all looking for their pictures in Italian Vogue.
Will you ever take a break?
Well, on June 16, The Big C wraps, and on July 10, we finish The Normal Heart. I'll need a sanitarium or something just to decompress after that.
Aren't you kind of connected at Modern Family? What about a cameo there?
I would love to! My partner is a writer there. Two of his best friends are the creators, who are both so brilliant, and a lot taller than him. He co-wrote some of the best episodes. Did you ever see the one where Ed O'Neil goes to dinner with Nathan Lane and all the gay guys? So funny. He's got the greatest job. The Dick Van Dyke Show took place in a comedy writing room, and I thought it was so cool, and it turns out now I'm with somebody like that.
Do you realize that every man and woman at The Normal Heart is crushing on you?
The cast is filled with the hottest men and the most stunningly gorgeous women, so they might get hit on, but I do not. I would love to say that I did. We've all kind of fallen in love with each other, though. It's a difficult journey to make eight times a week, but we've found a way to do it with joy, humor, and love. We have a collectively morbid sense of humor. Jim Parsons is our MVP; we all have the hugest stage crush on Jim. I share a dressing room with Jim and Lee Pace. I sit there staring at Lee and just observing his handsomeness. He's like Clark Gable, he really is.
Has Laura Linney seen the play?
She has. She fell into my arms afterwards crying. Her love of the production was just so incandescent.
On The Big C, you're about to be a baby daddy. Ever contemplate it in real life?
I am about to become a baby daddy on the show. As far as becoming a baby daddy in real life, I have three nephews in Texas, all of whom I'm very close to. They've filled a real biological need for me to have children. I'm about to turn 48, and I think that the closer I get to 50, the more I might be interested in fatherhood. But honestly, I'm not grown up yet myself.
What else can we expect from this season?
It's such a funny season. The writers go to wonderful lengths to explain why Sean is the way he is. You know, his mental instabilities. And how much do we love Cynthia Nixon [who guest-stars as the woman having Sean's baby]? Did you know I was the angry playwright she slept with on Sex and the City? So yeah, we've been in the sack together before. The writers have given themselves an extraordinary challenge in finding the funny in a life or death situation; they've stuck to their promise about it being called a comedy and not a disease-of-the-week show.
And you're as convincing as a horny, dirty straight guy on the show as you are a gay man in the eighties!
Well, Laura Linney knew me when I was horny, dirty, and straight. But at least I always carried deodorant.