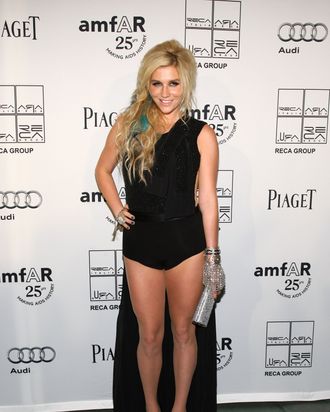 Photo: Neilson Barnard/2011 Getty Images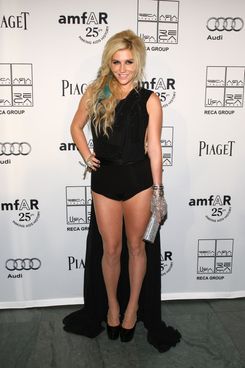 One of the bigger pop mysteries of recent months — beyond the location of Earl Sweatshirt — has to do with "Till the World Ends," the second single off Britney Spears's Femme Fatale. The extremely propulsive track, which is by far the strongest radio single on the record, has spent fourteen weeks on the Billboard "Hot 100" chart, most of them in the top ten (it's currently No. 9), and sold over a million copies. Even before it was a hit, it sounded like a hit, which leads to the mystery. Ke$ha wrote this song. Why would she turn over such an obvious smash to Britney Spears, when she could have kept it for herself? ("Till the World Ends" or "Tease Me"? No contest.) We caught up with a polished, yet still pantless Ke$ha at last night's amfAR Gala and asked her this very thing.
Here's what she said. "That song," Ke$ha explained, "I've never been more proud of anything in my career… It really solidifies me as a songwriter in the pop music world, which is what I consider myself first and foremost. So it actually is really, really exciting for me when I hear [Britney] sing it. Like, when I hear my own songs on the radio I have to kind of turn it down or change the radio or whatever. When I hear that, I fucking blow the speakers out and I order everybody to dance." So, basically, Ke$ha gave away "Till the World Ends," and not "Sleazy" because, just like you, she doesn't want to have to listen to the latter on the radio.