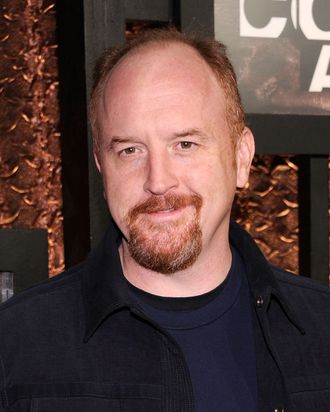 Photo: Dimitrios Kambouris/2011 Getty Images
Tracy Morgan has apologized profusely for his homophobic comments during a Nashville stand-up appearance, making it abundantly clear that he doesn't in any way excuse his statements because they were expressed in the middle of a performance. Louis C.K. begs to differ.
C.K. had already tweeted his thoughts on the controversy, writing, "Tracy Morgan said something wrong, evil, cruel, ignorant and hilarious … He was on a comedy stage, not at a pulpit." He's now elaborated on the defense in an interview with Slate:
He didn't stand on a public stage and say this stuff. He didn't make these announcements: "Here, America, are my views." Where you say something makes a huge difference about what you say and what it means and what you let yourself say … I think the person who really fucked people up and hurt people with Tracy's words was whoever took it out of that Nashville club and put it on the national stage — whoever called Huffington Post or whoever started this shit, and said, "Guess what Tracy Morgan said," and announced it to the rest of the world. He wasn't trying to say it to the rest of the world. So when I read stuff like, How are gay people going to feel when they read this? Well they didn't have to read it! They weren't part of that show. Maybe there were gay people there who were laughing. You don't fucking know. Nobody gets to say that they represent anybody and they're offended on behalf of the whole world …
I have to defend it, because if I was in his role, if I was in his situation, which I might be someday — which I already am for having said something on his behalf — I would want someone to step forward and say something. This is a freedom that I live off of …
It's a dumb thing to take at face value. You'd have to be a moron. And if you do, you are not allowed to laugh at … any jokes that have any violence or negative feelings attached to them, ironically or otherwise. I think there's a lot of hypocrisy in that. If anybody thinks that what he said is true and there's no comedy in it, don't come to my shows. I've said to many audiences that I think you shouldn't rape someone unless you have a good reason, like you want to fuck them and they won't let you. That's worse than what he said! And I didn't wink and say, just kidding. I just said it.
Okay! C.K.'s point — that comedians have to be granted the freedom to be as offensive as they want to be to get a laugh — is fundamentally sound, and it's one that has been previously brought up in this situation (Chris Rock more or less said it, although he took it back). The strange thing, though, is that Morgan has already apologized. You could of course argue that Tracy is just trying to save face and actually does believe, as C.K. argues, that he's in the right to say whatever the hell he wants while onstage. But Morgan at least sounds sincere. Like this: "What I am most sad about is the comments I made about kids and bullying. I would never want any young person to think that I wasn't on their side and if any young person thinks they can bully a young gay kid, come see me at 30 Rock. On the corner, I would be happy to meet you." Louis C.K. is a very smart guy, and he argues his point of view, which should in no way be given short shrift, in an engaging and entertaining fashion. But if Tracy Morgan himself thinks he screwed up, maybe, in this case, Tracy Morgan screwed up?
Questions for Louis C.K. [Slate]