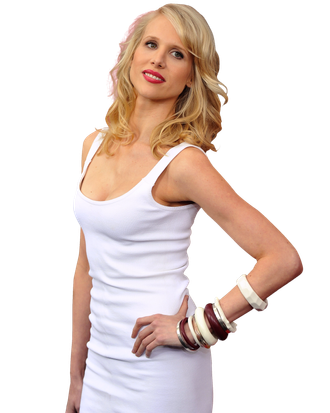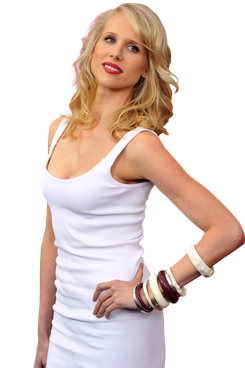 London-born comedienne Lucy Punch has lately been seen as a daffy call girl in Woody Allen's You Will Meet a Tall Dark Stranger and a sex-crazed stalker in the Paul Rudd–Steve Carell vehicle Dinner for Schmucks. In this week's Bad Teacher, she's keeping her clothes on as Amy Squirrel, a prim, uptight, brownnosing social-studies teacher who goes head-to-head with Cameron Diaz for the affection of a nerdy substitute played by Justin Timberlake. We spoke with Punch ahead of the film's world premiere about playing funny sluts (this role aside), enjoying foul-mouthed female comedy, and observing JT and Cameron on set.
This role is different from your usual character, who tends to be an avaricious slut — which you do phenomenally well.
Why thank you. Yes, I did these two movies, Tall Dark Stranger and Dinner for Schmucks, where I was playing infinitely vampirish characters, so it was a welcome relief to not have to worry about fitting into miniskirts and tossing around in high heels and tons of makeup and looking fake-y attractive.
Which was more fun?
All the parts were fun to play, but I find it sort of boring to have to play … I don't really work out. But certainly for the Woody Allen movie, for that part I had to wear these tiny outfits, so I was trying to work out and watch what I eat. The part was fun, but that side was really, really boring. So it was nice to not have to think about any of that for this.
Did you and Cameron Diaz exchange vamping pointers?
Hardly! I mean, Cameron is a complete Über-goddess. If only I looked like her. In my dreams! But no, we didn't exchange. Maybe I got some pointers from her, but I didn't have any words of wisdom for her. "Listen Cameron: Let me show you how to be super sexy. Let me give you some tips, because you need them." No, we didn't have that conversation.
How was the mood on set, what with Cameron and Justin there together?
In my head, when I heard they were playing opposite [of one another], I was thinking, Clearly, they're like great friends, otherwise neither of them would agree to do this. But you know, on my first day I was thinking whether there'd be any tension or drama. I was looking, and there was nothing — nothing at all. They're both irritatingly mature and adult and actually, genuinely really good friends. It was very clear that there was a history, because they were so fond of each other and knew each other so well and were great friends, but you wouldn't have known anything more than that.
Was there a lot of dirty-joke trading on the set?
We didn't really need to, because the movie's filthy enough as it is. It was restricted to what happened in the script.
Is it an empowering thing, for a woman to be that foul-mouthed?
Women do talk like that, you know? And women can be just as filthy, if not more filthy, than men. But truthfully, you don't actually get to see that ever onscreen. And I think that's what makes it more shocking and, thus, funnier. It's kind of jarring, and especially coming from Cameron's mouth, when you're used to seeing her play sweethearts and these lovable characters. And suddenly she's cursing and swearing and behaving atrociously. Certainly when I'd read the script, I was like, Oh my God, I haven't read anything like that before. It was exciting. So yeah, I hope it starts a trend.
Did you see Bridesmaids?
I did; I just saw that recently and absolutely loved it. It was interesting, before that movie came out, I got a number of e-mails from friends in the industry — high-powered writers and producers — who were writing, "We've got to go see this." It was both men and women, and they were like, "We need to make this opening weekend huge," because I think a lot was riding on that movie. How it did was going to make a difference for what sort of movies get commissioned, and I think that it proves that people want to see that, and that people enjoy that, and that people like to see funny women. And it's not just a girls' film. I remember before it came out talking to agents and how I really hope that movie does well, because it makes a difference for all of us. And it does! It's going to mean more movies like that get made. So for actresses who do comedy, we're all delighted and thrilled and very grateful that the movie was so fantastic and has done so well.
So who are your female — or male, for that matter — comedy influences?
My mother loved Gene Wilder when I was growing up, so I used to watch all his movies with her. I just adore him. And I also loved this comedy-sketch duo, French and Saunders, Dawn French and Jennifer Saunders. They, to me, are just total geniuses. I grew up watching them play all these different, hilarious characters. I really admired them.
I was going to say that Joanna Lumley from Absolutely Fabulous is sort of that manic, gorgeous blonde character that you tend to play.
Gosh, I suppose so. That's nice, to be compared to Joanna Lumley. She played my mother once in Ella Enchanted. I was one of the ugly sisters and she was the stepmother, so that was great. I'll take that comparison, thank you.