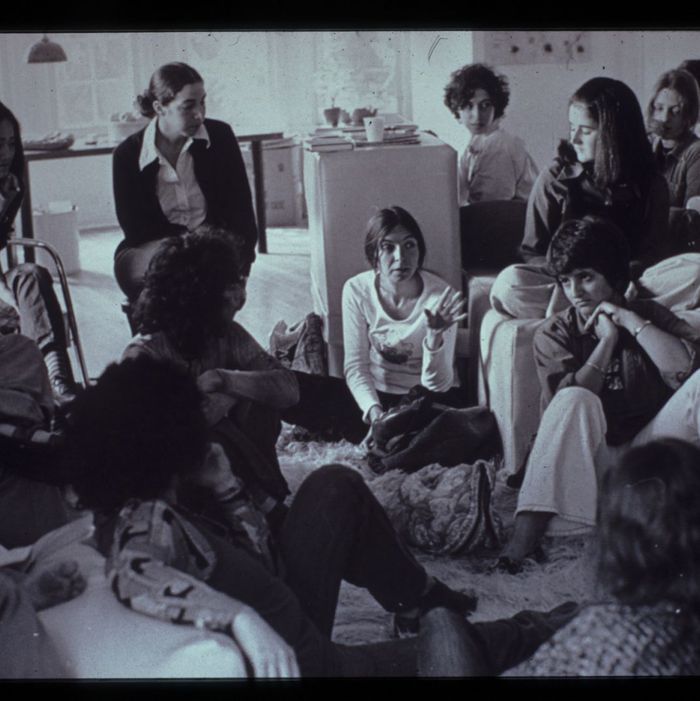 Off and on for more than 40 years, Lynn Hershman-Leeson shot video interviews with female artists — many of them her friends and colleagues, like Judy Chicago, Harmony Hammond, Joyce Kozloff, Adrian Piper, Martha Rosler, Judy Baca. The resulting documentary, !Women Art Revolution, describes the watershed years of the late sixties and seventies, when women were breaking into the male-dominated art world, and their art, as a result, became a political act. "Feminism in the seventies," says Martha Wilson, the founder of the Franklin Furnace Archive, "was an exercise in trying to do something that you knew full well was probably not going to work but you had to do it anyway or you'd go nuts."
Marcia Tucker recalls being hired as the Whitney Museum's first female curator and learning that she was being paid considerably less than her male peers. Artist Nancy Spero recounts being humiliated by Leo Castelli on the floor of his gallery. Faith Ringold talks of organizing a protest of an all-male group show because "we just got mad and said we're not taking it anymore." The footage from these years is potent, but Hershman-Leeson's attempts to connect the seventies with the next several decades are weak. Loosely organized by abstract headings, including "Identity Mediated" or "About Time," the documentary jumps haphazardly from anecdote to anecdote, guided by little more than Hershman-Leeson's memoiristic impressions and opaque narration, like "Time is an active ingredient in the composition of any history." But the film is valuable for offering a terrific sampler of underexposed feminist art, which Hershman-Leeson has smartly made available at rawwar.org, and important interviews, which will be archived here.
Some environmental documentarians get so bogged down in facts that they can't see the dying forest for the falling trees. Bill Haney's The Last Mountain is passionate and partisan, but also admirably focused, perhaps because all the trees have been blasted to bits by mountaintop coal mining. Haney succeeds by pairing his facts with the heartbreaking testimony of local West Virginians who have experienced flooding, pollution, 500 Appalachian Mountains reduced to rubble, devastating health problems, and the loss of jobs (coal production has increased 140 percent over the past three decades, while eliminating 40,000 jobs). Haney finds one rural corner in Coal River Valley, West Virginia, where you can see the homes of six locals who have died of brain tumors, likely caused by the mining upstream. The film's villain, the pro-coal lobby, is exemplified by Massey Coal's infamous former CEO Don Blankenship; he and others persist in denying the environmental hazards of mining and burning coal, despite evidence that they are the leading source of greenhouse gases. Aside from some skimpy footage of nonviolent ecoactivists and a little too much hero worship of Robert Kennedy Jr., the film makes a powerful argument. "If the American people could see it," says Kennedy of the destruction, "there'd be a revolution in this country." That he's probably wrong — that even a documentary as good as this won't spark much beyond impotent rage in the few who see it — only makes the film more tragic.