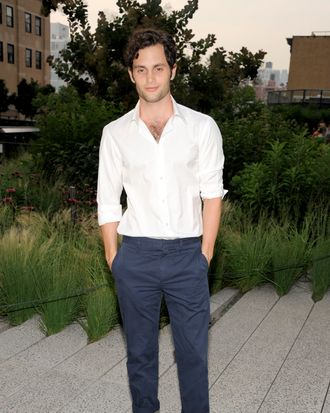 Penn Badgley is going to be a busy guy this summer. Gossip Girl begins shooting its fifth season on July 7, and come August, he'll simultaneously be shooting the recently announced Jeff Buckley biopic, on location in Brooklyn and Manhattan. "It'll be intense, but it'll be fun," he said of his work schedule at Coach Men's summer party on the High Line last night. We caught up with Badgley there and had a quick chat with him about the film and the general doubt about his ability to play the part.
This Jeff Buckley biopic. You're definitely doing it?
Yes, I am.
Are you taking singing lessons?
I haven't begun vocal lessons, but I'm taking guitar lessons. I'm obviously, like, throwing myself 200 percent into it. I'm just really prepping in every possible manner, and yeah, vocal lessons will at some point be involved. But it is going to be me playing and singing..
What strikes you as the most difficult thing about playing the part?
Well, it's really kind of a quiet and beautiful different meditation on the Jeff Buckley that people think they might know, because he's greatly mythologized, obviously. But this is looking at him when he first came to New York City and is basically discovering himself and his voice and his style, and is first breathing life into the music that he eventually created. So, you know, if you want to know the bullet points of his career and his tragic death, then watch the documentary and listen to his album. This is actually, I think, artistically, something that is really valuable and different.
Does the script include his death?
No. No, it doesn't.
So you said you'll be prepping in every way for the Buckley movie. Guitar lessons, vocal lessons. What else?
For prep? You know, really, without digging too much into it, it's a massive undertaking playing anyone who is real; furthermore, someone who has passed. And then furthermore someone who was so gifted and artistic, so, you know, it's a process that I'm not even 100 percent aware of yet, but it's been happening for a while, and it's going to continue until the last day of shooting, and even after. And it has influenced me and inspired me and changed my own music, and my vision, I think, as an artist. And, you know, the reason I'm telling you is because, obviously, there's a whole lot of people who are skeptical, so I would … I just want to be clear that I'm very moved by the opportunity, and I really am giving myself to it.