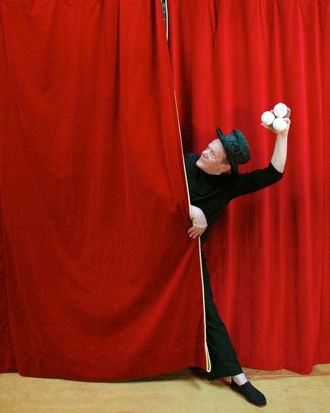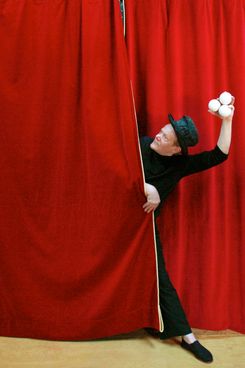 Philippe Petit became an instant celebrity in 1974 with his daring and epic high-wire walk across the Twin Towers, an iconic New York moment that had a resurgence with the 2007 children's book The Man Who Walked Between the Towers and the 2008 documentary Man on Wire. After the film won an Oscar, the aerialist began concocting a new challenge, a one-man show that would creatively and fancifully tell his life story. Petit describes himself as a rebel and rule-breaker, and as such, he has decided that in his show he will not do the one thing people most people define him by: There will be no wire act. In fact, to emphasize the show's earth-bound nature, he has titled it Wireless.
"People know me as the man on the wire, but I wanted to offer to people a backstage view of me," says the impish and energetic 61-year-old. He sits in the empty seats at New York's Abrons Arts Center, where this week he will stage a work-in-progress version of his show in order to spark interest in investors who might fund a full-fledged run: All three evening shows have already sold out, so he has added a matinee on the 19th. In Wireless, he tells stories from his life — from his careers as a street juggler to his youthful efforts at pickpocketing — and accents it with the many skills he has picked up along the way (well, except the whole wire thing). "There is all of the phases of me in this show," he says. "Foolish things, amazing things, magic and juggling, and there are profound things."
The diminutive Petit is a man who, no matter how stage bound he remains, floats above the theater world's norms. Staging a show with no budget and no time would be daunting enough (just three months from the day he was offered the space, having only done an earlier version once, in 2009, in Irvine, California). But staging it without any wire-walking may strike those who only know him from Man on Wire as if Yo-Yo Ma announced he was going to give a lecture about the cello, while his instrument remains shut in its case the entire time. Yet the always cocksure Petit remains "supremely confident" that even at low altitude he will thrill those who don't know of his other skills. He has predicated many of his greatest feats on surprise, allowing crowds to discover the small speck of a man balancing hundreds of feet above them with no announcement. And with this unique show, he is aiming for the same effect, even as audiences look straight at him, rather than up: He thinks he'll be able to not only entertain, but also to inspire audiences to free themselves from the constraints of traditional expectations.
"I love the artistic challenge of doing something kind of impossible," Petit says. Ever the careful planner, he whipped together ten pages of meticulously crafted drawings of props and sets for his designer. He is reluctant to give away too much (again: surprise!), so when he gets up onstage to give a walk-through of the show, he is secretive yet filled with strange and tantalizing details. He walks over to what he calls "an enigmatic bag that is very important to me — you can say there's an ugly burlap that is very dear to Philippe." Then he explains a comfortable chair that will sit in one corner of the stage, "where I'm going to read something — but I won't tell you what it is." He chuckles, but then elaborates, mysteriously, "I am going to talk about the soul of the wire." Listening to Petit, it's obvious that his theatrical approach will echo his style on the wire, a blend of showman and poet. "I will play with the audience and I will try to hold onto them until the very end," he says. "There are surprises, you can say, that even come down from the sky."
While he has written out and blocked each scene, he also allows himself room to indulge his whims and improvise, saying he may go out and talk to audience members to see what happens. "There is in me a lot of contradictions," he says, with a hint of pride. Indeed, while the show is called Wireless, the wire, even in its absence, will be a palpable presence. "I will mime being on the wire, I will talk about it, tell how I started, explain about fear, concentration and faith. The wire is part of me."
He will also reference the World Trade Center, which became such a fraught and loaded symbol 27 years after he treated it as his plaything. But he will do it in his own unusual ways — at one point, while drawing on a blackboard, he will reshape the juggling clubs he has sketched to resemble two towers. Then he'll quickly add in an antenna and a wire connecting the two. "I want to see how they are going to react, my friends, the New Yorkers," says Petit, who made the city his home after his famous stunt. "There might be applause or they might go, 'Oh.'"
Petit, who describes himself as a "strange creature coming from another planet" has rarely made decisions based on career strategies ("I don't care, very frankly") and pays little attention to things like the passage of time: He doesn't even own a watch (much less a cell phone). With his head so filled with ideas and plans, time does not weigh him down — he has not even particularly focused on the fact that his show comes just before the tenth anniversary of 9/11. "I don't see time begin and end," he says, growing serious. "In my head, the Twin Towers are still alive."