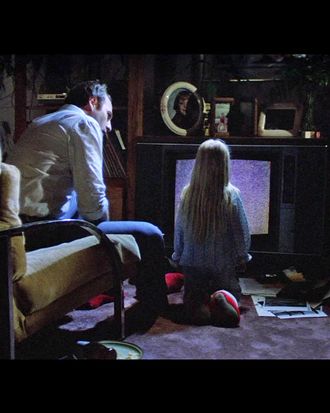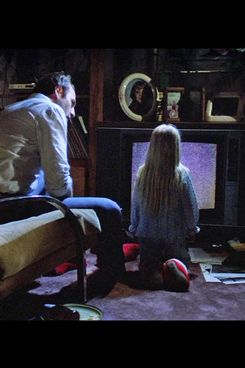 Recently freed from a crushing $4 billion debt, MGM's new studio management in February told Hollywood's talent agencies it was moving ahead with plans to reboot five movie franchises, including Steven Spielberg's 1982 horror hit, Poltergeist. Now Vulture hears that the studio has offered Pulitzer-prize winning playwright cum screenwriter David Lindsay-Abaire (Rabbit Hole) the job of reimagining the paranormal classic.

Reached by Vulture, Lindsay-Abaire confirmed he'd been approached by MGM and offered the job, but emphasized that no deal had been reached and stressed that he was not yet even sure he wanted to take it. (Abaire's latest play, Good People, starring Frances McDormand, just wrapped its limited engagement on Broadway a little over a week ago; both People and McDormand are nominated for Tony Awards.)
It's understandable of playwrights to be wary of big studios. But MGM's new bosses — Spyglass Entertainment principals Roger Birnbaum and Gary Barber — are co-financiers who know something about rebooting a beloved classic: They co-financed Paramount's big bet on JJ Abrams Star Trek reboot. As such, they also seem to be resisting Hollywood's usual modus operandi of hiring a cheap commercial director, some CW stars, and adding another roman numeral: Insiders tell us MGM has no creative parameters for a Poltergeist remake — it would be Lindsay-Abaire's to shape in whatever fashion he chooses, should he want the job.
It's also clear why MGM is interested in the landmark Poltergeist franchise; horror need not be expensive to be successful, as long as it's smart. Oren Peli's 2009 hit Paranormal Activity was made for $15,000 and grossed $193 million worldwide,and last year's Insidious (directed by Saw's James Wan) was made for $1.5 million, and grossed $70 million worldwide. The original Poltergeist was relatively cheap, too; it cost a little more than $10 million back in 1982 — less than $25 million in today's dollars — but grossed eleven times that worldwide.
Who know what will happen with Lindsay-Abaire, but taken with other recent moves by MGM, this offer is a good sign that the resuscitated studio plans to blend both highbrow and hoi polloi sensibilities. For example, MGM also plans to remake Brian DePalma's 1976 supernatural scare-fest Carrie — sacrilege! — but then last month hired playwright and Marvel Comics writer Roberto Aguirre-Sacasa. (The same Aguirre-Sacasa who was recently brought in to save Broadway's Spider-Man: Turn Off the Dark and hired as a co-producer on Glee.) MGM is remaking Paul Verhoeven's Robocop, but giving it over to José Padilha, the brilliant Brazillian documentarian (Bus 174) turned feature director (The Elite Squad) who's mined the slums of Rio de Janeiro for some of the more compelling stories of the decade.
Not that we have any financial investment in the project, but if Lindsay-Abaire is on the fence about whether the studio is serious about reinventing itself the right way, its recent writer-director hires would seem to suggest it is. Go to the light, David! Go to the light!