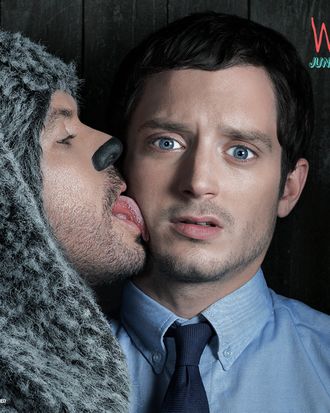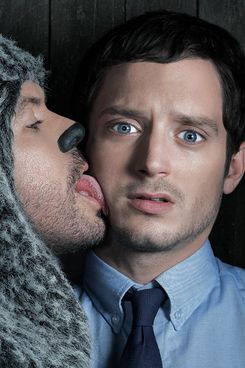 We would like to resist any canine cliches in reporting the ratings for Thursday's premiere of FX's Wilfred, but doggone it: The Elijah Wood series fetched very impressive numbers, earning the best comedy premiere numbers for an series in FX history. What's more, with a boost from Wilfred, the network's critically worshipped Louie also rallied, earning its biggest numbers yet with viewers under 50. Read on for more Nielsen details, including info on the season premiere of Futurama and the so-so debut of USA's latest cookie-cutter crime drama, Suits.
On a big night for cable bows, Wilfred averaged 2.6 million viewers overall and a 1.2 rating in adults 18-49 (the latter number translates into 1.6 million people under 50.) The talking dog comedy notched FX-best ratings in viewership, adults under 35 and women under 50. Only the short-lived Lucky, which premiered in 2003, had a bigger premiere in adults 18-49 (1.7 million.) As for Louie, it lost some of the Wilfred audience, falling to 1.6 million viewers and a 0.8 in adults 18-49. Still, that was the best tune-in and demo score ever for the Louis C.K. series, and an impressive 42 percent increase over the series premiere.
While the NBA draft lured plenty of dudes away on ESPN, FX's most direct scripted competition in the 10 p.m. time slot Thursday was the return of Futurama to Comedy Central. The immortal animated comedy did fine for the network, though it was impacted by the new competition on FX: Back-to-back originals of Futurama averaged about 2.5 million viewers and a 1.1 in adults 18-49. That's down 20 percent from last season's super-hyped return to originals after a seven-year hiatus and about 40 percent below its demo score. Still, Futurama handily beat the FX comedies in Comedy Central's core audience of men under 35.
The night's biggest cable numbers, as usual, belong to middle-of-the-road network USA. At 9 p.m., the summer season premiere of Burn Notice averaged 5.2 million viewers and scored a 1.7 adults 18-49 rating (around 2.3 million viewers.) Impressive, but in adults 18-49, Burn had to share the No. 1-rated title with History's Swamp People. Of even more concern is that Burn was down over 20 percent from last summer's season debut in viewers and a little more than 10 percent in the demo. Its 2011 debut was also dramatically lower than than 7.6 million viewers who watched Burn's summer 2009 finale less than two years ago. With Burn a little less hot than it used to be, newcomer Suits had a soft launch, at least by USA standards. The drama attracted 4.6 million viewers and earned a 1.6 rating in adults 18-49 (2 million.) That's way down from the last show USA launched behind Burn in the summer, Royal Pains, which attracted 5.6 million viewers with its 2009 bow (and 5.8 million last summer.) While many cable networks would still kill for USA's ratings, there's growing evidence that the network's blue skies formula may be growing a tad too familiar for viewers and that increasing competition from other nets may be taking a toll.
And finally (because who doesn't want to read as much ratings news as possible late on a Friday afternoon?), we should report that broadcaster ABC had a pretty decent night Thursday, at least with its big reality premiere. Mark Burnett's Expedition Impossible drew more than 7 million viewers and held on to virtually all of its Wipeout lead-in. Returning series Wipeout and Rookie Blue were down a bit from last summer, but still outdid their competition.