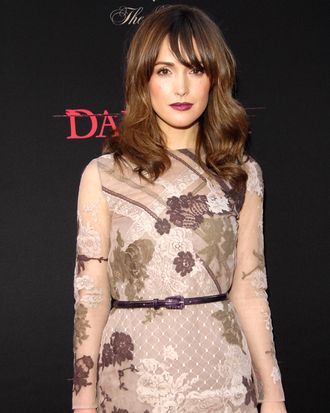 Ellen Parsons, the hot-shot attorney Rose Byrne plays on Damages, has fended off bloody assaults, homicide charges, and murder attempts by both bosses and lovers. And there's much more of this — suicide, torture, assassination — in the show's upcoming fourth season, on DIRECTV. Not a lot to laugh about, you'd think. And yet, "Did you know," Rose Byrne said over a press lunch at Michael's on Wednesday afternoon, "Judd Apatow thought of me for Get Him to the Greek because of Damages? People ask him why he cast me, and he said because of the comedic touch I bring to Damages! The world of Damages is so dark, and they do drama so well, so I don't see that."
Odd, maybe. But when Apatow came calling, Byrne decided the role he was offering her would be a nice change from her dark day job. And now, after stealing scenes as pop starlet Jackie Q in Greek and as the insufferable Helen in Bridesmaids, Byrne is ready for a lot more laughter in her life. "If I [ever] do another television show," she said, "I would love to do a comedy. Something funny, something lighter. A little different."

But why wait for another TV gig when the world of movie sequels must surely beckon? Moving from salad to entrée, we mused with Byrne about fantasy-sequel ideas for those two recent films. For instance, at the end of Bridemaids, Kristen Wiig's character, Annie, has found love with Chris O'Dowd's patient cop suitor. What might happen, we wondered, in a sequel called Bridesmaids Revisited? "Maybe Annie can marry Officer Rhodes," Byrne said. "And I can plan their wedding! Although we'd need more tension."

The next sequel would prove simpler to think up. Get Him to the Greek was itself a spin-off of Forgetting Sarah Marshall, so a Greek 2 could shift its focus to Jackie Q. "Yes," Byrne enthused. "She needs her own reality show! She's kind of like a Kardashian. That's what I loved about her, sending up pop culture and all of that. She's so narcissistic. So flamboyant. So deluded. She's really the female version of Aldous [Russell Brand's character], but she's probably smarter and slightly more functional than him."

Forking up some haricots verts, Byrne savored the idea further. "I've got to pitch this to Judd!" she enthused. "I've got to get this going. I've only got a few years left to wear monokinis." Well, we objected, surely more than a few? "Let's not argue!" she said.