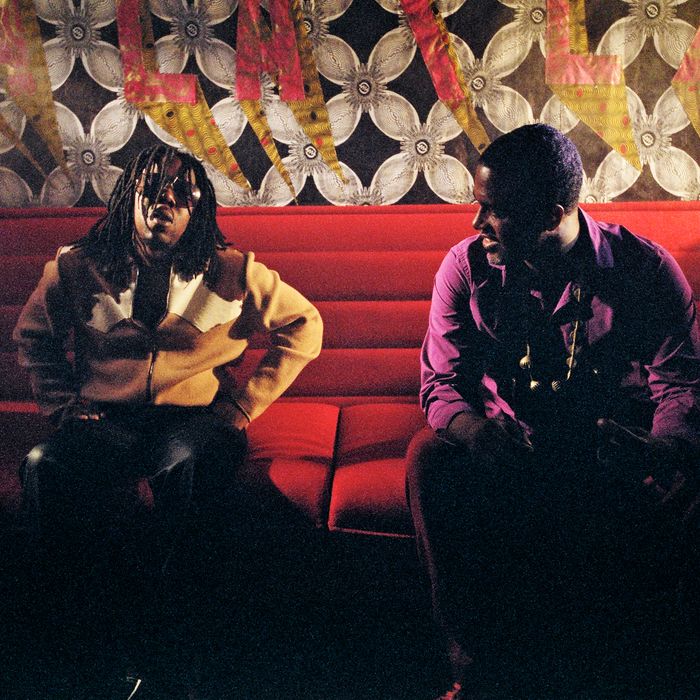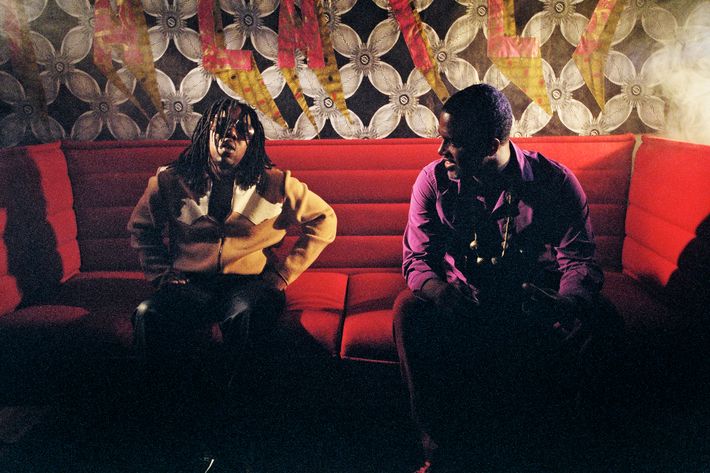 Ishmael Butler may talk about making music in the quasi-mystical manner of many artists, but his projects have been so neatly conceived that they might have been calculated by a critic.
First he was one third of Digable Planets, the hip-hop group whose jazz loops and soft-spoken boho cool still sum up a particular corner of style; you get the feeling that if they hadn't existed, 1993 would have had to invent them. (Their hit single, "Rebirth of Slick," means Butler will probably always be best remembered for the line "we be to rap what key be to lock," delivered with schoolteacherly precision.) Some years later, there was Cherrywine, a curious mix of hip-hop, funk band, and futuristic R&B. And now Butler's back in his hometown of Seattle, working under the name Palaceer Lazaro, and heading Shabazz Palaces, one of the most sonically fascinating left-field hip-hop acts going. He's tried not to say much about the group's history, its agenda, even its precise membership — it all remains a bit enigmatic and, dare I say, mystical — but the music they're putting out is conceptually tight, focused, and full of purpose. You'd have a tough time dreaming up a collision of sounds that gels quite so well as this stuff.
Their latest release, following two much-loved EPs, is a 35-minute album called Black Up, and it deserves at least some percentage of the attention paid to certain other left-field Pacific-coast rappers of late. Possibly for the beats alone, which are mind-blowingly crisp and woozily abstract at the same time — sci-fi drums running around chilled, watery samples and blots of bass that sound like the notification messages of some immense computer. (You could almost strip Butler's rapping off the record and still have an instrumental album plenty of electronic-music fans would love.) The sound itself is another immaculately conceived thing: You could pick out strains of the warped experimental tones that have come from the Anticon label and from L.A.'s Flying Lotus, remnants of the jazz cool Digable Planets had, or heavy doses of straight-up futuristic beat-mangling, but the whole thing hangs together as its own incredibly heady mix. It's more immersive and hi-fi than any rap record I've heard this year, and it moves, mutates, and bangs in strange, sideways directions.
The amazing thing is that Palaceer Lazaro's self-presentation manages the same feat — the parts feel familiar, but the whole is idiosyncratic, well-rounded, and awfully compelling. There's that sense of mysticism about him, and the urge to drift off into the headier reaches of his own brain. (You can spot this pretty quickly in song titles like "An Echo From the Hosts That Profess Infinitum.") But there's also a serious streak of earthiness running through the entire record, a dose of hard-nosed swagger that pops up in the beats and the rhymes alike; it seems like Butler's one of those rare musicians whose path has taken him from a peaceful, laid-back youth to a steely-eyed, driven-sounding adult, instead of the other way around. There's a line in the closing track, "Swerve…," delivered by one of Lazaro's collaborators from the female hip-hop group THEEsatisfaction — "Then we step out of our trance / Back to three dimensions and hands in our pants" — that captures the vibe perfectly: It's constantly dropping back and forth between the clouds and the dirt.
Black Up spends plenty of time knocking the two against one another, or just hovering in between; part of what makes the album's 35-minute length feel so tight and focused is the way it can swing from a cold, lurching diss track ("Yeah you") to warm, tender space-outs and encomiums for Ethiopian girls whose hair smells like April flowers. (Butler says he's been influenced by the Ethiopian music an ex-girlfriend introduced him to and has dutifully learned at least one word of Amharic for use on Black Up: konjo, which means beautiful.)
This is a lot of facets for one album to have, especially an album that manages to feel so singular and contained, the complete opposite of scattered. It's impressive — enough so that you can actually see the city of Seattle taking great pride in it. (The Seattle Times' Andrew Matson has already declared it album of the year.) This is not undeserved; Lazaro and his collaborators have managed to make something that's honestly coming from its own world, and not just fronting like it is. You get the feeling his twenty years in the industry have served him awfully well, and given him the exact tools he needs to concoct a vision and realize it completely.