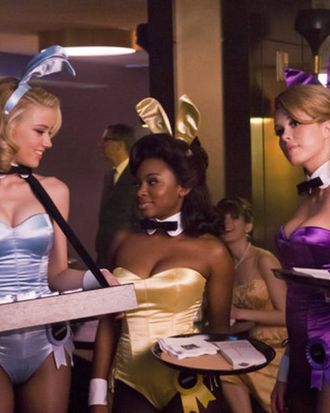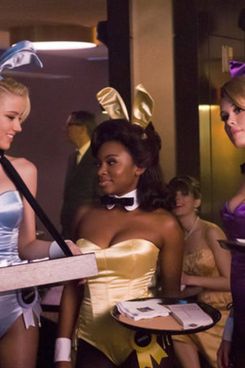 The calendar, the sun, the lines outside for X-Men: First Class and that stray kernel of popcorn that's been lodged in your gums all day are all sure signs that it's summer movie season. But as you enjoy your expensively produced blockbusters, the folks at the broadcast networks would like you to forget summer and look ahead to fall, when they'll be back in business with a slew of fresh programming. They're so anxious to do this that they've already started substantial ad campaigns on behalf of their new fall lineups in movie theaters, far earlier than usual.
Using movie advertising is nothing new for networks, which regularly buy time in those pre-show infotainment reels. What's different this year is how quickly broadcasters have started banging the drum in theaters: NBC crashed a three-minute image spot featuring interviews with the stars of The Playboy Club, Whitney, and its other new shows and got it to multiplexes late last month, just in time to get shown before Bridesmaids. Historically, such promotion hasn't started until late June or July. "In looking at last year's broadcast fall launch dynamics," says NBC head of marketing Adam Stotsky, "[we realized that] the earlier we can get started building awareness of our new shows, the better." Vulture has also learned that this weekend Fox is premiering nationwide in-theater 60-second trailers for its mega dino-drama Terra Nova, which will appear in front of showings of X-Men: First Class; ads for X Factor should follow next month.
NBC (and Fox) execs clearly think rushing these ads out makes sense: Though it would seem as if nobody's really making decisions about fall programming choices in the heat of June, the networks these days need as much time as possible to start building awareness of new shows. Ratings for broadcasters have been in steady decline, and while the Big Four still draw much bigger crowds on average than cable, they can no longer rely on simply selling shows on their own air. Plus, blockbusters released in the summer reach a lot of young men and women under 35 — the exact age group that's been the most eager to abandon live TV with all of its ads. Spending a big chunk of change in the summer to force-feed awareness to this elusive demo is probably a wise investment.