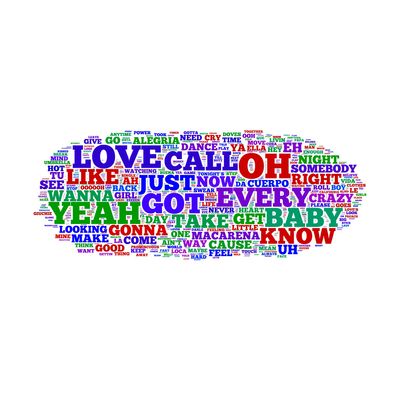 By this time last year, Katy Perry's "California Gurls" already had a whole month under its belt as the Song of the Summer front-runner. In comparison, the 2011 Song of the Summer race is proving to be notably fluid: Adele's "Rolling in the Deep" continues its stranglehold on the top of the Hot 100, but no one can quite call it the top contender; it's been around for so long (and is so atypical for a SoS) that a plummet seems inevitable. Behind it are a bunch of tracks that could make a big move — Pitbull's "Give Me Everything," Lady Gaga's "The Edge of Glory," Britney Spears's "Till the World Ends" — and that, for some reason, have not yet been able to. (Meanwhile, the assumed radio hit from Beyoncé hasn't materialized, and from the sounds of the freshly leaked 4, most likely will not). So, while the world waits, Vulture has taken a look back at the last thirty years of the Song of the Summer.
Above: a word cloud representing every lyric from every song of the summer for the last twenty years. The full list,* seen below, can be quibbled with on an individual — dare we say, sentimental — basis, but this is our best bet as to the general consensus in any given year. Also, we included all lyrics, which means choruses are represented as many times as they are repeated. And that should about do it for methodology.
And now, on to the results. Some words are obviously, comfortingly predictable: Of course the greatest pop songwriters of our time have again and again found use for LOVE, BABY, OH, EVERY, and YEAH. The prominence of CALL and GOT is a bit more surprising; WANNA, GONNA, CRAZY, and SOMEBODY's mid-level presences seem to be about right. But … wait a minute … wait just a goddamn minute … where is PARTY? It's … it's not here! Can that be possible?! It can. We went back through the lyric master list and there were only two measly PARTY appearances. This is, of course, mind-blowing. Is this a statistically meaningless aberration? Or, much more likely, have the great songwriters always known this deep, dark secret: If you want to write an effective song of the summer, you do not use the word "party."
Now, your turn: What other groundbreaking conclusions are to be drawn from this in depth statistical analysis? Have at the word cloud.
*By the way, thanks to Buzzfeed for putting in the yeoman's work here. We went back and fact-checked their comprehensive Song of the Summer list and the variations were minor.
1980: "Call Me," Blondie
1981: "Endless Love," Diana Ross and Lionel Richie
1982: "Eye of the Tiger," Survivor
1983: "Every Breath You Take," The Police
1984: "When Doves Cry," Prince
1985: "Power Of Love," Huey Lewis & The News
1986: "Papa Don't Preach," Madonna
1987: "I Wanna Dance With Somebody," Whitney Houston
1988: "Roll With It," Steve Winwood
1989: "Right Here Waiting," Richard Marx
1990: "Vision Of Love," Mariah Carey
1991: "(Everything I Do) I Do It For You," Bryan Adams

1992: "Baby Got Back," Sir Mix-A-Lott

1993: "That's The Way Love Goes," Janet Jackson
1994: "I Swear," All-4-One
1995: "Waterfalls," TLC
1996: "Macarena," Los de Rio
1997: "I'll Be Missing You," Puff Daddy
1998: "The Boy Is Mine," Brandy and Monica
1999: "Livin' La Vida Loca," Ricky Martin
2000: "It's Gonna Be Me," 'N Sync
2001: "Lady Marmalade," Christina Aguilera, Lil' Kim, Mya, and Pink
2002: "Hot In Herre," Nelly
2003: "Crazy In Love," Beyoncé feat. Jay-Z
2004: "Yeah," Usher
2005: "We Belong Together," Mariah Carey
2006: "Promiscuous," Nelly Furtado feat. Timbaland
2007: "Umbrella," Rihanna feat. Jay-Z
2008: "I Kissed A Girl," Katy Perry
2009: "I Gotta Feeling," Black Eyed Peas
2010: "California Gurls," Katy Perry feat. Snoop Dogg