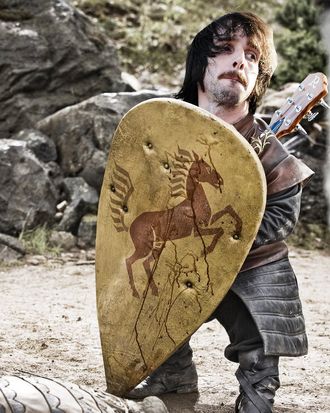 Photo: Mary-Louise Price; Photos: HBO (Game of Thrones), C Flanigan/Getty Images (Cronise)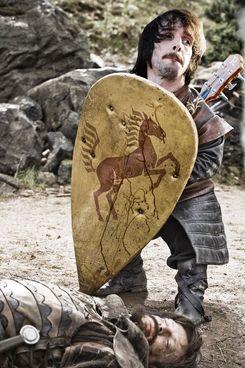 Before most of us had ever heard of the Starks, the Targaryens, direwolves, or anything else from HBO's hit adaptation of George R.R. Martin's Game of Thrones, the Sword was obsessed. In the last five years, the Austin stoner-metal act has birthed practically a whole subgenre of bands inspired by their mix of thundering percussion, blazing speed-metal guitars, and an approachable, cerebral vibe. They've also, in that time, drank from the same fantasy well as the Thrones universe; "Wolves and ravens, winter and doom," as front man J.D. Cronise put it. Sensibly, when they encountered Martin's books, they were hooked — so much so, they eventually wrote a song, "To Take the Black," (from 2008's excellent Gods of the Earth) about the Night's Watch, a downtrodden misfit army that defends against evil in Westeros. "They were speaking my language," Cronise explains. This makes J.D. the ideal expert to ask about HBO's adaptation. So, did the show get it right? Where did it screw up? And, most important, which Game of Thrones characters are the most metal?
It's easy to get distracted by all the wolf pelts, armor, and beheadings, but according to Cronise, the whole Stark clan is decidedly un-metal. "They probably listen to John Denver or something." (If you think about it, the Starks do spend an awful lot of time doing what's right, loving their family, and praying to trees. Pretty lame.) "In my opinion, both the Targaryens and Greyjoys are way more metal than the Starks," he says. The Greyjoys didn't get much screen time, but the blond Targaryens were prominently featured — scheming, killing, getting killed, and learning to master the horse lord Dothraki. "The Targaryens probably listen to power metal, and the Greyjoys definitely listen to black metal."
Some people might be nervous about their favorite books turning into a TV show, but Cronise was excited from the start. "I knew it would be on HBO and that George R.R. Martin would be involved. My thought was more like, How awesome is it going to be?" So, did it live up to his expectations? "Almost every scene was more or less exactly as I had imagined it when I read the book," he says. "I've never experienced that with any other TV show or movie based on a book I've read." The swords, the armor, the castles: "all perfect." His only problem is that Jon Snow's giant wolf, Ghost, snarls and growls in the show, while he's described as silent in the books. "I think the mute wolf is cooler." It's a minor quibble, and all in all Cronise calls Game of Thrones "the best show on TV." And, the Starks notwithstanding, definitely the most metal.