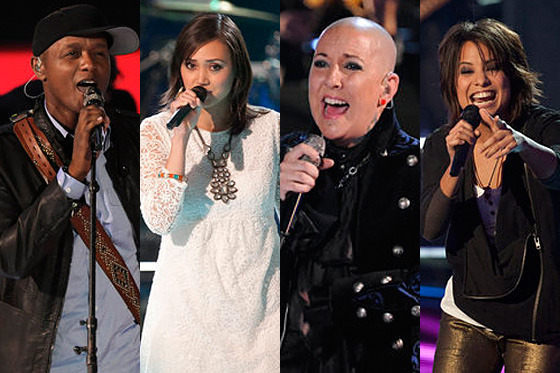 Tonight, The Voice begins its two-night finale extravaganza to determine whether Javier, Vicci, Dia, or Beverly will be, dunh dunh dunh, the voice of America. The singing competition that started off as so much cooler than American Idol has become just about as cool (or, rather, uncool), but we're still pretty psyched for the finale. The intriguingly complex "team" structure has progressed from blind auditions to battle rounds in an actual boxing ring to some incredibly convoluted point system that, by combining America's surprisingly good taste with the coaches' general wishy-washiness, has somehow resulted in the best singers moving forward. The final four who remain in the competition are a wonderfully motley crew including two (!) lesbians, one of them 41 years old and bald. Basically, as the coaches keep saying, we're all winners when it comes to The Voice. Except, well, there can really only be one winner, and three losers winners in spirit only. We looked at the remaining four contestants and handicapped their chances of victory.
Javier Colon, 34
Sob story: Devoted father of two, he left the Derek Trucks Band to go solo in 2002 and released two albums on Capitol Records only to watch that deal go sour. Coach Adam Levine felt so strongly that Javier had been wronged and deserved a second chance that he broke rank with the other, more egalitarian judges and stacked the points in Javier's favor to ensure he'd reach the finale.
Strengths: Front-runner since the start of the competition, when all four coaches turned their chairs around for his plaintive rendition of "Time After Time." Has what Levine says is one of the best voices he's ever heard. Plays guitar. A fine-looking man. Also, bald, which seems to be a big plus on this show.
Weaknesses: Inability to sing any note without embellishing it with at least three vocal runs. Soft-rock-ballad song choices like "Angel" and Coldplay's "Fix You" that are slightly less cool than The Voice viewers have proven themselves to be, though "Fix You" is currently the highest-ranked Voice song on iTunes.
Sample Performance:

Odds: 2:1
Vicci Martinez, 26
Sob Story: Father, who also wanted to be a singer, passed away five years ago. Her triumphant rendition of Florence and the Machine's "Dog Days Are Over" complete with Taiko drums, was her way of both honoring him and moving forward. Yes, she cried when she talked about this.
Strengths: Gravely, bluesy voice made the overperformed "Rolling in the Deep" and "Jolene" sound fresh again. Performed Florence and the Machine! Killer faux-hawk hairdo on "Dog Days," combined with the taiko drums and some white sequined pajama outfit, made it easy to visualize her rocking an arena near you. Recalls Adam Lambert's (and Lady Gaga's and coach Cee Lo's) appreciation of theatricality. Warm personality makes her easy to root for. Openly gay, which seems to be totally cool by America.
Weaknesses: Less focused song choices and artistic decisions than Dia (see below) make it harder to figure out what kind of album she'd release after the show.
Sample Performance:

Odds: 5:2
Dia Frampton, 23
Sob story: Painfully shy, seems to have misplaced personality.
Strengths: Half-Korean, half-Dutch, and amazingly cute, with adorable fashion choices straight from the closets of crafty indie-chick dream girls from Garden State and (500) Days of Summer. Was besties with adorable 16-year-old Xenia. Plays piano and guitar. Quirky, current song choices like Kanye West's "Heartless" and REM's "Losing My Religion" put her hipness factor on par with Vicci's. Coach Blake Shelton has made a big deal about letting Dia have full artistic control, which also ups her hipness factor. Has done particularly well on iTunes.
Weaknesses: See sob story. Inability to emote or talk when she's not singing makes her kind of hard to root for. At some point, one begins to question whether the shyness is real or just a twee shtick. (Stereotype alert: She writes children's books that she hasn't yet published.) Also, annoying habit of overenunciating lyrics in songs.
Sample Performance:

Odds: 5:1
Beverly McClellan, 41
Sob story: Beverly McClellan don't need no stinking sob story.
Strengths: Badass bald lesbian who makes apologies for nothing. Soulful voice beloved by Christina Aguilera, who may impose crazy backup dancers and theatricality on her team members but really does know what she's talking about when it comes to vocals. Clearly just loves being onstage. Cannot sing a "woo" without shaking head like poltergeist. Beloved by America, which in turn makes America look awesome.
Weaknesses: Not quite a looker. See "woo" above. Will America really pick the badass 41-year-old bald lesbian in the end? Magic 8 Ball says … "Reply hazy. Try again."
Sample Performance:

Odds: 8:1