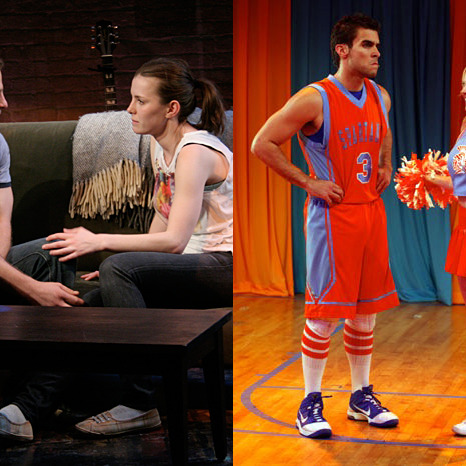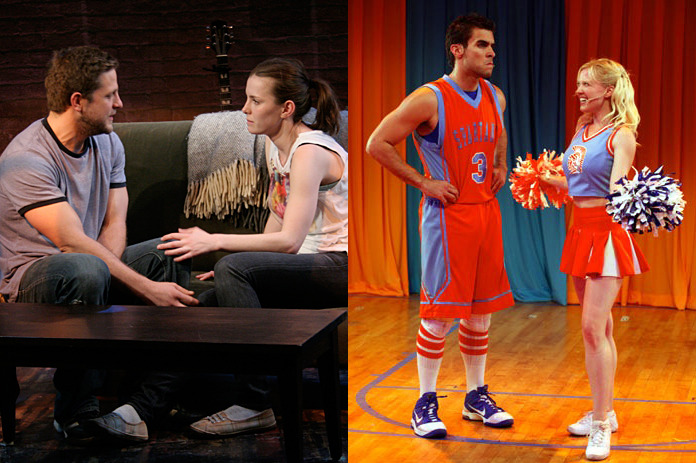 It's summer (on some days, at least), flesh is on display, and a young theatergoer's thoughts turn to sex, love, and the vast, throbbing emotionally militarized zone in between. Lusty little diversions are turning up all over the Off Broadway scene: In the perky vanguard marches Lysistrata Jones, a naughty, bubbly, modern goof on Aristophanes' naughty, bubbly, ancient goof about women denying their men sex in order to stop their constant warring. Here, the title celibacy crusader (played with ditzy verve by the winning, face-scrunching blondie-bear Pattin Murin) is an airhead amalgam of her Athenian namesake, Buffy the Vampire Slayer, and Legally Blonde's Elle Woods, and her ultimate goal is much changed: She wants the apathetic, post–Iron John layabouts of Athens U to man up and win a basketball game. "Have mercy, Good God! / We got a sex jihad!" belts the narratress, Hetaira (Liz Mikel, having a blast).
Despite some superficial similarities between the endless Peloponnesian War of antiquity and our own military entanglements, creators Douglas Carter Beane and Dan Knechtges (the shapers of Xanadu) have bravely resisted an antiwar message, going so far as to offer no message at all. (As composer-lyricist Lewis Flinn [The Divine Sister] reveals in his opening number: "It's a little like / A play by Aristophanes … He's dead, so we do what we please … Something so old and arcane / So sue us, it's public domain.") Sure, there are nods to modern American apathy and the general aimlessness, Fabianism, and fakery of contemporary manhood, but really, this is a show about hot numbers, of both the musical and physical variety. It's an answer to the question, what if we cast really talented, good-looking people and dressed them sparingly? The answer to this question, as we all know, is Yes, sure thing.
Lysistrata — the latest from Transport Group, whose recent Hello Again revival colonized another nontraditional space — is no more and no less than a good old-fashioned tease of a musical comedy, a likably underbaked but exceedingly well-executed show. Did I mention that it's set in a gymnasium? (A real one, at Judson Memorial Church in the West Village.) This opens up the space for the show's real agenda: cunningly, sometimes thrillingly choreographed b-ball-themed dance numbers, glorified cheerleading routines, Broadway pop songs as broadly appealing as they are blatantly derivative (Desiree and En Vogue may be owed some royalties), and snap-tight Beaney one-liners. When the lefty slam-poet Robin (a rubbery Lindsay Nicole Chambers, perhaps a Carol Burnett in the making) tells Lys that she's drawn to her cause "beyond the power of the almighty punani," our heroine replies, "Isn't that like a really flat sandwich?" (Hey-o! What's Greek for "rimshot"? Or did I just set up Beane for another double entendre?) If not for a few "sexts" and a visit to a brothel, Lysistrata Jones might have found its way into the High School Musical market; lucky for us, the jokes stand, and the show will likely stick it out in this funky Village gym for some time to come. And that — sometime, I feel certain, between 411 BC and now — is what she said.
Meanwhile, the start-up theater company Colt Coeur takes a more somber look at young love with Fisheye, by new voice Lucas Kavner. With this simple, familiar, temporally compressed story — slightly mopey boy (Joe Tippett) meets slightly flighty dream girl (Betty Gilpin) — Kavner and director Adrienne Campbell-Holt build a surprisingly engaging achy-blue love story using spare parts from the sort of low-stakes nineties romantic dramas that thrived on lack of life experience, thousands of hours of Felicity, and near-total lack of familiarity with the real pain of adulthood. Kavner writes from an indubitably male perspective — Gilpin's character never quite tracks, even though her acting and characterization skills never waver — but the playwright has a gift for artfully underwritten, unaffectedly colloquial, and often uproarious dialogue, and he knows how to end a scene before it starts to curdle. He and Campbell-Holt have devised a time-accordioning storytelling technique that somehow never manages to draw attention to itself, while delivering maximum wistfulness. (That might've been a more accurate title: Maximum Wistfulness.) Supporting players Katya Campbell (as the girl forever waiting in the wings) and Ato Essandoh (as the ex-boyfriend-from-hell, a guy who's just too gorgeous, morally upright, and super-duper-supportive to be believed) more than hold their own, and this toothsome foursome, as a unit, looks like a casting director's dream. I hope we can keep them down on the farm for a little longer — at least until pilot season, 2012.
Lysistrata Jones is at the Judson Memorial Church Gymnasium,
243 Thompson Street, at Washington Square South, through June 19.
Fisheye is playing at HERE, 145 Sixth Avenue, at Dominick Street, through June 18.