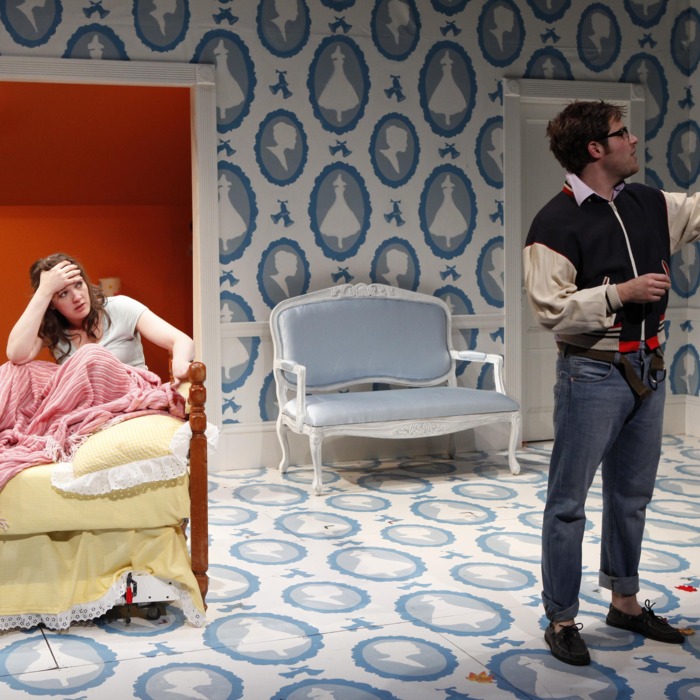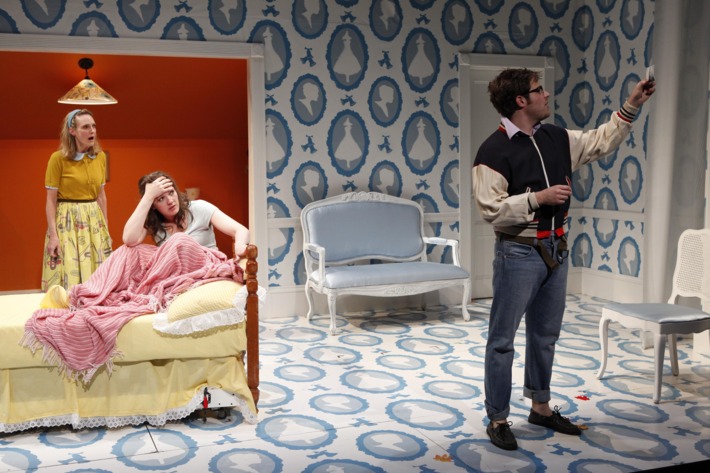 Sex Lives of Our Parents (Second Stage; at the McGinn-Cazale Theatre through July 3)
Davis McCallum is a director to watch. Taking the reins of Michael Mitnick's Sex Lives of Our Parents,, he turns a wet little Freudian nightmare into a muscular seriocomedy — one that (to the credit of McCallum and his cast) doesn't fully reveal its weaknesses until we're deep in the weeds with it. Mitnick displays classy wit, gentle humanity, and flashes of formal innovation, but in the end, his tale of the meaningfully named Virginia, a newly engaged young woman (Dividing the Estate's Virginia Kull) dogged by clairvoyant visions of her tight-lipped mother's sex life (enacted, from ages 5 to fifty-something, by the electric and always-game Lisa Emery), is all foreplay: He hints at a perversity he has no real intention of delivering, and his story is building up to an anticlimax we've visited many times before. (We're all congenitally estranged from the loins of which we sprang; the fairy tales our parents tell us are bound to break down; love is stranger and harder than romance, and marriage is harder and stranger still, etc.) But McCallum, whose ear for the playfully irreal matches his knack for naturalism, makes a familiar journey feel fresh. His wordless opening courtship sequence — wherein Virginia meets her future intended, Jeff (the charming Ben Rappaport of the execrable Outsourced), and we get a year of young love collapsed into a Sinatra-scored montage — is a stunner, practically worth the price of admission. And his casting is superb across the board. Daniel Jenkins is especially touching as Virginia's father, a sweetly uxorious, self-deprecating type living with the knowledge that he won the lottery, landing a goddess out of his star. At bottom, though, this is Virginia's story, and Mitnick has written her as the most unknowable creature of all; the play is designed to end on an uncertain note, but it ends up feeling as impertinently unfinished as she does. Sex Lives is good work made nearly great by some fine practitioners of theater. It's good teaming, and I hope they get back together.
No Child… (at the Barrow Street Theatre through July 31)
Shapeshifter Nilaja Sun has brought No Child…, her thrillingly funny, guilelessly heartbreaking one-woman panorama of the New York City public school system, back to the Barrow Street Theatre. If you missed it four years ago (as I did), don't make that mistake again. Consider it an act of patriotism.
Sun uses nothing but her infinitely ductile body, her unbelievably polychromatic voice box, and her nine years working in struggling schools as a teaching artist to bring to life an entire fractious ecosystem of inner-city educational chaos, from the students to the teachers to the wand-wielding security officer. Her grown-ups are sketch-comedy masterpieces, but her children are downright amazing. Inveighing against the shameful state of our underfunded, overburdened system is easy enough, but Sun delves deeper, literally throwing herself into an attempt to connect with the kids she watched fall through the cracks for years, kids stranded and ultimately abandoned in a DMZ between chaotic oblivion at home and institutional, quasi-penal arbitrariness at school. No Child… opened during the so-called Bush Boom; it's twice as relevant now. As we perch on the brink of what looks to be a long Age of Austerity, it's now officially required reading.