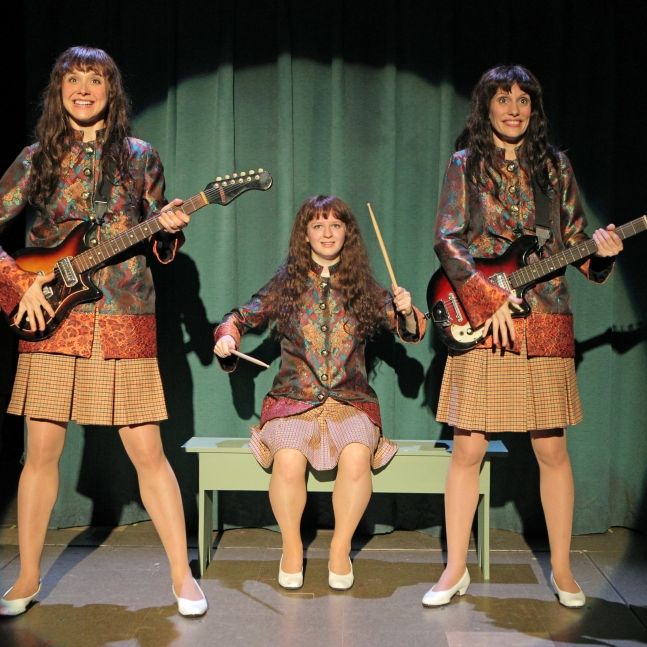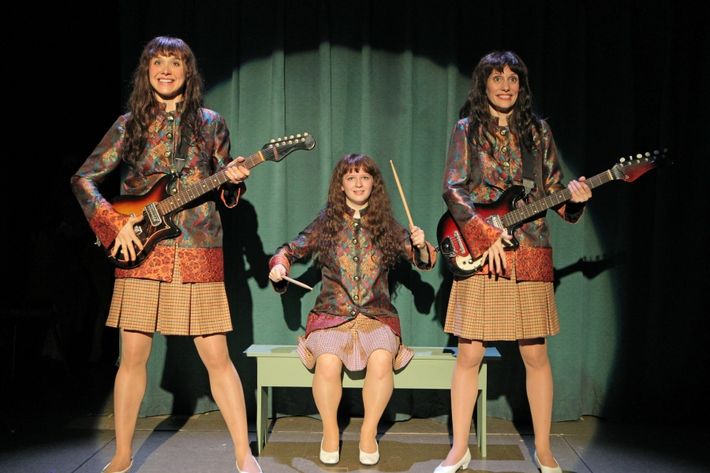 Even in the long YouTube audition tape of American entertainment history — where acts as diversely misbegotten as infamously tone-deaf soprano Florence Foster Jenkins, schizophrenic Casio rocker Wesley Willis, and Auto-Tune princess Rebecca Black have vied for so-bad-it's-good supremacy — the Shaggs stand out. It's not just the grotesque and elfin arrhythmia of their "music" that's fascinated pop ironists and music aficionados for 40-plus years; it's their strange and distressing backstory. The Shaggs were three sisters, Helen, Dot, and Betty Wiggin, whose strict, controlling father Austin pulled them out of school in 1968 and (here's the twist) forced them to form a rock band. He claimed some mystical foreknowledge of their impending success as a Beatlesesque supergroup, and the girls tried their best to fulfill his prophecies, despite possessing no discernible musical talent: Imagine Herman's Hermits, played backwards and underwater by dying mice who've undergone partial laryngectomies. This is the sound Austin spent the family's savings getting "engraved forever on vinyl" in 1969, in a vanity album entitled Philosophy of the World. This is the sound Frank Zappa famously declared "better than the Beatles," the sound Rolling Stone winkingly deemed "priceless and timeless" in 1980, five years after the band — never having made it out of its hometown of Fremont, New Hampshire, where it played 100 percent of its gigs, mostly at nursing homes and local dances — broke up, finally liberated from musical servitude by Austin's fatal heart attack at 47.    

A tale of abuse, madness, camp — and song! How could this not be a musical? Drop a dime to Charles Busch and call it a day. And yet … how does one make a sincere musical about the ironic apotheosis of unlistenably bad music? Either you shoot for the brutally, angularly avant-garde, plunging face-first into the atonal vortex of American aspirational madness, or you go "sweet," paint Austin and his tuneless brood as beautifully bent dreamers … and, to channel that beauty out of these imperfect vessels, you "fix" the music. With The Shaggs: Philosophy of the World, collaborators Joy Gregory (book, lyrics) and Gunnar Madsen (music, lyrics) have come down somewhere in the middle. As directed by John Langs (who also co-wrote the story), the show doesn't really work — it's not funny enough to tap the vast aquifers of absurdity that undergird all things Shaggs, nor is it commitedly grim enough to play as a true tragedy of Yankee stick-to-it-ive-ness. Like the Shaggs themselves, it's kind of a wash, but an often fascinating one, especially in its second act. They've hired always-great, always-grounded Peter Friedman (Circle Mirror Transformation) to play Austin as a working-class tyrant driven by deep, implacable grievance and mother issues that would horrify Norman Bates. He's a monster, for sure, but Gregory, in her book, rarely lets him run amok. She's more interested in the daughters, played with spooky, Emily Dickinson translucence by Emily Walton (August: Osage County), Jamey Hood, and Sarah Sokolovic.
The sisters' relationship — with Dot's daddy-pleasing abutting Becky's apathy and Helen's sullen, covert rebellion — doesn't really make for two acts of storytelling either. (Especially because Gregory has pointedly dropped some of the darker aspects of the Shaggs' story, most notably Helen's allegations of sexual abuse at the hands of her father.) The great Annie Golden, as the deflated Wiggin materfamilias, is mostly along for the ride; her eleven o'clocker is strong, but wrong. What's it doing there?
In fact, what are any of the normal conventions of musical theater doing in this show? Musically, the Shaggs were a thumb in the eye of God. Why should they respect the golden unities of Rodgers and Hammerstein? Forcing formula on primal chaos feels like the wrong play, and Philosophy suffers accordingly: It has no center, and nowhere is this more apparent than in its score. The show waits until deep in its second act to pull the best trick in its quiver: playing idealized versions of Shaggs songs, contrasted against the real thing coming through the speakers in the recording booth. It's a great moment, and Madsen executes it masterfully. But it only points up the paucity and awkwardness of his "filler" songs. (Austin's second-act opener is especially miscalculated, with its odd rockabilly wolf howls, which Friedman, not a natural singer, clearly experiences extreme discomfort while emitting.) Philosophy, after many a foray into cliché, finally alights on a suitably ghostly finale, and we get a glimpse of the extraordinarily dark show this might have been — if perhaps its makers had designed it as a "play with music" instead of a proper book musical. I hope the Shaggs themselves see it. I think they'd be proud of themselves, defying the limitations of yet another art form with their inimitable, deconstructed gestalt. It's just hard to fake Bad.
The Shaggs: Philosophy of the World is playing through Sunday, July 3 at Playwrights Horizons Mainstage Theater (416 West 42nd Street).