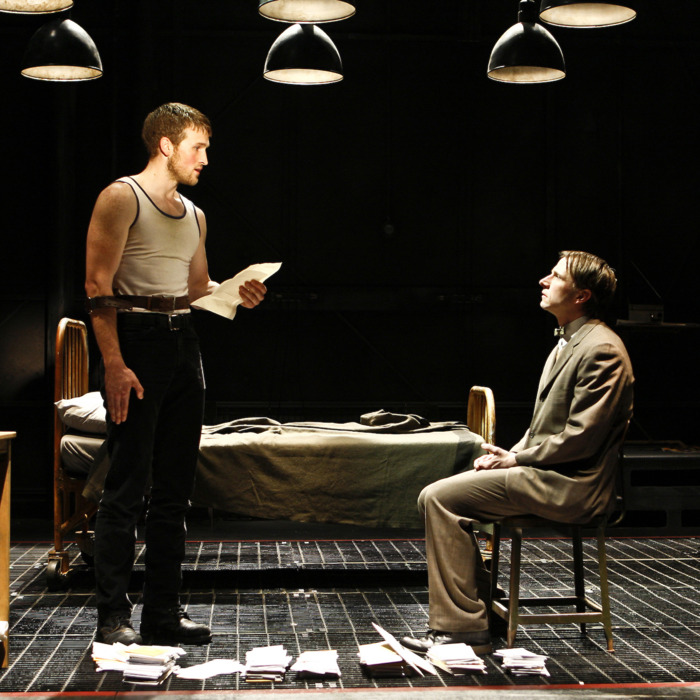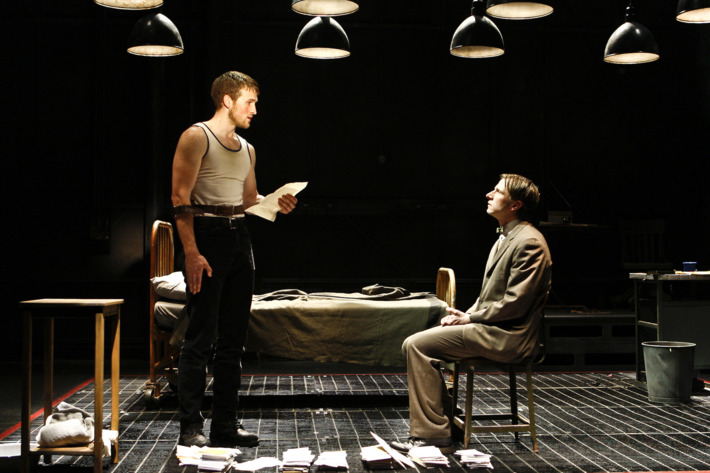 One Arm, Moisés Kaufman's fast, fierce, brutally beautiful stage adaptation of an unproduced screenplay by Tennessee Williams, is more than a play: It's a time machine. Kaufman has retrieved something precious from the past, an artifact all the more extraordinary because it never really existed in the first place. One Arm is nothing less than the late-Williams play that the latter-day Williams himself wasn't capable of writing, deprived of a reliable director/editor/therapist. Decades later, Kaufman has stepped into that role and communes with the ghost of Williams perhaps more effectively than anyone has since Elia Kazan mediated the flesh-and-blood version.
Williams first rendered this tale of the one-time light-heavyweight champion of the Pacific fleet — shorn of his right arm in an accident and subsequently reduced to hustling johns in the French Quarter — as a short story in the forties, when fiction with explicitly homosexual themes was very rare. For years, versions of Ollie, the wounded, dangerous, emotionally catatonic stud, turned up again and again in Williams's work (cf. Brick in Cat on a Hot Tin Roof, Kilroy in Camino Real, and, later in life, Tye in Vieux Carré). Finally, during his sixties "Stoned Age," Williams turned One Arm into a screenplay. There were, unsurprisingly, no takers — one Midnight Cowboy being quite enough gay hustlerdom for Hollywood.
Williams may not have sold the screenplay, but the work of winnowing his story down to cinematic fighting weight seems to have aroused in him a discipline he couldn't otherwise muster — though it's hard to know, really and truly, exactly what Williams got down on paper: I haven't read the screenplay, and Kaufman, in a note, says he amalgamated several drafts and made many other dramaturgical adjustments along the way. The director uses a hybrid of his Tectonic theater company's documentary technique, melded with Williams's own memory-play plasticity, and presents the show as a kind of staged reading of the screenplay, narrated by an Author avatar (Noah Bean). But beyond a doubt, the show belongs to Ollie (the breathtakingly great Claybourne Elder), who stands before us, impassive as travertine more often than not, for most of the show's 80 minutes, his "severed" right arm affixed to his side with a heavy leather strap — grimly reminiscent of the restraints on the electric chair that waits for him, just offstage.
We catch up with Ollie on death row, condemned to die for the murder of a wealthy pornographer (ensemble member Christopher McCann). He reviews his peripatetic life via the piles of well-wishing letters sent by his johns, who've seen his case in the papers and, to a man, feel there's been some mistake: They remember him fondly, indeed, think of him as a kind of paragon, a beacon, a beauty only enhanced by his "mutilation." It takes Ollie the length of the play (a slim 80 minutes) to see what they're seeing, and to allow himself to understand it. Elder carries off the fighter's transformation from bewildered, embittered, insensate weapon of fate to willing recipient of grace — grace in the flesh, carnal and sexual, not just in spirit — with the patience and restraint of a much older performer. Playing an art object who steadfastly resists the gaze, he keeps sneaking up on us, reminding us how easily we've dismissed him; his final bid for human connection is one of the more heartbreaking moments you'll find onstage right now. "Death," the Author reminds us, "has never been much in the way of completion." Neither was Tennessee Williams, of course — luckily for Kaufman, it turns out, and luckily for us.
Across town, the Canadian duo Daniel Arnold and Medina Hahn (also known as DualMinds) are doing a little dramaturgical necromancy of their own, channeling the spirits of Alfred Hitchcock, Ingrid Bergman, and Charles Boyer, among others, into their spiffy, spooky, shoestring genre thriller Any Night. Even dragging that interest-killing title and barely-above-Fringe production values, this homemade shiv of a show deserves your attention: Anna (Hahn), a chronic, possibly violent somnambulist who's just emerging from an abusive relationship and hospital observation for her pathological sleepwalking behavior, takes a room in a house managed by Patrick (Arnold), a sensitive, dweeby-sweet web designer. They hit it off immediately, two crippled people bracing each other against the wind. But the walls of the world they inhabit together are thin indeed, and Anna's nightmares get worse and worse — but are they just nightmares, or storm warnings from her subconscious? Just how does Patrick know so much about her? And what's he doing on his computer all night?
Director Ron Jenkins, in collaboration with his highly skilled writer-performers, isn't content to let this setup degenerate into some hoodied, post-Zuckerberg version of a vintage goosepimpler; this isn't (ahem) Wait Until Dork. Instead, the creative team has stripped the genre to its skivvies, laid bare its bones, and arranged them onstage almost forensically, with impressive detail and resourceful, no-fuss inventiveness. (You've never seen actors get this much mileage out of a staircase, a couple of diaphanous drops, and a bed.) Mapped onto Peter Pokorny's stark and simple set, Any Night is a kind of dance suspense piece, a 39 Steps without the goofball meta-theater shenanigans. It never sacrifices old-fashioned Gaslight chills on the altar of inventiveness or irony. The theatrical magic subsides a bit as Hahn and Arnold get caught up in well-worn genre conventions and unforgivingly linear third-act storytelling constraints, but Any Night remains a highly entertaining evening of fleet-footed psychological shadow-play, tautly written and tightly performed. It deserves a longer run, an infusion of cash, and a faithful audience.

One Arm is playing at the Acorn Theatre at Theatre Row through July 2.

Any Night is at the LABA Theatre at the 14th Street Y through June 18.