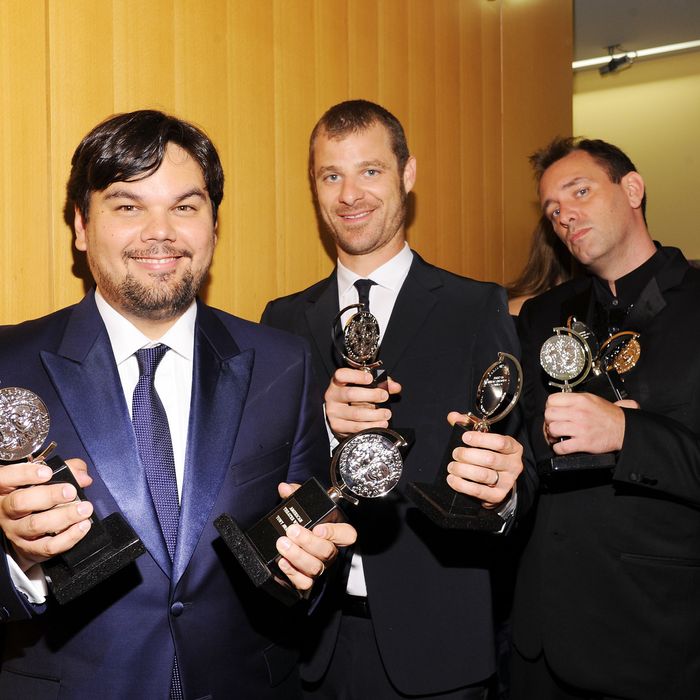 Photo: Mike Coppola/2011 WireImage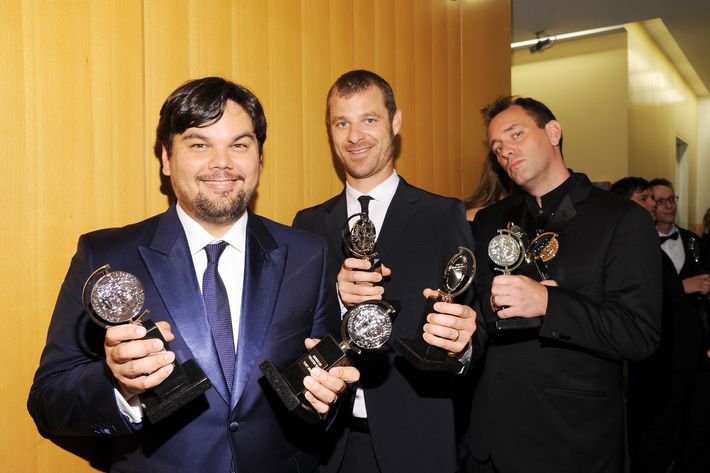 10:20 a.m. Neil Patrick Harris starts rehearsals with a run-through of the opening number, "It's Not Just For Gays Anymore."
11 a.m. How is Viola Davis, who will present the award for Best Featured Actor in a Play, preparing for tonight? "I'm going to take a steam and hopefully lose and inch or so," she tells us. "I'm going to take a nap; I'm going to learn how to pronounce Arian Moayed; and I'm gonna enjoy myself. Last year I was nominated [Ed: She won for her performance in Fences] and I was tense from doing eight shows a week, broken out in a hive. This year I'm gonna enjoy it."
11:30 a.m. We overhear Matthew Broderick telling a reporter he doesn't know where one of his Tonys is.
12:15 p.m. Brooke Shields signs an Audemars Piguet clock that is being auctioned off to support tsunami relief in Japan. She speaks fluent French to the CEO and gifting lounge sponsor, François Henry Bennahmias — then seems horrified when two reporters begin fighting over her interview, pushing each other's recorders out of the way.
12:30 p.m. Hugh Jackman tries to control his 10-year-old son, who is running around the room with a friend. "I think we're playing wars, frozen robot, tag, camping," he tells us. "Tonight's like my little break." Can we expect him to eventually bring his one-man show from San Francisco to New York? "I'll be disappointed if it doesn't come to New York," he tells us. "But it won't come until it's ready, and it still needs a couple of steps before it gets there."
12:45 p.m. Christie Brinkley floats around the room and seems star-struck when she meets Joel Grey, telling him she's a huge fan and that she loved his daughter [Jennifer Grey] on Dancing With the Stars.
1 p.m. James Earl Jones is mesmerized by the Audemars Piguet promotional Tonys clock and holds a trancelike stare for about five minutes before yelling out, asking where he can buy one. François Henry Bennahmias promptly responds that they would be happy to send him one.
1:15 p.m. Call the medics! The woman helping Christie Brinkley with her gift bag faints. Brinkley immediately drops to the ground, tells the woman to hold her head back, and insists that she get a CAT scan immediately. Brinkley waits to make sure she's okay, while Paul Shaffer uneasily walks around with his young daughter before slipping out the back. The medics come with an ambulance and walk the girl out.
1:45 p.m. Event coordinators clear out the room and the stage to get ready for the show.
5:30 p.m. On Broadway, the remnants of a street fair are being cleaned up. (They couldn't schedule that for another day?) And further down the street, the Puerto Rican parade is wrapping. Those big tents blocking 74th Street between Broadway and Amsterdam? They're housing all the sets for the many, many numbers to be performed tonight, since there is barely enough room to hold people, let alone platforms and props, in the Beacon Theater's tiny backstage.
5:59 p.m. Priscilla Queen of the Desert ensemble members Bryan West and Joshua Buscher, along with costume designers (and later Tony winners) Tim Chappel and Lizzy Gardner, are among the first to arrive on the red carpet, taking it over with crazy headpieces and jumpers with three-foot-tall, boatlike foam platform feet fashioned after Gumby. West reveals that after performing "It's Raining Men" in the program, the Priscilla cast is heading straight from the Beacon to the remnants of the gay-pride parade in a double-decker bus. "We'll be on top of it, just dancing around, nice and scantily clad, throwing candies," he says.
6:06 p.m. Neil Meron shows up, singing the praises of Daniel Radcliffe, snubbed star of How to Succeed In Business Without Even Trying, which Meron produced. "He was actually more concerned that we were upset for him," said Meron, while going on about Radcliffe's hard work and the great job he's doing using his star power to bring in people who've never been to the theater. Meron may have been just trying to spin things, but he said he thought the snub was actually good for his star. "What I think is interesting is that out of sympathy, he's become kind of more of a bigger figure in the theater because he wasn't nominated. And I bet when he comes tonight to perform and then present, I think he will be greeted with the love that's been denied him by the nominating committee."
6:13 p.m. And now for the stars (Tonys-size stars, that is)! Andrew Rannells, co-star of The Book of Mormon makes his way down the line, and in his interviews start what we notice is a pattern of Mormon stars throwing in random curse words: "It's a total, no bullshit, dream come true that I'm even here."
6:17 p.m. Future Tony winner for Best Choreographer for Anything Goes, Kathleen Marshall shows up in advance of her famous brother Rob Marshall, just off his world tour promoting Pirates of the Caribbean. She says she's nightly in awe of Sutton Foster (who will later win Best Actress in a Musical). Marshall tried to simplify the choreography for Foster, but says her star refused. "She's amazing because she does these couple of big dance numbers in the show, but then she comes back singing at the end, like nothing happened, like she was getting a manicure."
6:25 p.m. Actual Frank Abagnale, the guy who has had a book, movie, TV show (White Collar), and now a Broadway musical based on a bunch of check fraud he pulled off between 16 and 21, is walking down the carpet. He's in a great mood, despite the fact that Catch Me If You Can doesn't stand a chance of beating the Mormon juggernaut, and that he will never be able to vote in a Federal election. Abagnale says he had almost no creative input on the show, but that they got it right, except for making his dad seem like a con artist. "My father, though he was an alcoholic and did have trouble with the IRS and died in an accident on the subway, I never saw him as a con man."
6:34 p.m. John Leguizamo's press agent is rushing him through the line, but she cannot stop the force that is a reporter asking him about the Mets. "There's always hope! Hope springs eternal! Look at the Knicks," says Leguizamo, getting worked up. We're guessing he spent all night checking in on the Mavs/Heat game.
6:45 p.m. Robert Lopez, the very funny other guy who wrote The Book of Mormon with Matt Stone and Trey Parker, reveals that their first choice was to perform Hasa Diga Eebowai, the "Fuck You God" number containing Lopez's favorite lyric in the show, directed at God: "Fuck you in the other eye." How did they ever get barred from performing that? "I don't know," says Lopez. "It's CBS. I'm sure if this was NBC we'd be allowed to do it."
6:50 p.m. Montego Glover, star of last year's winner for best musical, Memphis, hopes that tonight's eventual winners will be prepared for the onslaught of adoration they're about to receive. "Our stage door was chaos, and the show that night was explosive," she says of the first night back after winning the Tony. "As a Tony award nominee last season, I take that moniker with me wherever I go. I wear a sign that says, 'Montego Glover, Tony nominee.'"
6:55 p.m. Glover's co-star, Chad Kimball, has other things on his mind. "I have to use the restroom so badly!" he announces, then goes into detail. "I should have gone before. My mother always says, 'Go to the bathroom before you regret it.' I'm fine. I can hold it. My bladder and I are in cahoots." Good thing, because he adds a moment later, "I do have a flask. It may be in a shin holster. I may have already started drinking."
6:59 p.m. The tabloid-reporter scrum next to us goes wild for Kelsey Grammer, who has shown up with his 30-year-old wife, Kayte Walsh. Reporter: "I have to ask you, we all have been rooting for you getting a second chance at love and marriage, but there's rumor of a custody battle, and I'm not trying to damper the evening, but what's going on with that?" Grammer: "I probably can't actually respond specifically to that, but it's going to be a long drawn-out thing that will be turgid and unpleasant, I'm sure, but not on my side." Another reporter asks him his most embarrassing stage moment ever, to good result. Grammer: "Honestly? I picked up my love interest as she laid in a stupor, in a traditional sort of Whitsun Morris dance in a Shakespeare show, and as I lifted her, with my posterior aimed toward the audience, I passed gas. In an explosive form."
7:02 p.m. Judith Light, looking great in floor-length red with ruby-like embellishments, is practically giddy; it's her first nomination and her first time to the Tonys. She says she was "shocked. And excited. And thrilled. And amazed. And so grateful" to get the nomination. She was smart to abstain from coffee today, she says. "Honey, this is me off caffeine. I didn't do any caffeine today. Are you kidding me? I would be through this tent."
7:09 p.m. Protesters on Amsterdam Avenue get louder as they spot Colman Domingo, best featured actor nominee for The Scottsboro Boys. "They come with us wherever we go," Domingo explains. They're protesting The Scottsboro Boys being a deconstructed minstrel show. Domingo is not a fan of the protesters. He says that during the show's run, he would frequently invite them to see the show and they'd refuse. "I have no respect for them, because it's just about them blowing up their own egos. They never allowed themselves to actually have a strong voice at the table by actually being intelligent enough to come and see our show so that they know what they can have a conversation about."
7:15 p.m. The Book of Mormon's other star, Josh Gad, relates an awesome embarrassing theater moment to our favorite fellow reporter on the carpet: "I was doing a production of Fiddler on the Roof and I didn't realize my zipper was open the entire first act. It was my underwear. But it was so, so embarrassing. But then I made a joke about it in the second act and won the audience back. 'Thank god my son is a tailor so I can get a new zipper.'" He also says, that, like his co-stars, he curses more since doing the show. "The F-bomb seems to come out of my mouth a lot more since I've been doing this show than I would prefer, especially now that I've got a kid. It's just a reflex."
7:20 p.m. Oh, odd, wonderful (future best actor in a play winner) Mark Rylance:
NYM: People are saying you're a shoe-in.
Rylance: Am I? I've always admired underdogs. It's odd to be a winner.
NYM: You'd rather want people not want you to win?
Rylance: No, it's nice that they want me to win. It's my own problem. It's no one else's but mine, I assure you. I think I like being an underdog. But if I win, what can I do?
7:25 p.m. Rory O'Malley, nominated as featured actor in The Book of Mormon, relates a harrowing story about the time he was performing in Happy Days: The Musical and fog accidentally got pumped into the life-sized jukebox the entire cast was supposed to burst out of for the opening number. "It was like a fog gas chamber!" says O'Malley. "We were screaming to be let out, and then it opened and we all stumbled out and it looked like a fire had started in the theater." Oh, good times.
7:30 p.m. The amazing Vanessa Redgrave, in a silver suit jacket, calmly walks down the carpet and declares that she has zero nerves. "Partly because I don't expect at all to win," she says. Walking to the theater, she stops by a group of about 20 nursing home residents sitting outside the theater entrance and shakes hands with and converses with every single one.
9 p.m. Frances McDormand rushes through the Beacon theater lobby muttering "Water, water," to herself. She goes to the concession stand and emerges with a glass of ice, which she proceeds to eat.
9:12 p.m. After two questions in the press room, Brian Ronan, winner for best sound design for a musical, says, "That's all the questions? It's usually quick in my category."

9:20 p.m. We run into Joel Coen, who seems to have lost his wife. "I'm more nervous at these things than she is," he says, before pretending to look at his iPhone.

9:40 p.m. During commercial breaks, Neil Patrick Harris's hosting assistants, Laura Benanti and Katie Finneran, ask several times for winners not to crowd the stage. Apparently, only "designated acceptors" are allowed near the mic, and everyone else must stand on the "Winners' Stairs" to the side of the stage, which looks like some ring of hell. Fitting since it's mostly people from The Book of Mormon who have to stand there. Also a big hit during commercial breaks: The cast of The Importance of Being Earnest reading transcripts of The Jersey Shore in the style of Oscar Wilde.
10 p.m. The loge has been overtaken by pink boas, set-up, we soon discover for a bit in which Neil Patrick Harris reports live from nearby our seat after the cast of Priscilla Queen of The Desert. We're instructed to go wild when he arrives. He does his bit, but as soon as some of the ladies near us try to dance with him, he bolts.

11:01 p.m. In the press room, Mark Rylance explains the reason he chose to recite a poem by Louis Jenkins instead of making a typical acceptance speech: "I don't know; I was getting a little bored."
11:08 p.m. Norbert Leo Butz exclaims, "Oh god, I forgot to thank Tom Hanks. Agh! Thank you Tom Hanks! Will any of this — where does this all go? Does it go on the Internet? Who are you all? I mean, can you get the word out to Tom? Does anyone have a connection to Tom? He came to the show a few weeks ago; he's a big supporter of the show."

11:23 p.m. Matt Stone tells reporters how he and Trey Parker feel about BOM's Tony Awards triumph: "It's better than it backfiring, that's for sure."
11:46 p.m. Over at the official after-party at the Plaza Hotel, the first person we see is The Book of Mormon winner Nikki M. James clutching her Tony, alongside her mother/bumblebee, Marie. Marie tells us that Nikki's first star turn was performing Whitney Houston's "The Greatest Love of All" in kindergarten in Livingston, New Jersey. Marie has only seen The Book of Mormon once; her daughter didn't quite prepare her for Hasa Diga Eebowai. "The first half, the song, I was shocked. But I got better. I was in shock, because she didn't tell me what it was all about. We are Catholic!"
11:53 p.m. Nikki M. James refutes her mother's claims: "I told her. She chose to ignore me. So be careful what you hear from my mother." James confirms our assertion that The Book of Mormon has influenced its actors' speech patterns. "I am so F-ing psyched," says James about her win. "This is incredible. I've always been a pottymouth, but now I have an excuse." James said she planned to clutch her Tony all night. Once she got home, she said, "I'll probably have to move to another apartment, one that is worthy of this statue. I live in, like, a walkup in Chelsea. I actually just moved from Washington Heights a few months ago, so it's a step up from my A-train trip, but I'm on the 4th floor. I trek up those stairs every night. I'm a real theater actor. We're not rich. Someday in my life I will get another apartment. An elevator and a doorman would be nice."

12:03 a.m. Sutton Foster and Bobby Cannavale are making out. Her Tony statuette is on a table.
12:05 a.m. We try to take a picture of a cupcake display set up to look like the inside of the Beacon Theatre, but get stopped. It's being filmed for Cupcake Wars and if we take a picture, we might accidentally reveal the winner. But we are invited to go on camera and eat a cupcake.
12:16 a.m. John Laroquette walks in, not carrying his Tony; he left it in the car. "I thought carrying it around would be a little conspicuous. I'm tall enough that people will recognize me. Also, I wanted to eat, and it's going to be cumbersome," he explained. His favorite moment of the night, besides winning: Sitting behind Al Pacino. But even he has no explanation for what was going on with Pacino's hair.
12:27 a.m. Chris Rock walks through the room and multiple people ask him about the Mavs/Heat game as if they care about basketball. Which can't possibly be true, because if they cared about basketball, they'd have known hours ago that Dallas won.

1:30 a.m. We go by the after-party for The Normal Heart at Amsterdam Ale House, but it's completely dead.
1:55 a.m. Lily Rabe is in the elevator with us heading to the O&M party on the top floor of the Carlyle. We're stuck in the hallway knocking on the door for quite a while until someone finally lets us in.
2:05 a.m. Inside the O&M party, Bloody Bloody Andrew Jackson creator Alex Timbers is in jeans, having changed out of his tux pretty much the instant that he didn't win any Tonys. Joel Grey is in the living room giving a speech, but it's so crowded we can't hear what he says.

2:20 a.m. Christina Hendricks is at the O&M party. She did not stay for the Tony ceremony after performing because she was wearing jeans; she watched it at a bar instead.

2:33 a.m. Jackie Hoffman opens the door to leave the O&M party, and Matthew Broderick is in on the other side, just arriving.
2:40 a.m. Rick Miramontez, the O&M chief who's throwing the party, starts fretting that Reeve Carney and Jennifer Damiano, the stars of Spider-Man, are still at the party, despite their show having it's incredibly delayed opening on Tuesday night. At least Jennifer is only drinking soda water.
2:53 a.m. Instead of leaving, Reeve and Jennifer are now sitting in a window sill getting sketched by one of Miramontez's friends.

3:05 a.m. Matthew Broderick admits to leaving the Tonys halfway through and going to an Irish bar to watch the basketball game. But after the game, he had them change the channel. "I forced Irish people to watch the end of the Tonys."