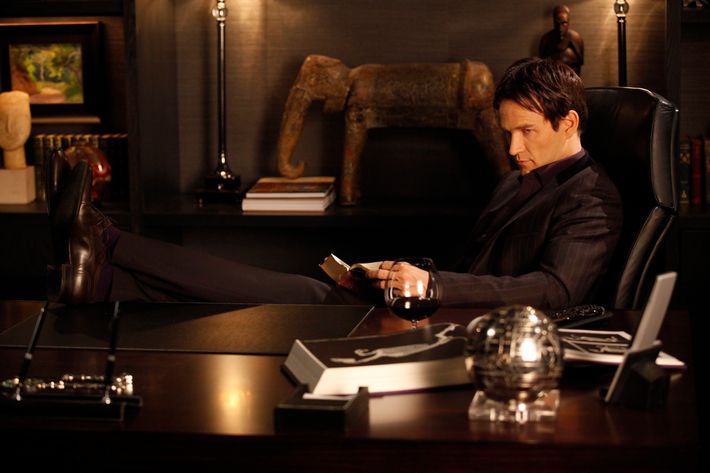 The interminable wait is over and the lovable scamps of Bon Temps are back. After a third season full of werewolves, Nazis, and the fabulous Vampire King of Mississippi, True Blood is ready to hit us with the good stuff. Witches! A self-empowered Sookie! Bill and Eric making nice with humans! Hoyt and Jessica, shacking up! Tara's a lesbian named Toni, from Atlanta? A-Ball, you have our interest. Let's do this.
Don't Eat the Light Fruit
In Fairyland, where Sookie popped to in the season finale, every hour is magic hour and everyone's always happy and eating big, glowy peaches that look like they came from Ikea. It's full of familiar faces. Look, there's Barry, the telepathic bellboy, accompanied by his fairy godfather, who appears to be wearing a macramé blouse. Who's that, taking a big bite out of a light fruit? It's Sooks's twenty-years-gone Grandaddy — a pleasant surprise.
There are some serious time-management issues in Fairyland — Granddaddy feels like he's only been out of Bon Temps for a week, not two decades. Sooks has a vision. The walls ooze muck, the light fruits turn to teeming maggots, and a puckish zombie-fairy stalks through the crowd. "It's a trap!" she ESPs to Grandaddy. Duh, Sooks. They all share your gift. Everyone hears, including Mab, the dollar-store Bernadette Peters and queen of the fairies. Bill's little journey to their world caused quite a ruckus, and now it's time for the portal to be closed forever. All Sookie has to do is eat the light fruit and it shuts, which is clearly not happening. Instead, she shoots a ball of light at Mab, throws her into a tree, and then everyone's dropped into the desert. Fairy fight! Glitter-bombs full of bad CG are bandied about, but Granddaddy and Sooks escape back to the graveyard in Bon Temps. Bill and Eric's Spidey sense tingle!
Gramps ate the light fruit, so he's not long for this world. Armed with his pocket watch, Sooks storms off to her house, but something ain't right — new shutters, new paint job, new owners? The painter yells about the authorities, but Sookie pays him no mind. The authorities turn out to be a uniformed Jason, who's unusually happy to see her. Turns out she hasn't been gone for the six weeks she thinks, but for twelve and a half months. Cue shrieking violins! Jason sold the house because no one thought she was coming back. This includes Bill, who zips up to her front porch, followed by Eric, who somehow manages to make that weird vampire wind sprint look good. Everyone thought Sookie was a goner — Bill, Jason, and an especially aggro Andy Bellefleur who's suffering from a low-level V addiction. Always with the last word, Eric purrs, "Everyone who claims to love you … they all gave up on you. I. Never. Did." Away he goes, and a still-hurt Sookie sends Bill into the night.
'What! Can the devil speak true?"
LaLa and Jesus are still going strong! Their relationship might be tested tonight when Jesus drags Lafayette to the meeting of his coven. Through the beaded curtain and into the backroom, where Lafayette let's out an "Oh hell naw … " under his breath. Agreed, sister. AGREED.
In what appears to be the set for a made-for-TV sequel to The Craft, earnest adults hold hands and chant. All eyes are on Marnie, the head witch, who acts as the medium for the spirit of Eddie, Lafayette's V supplier from way back when. In a trance, she offers Lafayette a thoroughly creepy invisible rose and croaks, "You drained me Lafayette, but it was worth it just to have a glass of Merlot with you." Hell's bells, that's scary. Out goes Lafayette, with Jesus fast on his heels.
Lafayette's not the only one who's spooked these days. Arlene and Terry have started a new life. Baby Mikey is half Cajun serial killer and 100 percent adorable, with a penchant for beheading Barbie dolls. We like it! Here's hoping for some more action with this later this season.
Losing It and Loving It
It seems like the denizens of Bon Temps have started to grow up. Jessica and Hoyt have made a nice home for themselves. Their routine is like most other couples — talking, fighting, breaking eggs in anger and serving them for dinner. Hoyt wants real food, but Jessica equates the Piggly Wiggly with going to the morgue. While this argument dissolves into giggles, it seems that the foundation here is shaky. Godspeed, Hoyt. She's a real firecracker.
Where's our girl Tara? Why, New Orleans, naturally, cage-fighting women and her inner demons. Also smoking cigarettes, dabbling in the Sapphic arts, learning to contain her temper, and running around with another name. When a drunken lech steps up to her outside of the club and propositions her and her friend, Tara talks him down, takes the money and runs. "Come on, Toni," says her make-out buddy, and they're off.
At Fangtasia, Pam, wearing Chanel meets Contempo Casuals, deadpans a PSA meant to boost vampire human relations. Nan Flanagan is not pleased. Eric takes over and flirts his way back into the humans' good graces. Meanwhile, Bill in his Sunday best waxes positive at a ribbon-cutting ceremony for a retirement ceremony in Bon Temps. In this "post-Russell Edgington" world, who better to create harmony than these two?
A New Lease on Life
Everyone at Merlotte's is happy to see Sookie alive and well, even Sam, who is still a Grumpy Gus. Maybe that's because his estranged brother Tommy is now living with Mrs. Foytenberry, and Sam's still paying the bills for his physical therapy. In the kitchen, Lafayette bakes biscuits of irritation while he breaks down the freakiness of the coven with Jesus. LaLa is doubtful about the coven, but Jesus knows that the magic in him is what makes him special. Before things get real, Sheriff Bellefleur barges in and demands V from Lafayette. Jason to the rescue! He escorts Andy out, and Andy apologizes, in his own way: "Must've got my drag queens mixed up." Looks like Jason's put on his big-boy panties this season.
Sookie wants her house back, but she has to go through cappuccino-drinking man-eater Portia Bellefleur. Something's off here, and our suspicions are confirmed when Sookie reads her mind. Seems someone's a bit judge-y and has her eyes set firmly on Bill Compton.
Back in New Orleans, lest we forget, Toni/Tara is enjoying a roll in the hay with her new ladyfriend, Naomi. A text from Lafayette catches her off guard. Sookie's back in town. Our girl T keeps her cool and throws a white lie about a dead grandma in Atlanta. No need to go for the funeral, she says. She'll just send flowers. Get it, Tara! Looks like A-Ball finally decided to Giveasisterabreak.org and has invigorated her story line with some desperately needed action
Trouble looms for Hoyt and Jessica. She's at Fangtasia, shaking what her mama gave her on the dance floor and getting hit on by fangbangers while Hoyt buys her drinks. All she sees are throbbing jugulars, and she runs to the bathroom to cope. Pam comes in to tell it like it is. Vampires are animals. These feelings are natural. Jessica's going to stand by her man, but doubt flickers across her face. Is this the beginning of the end?
The Hills Have People. And Horses.
Looks like Sam is dealing much better with life as a shifter. Instead of taking to the woods a lone wolf, seems Sam has found a group of shifters to hang out with. This must be those anger-management courses he mentioned to Tommy. After quaffing a few bottles of wine, off with their clothes and four horses gallop joyously into the night.
Jason's still carrying the torch for Crystal. He pulls up to Hotshot with a truck full of goodies. The hill people and feral children come scurrying out of the underbrush. Looks like Mr. Jason's been keeping them in ice cream and roasts for quite some time now. When he gets word the refrigerator's broken, Jason falls for it . He may be more responsible, but he's still dumb as a box of rocks. One knock to the head with a shovel, and into the freezer he goes.
Necromancy, Traitors, New Love
Looks like Jesus finally got Lafayette back to the coven, and good thing he did — Marnie's parrot Minerva has shuffled off this mortal coil. Marnie and the coven want to send her off to the next dimension right. Let there be Latin! The chanting takes a turn for the crazy. Marnie must really miss Minerva, because she's trying to raise the dead. Lafayette joins the circle out of resignation and a jolt of electricity passes through the coven. Minerva lives! But for a few seconds only, then dies again.
Katie from the coven rushes toward Bill's house, passing through a phalanx of secret service agents. Into a tastefully redecorated office she goes, and behind the desk is Bill, our new Vampire King of Louisiana. Is there a witch-vampire alliance being forged? Will vamps start raising the dead? Are there going to be zombies?!
Sooks has had a long day, so how better to recuperate then by taking a long shower and digging through her box of nightgowns? She tosses her robe onto the bed, and it's caught in mid-air! By Eric! He's holding a set of keys, because he bought the house. He knew Sookie was alive, and if he owned the house, he'd own Sookie. Mr. Northman growls the words we've all been waiting to hear: "Sookie. You. Are. Mine." FANGS! We swoon.
Bite Count: Zero, but we award 0.5 bites to Eric, because we KNOW once those lights dimmed that the blood will be flowing.
Related: The Five Ways True Blood Gets Back on Track in Season Four
True Blood's Ryan Kwanten on the 'Brutal and Dirty' Fourth Season, Surviving a Shark Attack, and Working Out