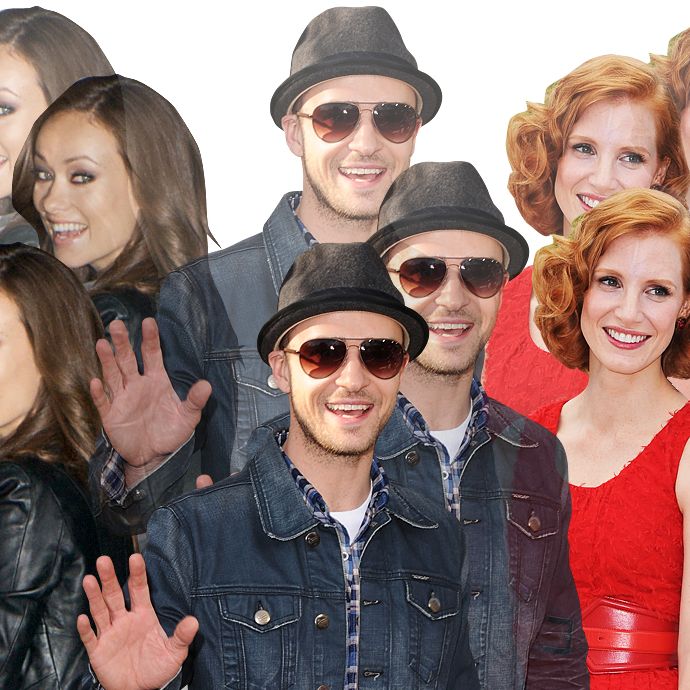 Photo: Ron Smits/London Ent/Splash News, Jason Merritt/Getty Images, Ian Gavan/Getty Images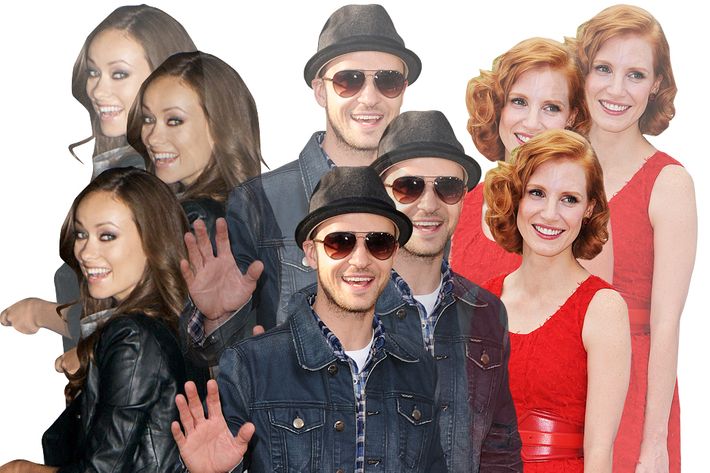 We've spent plenty of time joking about Natalie Portman's recent cinematic omnipresence — in addition to the 2010 holdover Black Swan, she starred in Thor, The Other Woman, Your Highness, and Hesher this year — but now that she's got the last of her features out in theaters and a baby on the way, it's time for some other actors to step up and challenge Portman for sheer ubiquity. With that in mind, Vulture has taken a look at the release calendar to find out who we'll be seeing a lot more of (and who we might be seeing too much of) over the next several months while Natalie enjoys a well-deserved rest.
Olivia Wilde
If anyone can pose a credible threat to Portman's determination to be in anything ever made, it's Olivia Wilde. Her stint in last year's Tron Legacy was only the beginning, as she's about to be seen in Cowboys and Aliens and The Change-Up within the space of two weeks, Butter and In Time later this year, and the already-shot Welcome to People and Blackbird in the early months of 2012. And if that's not enough, she'll also be starring in the next and presumably final season of House, starting this fall. Forget Natalie Portman … Olivia Wilde is pulling a Jude Law, as defined by Chris Rock's memorable Oscar monologue: "Why is he in every movie I have seen in the last four years? Even if he's not acting in it, if you look at the credits, he makes the cupcakes or something."
Daniel Craig
Then again, Wilde's Cowboys and Aliens costar Daniel Craig is no slouch, either. In addition to that film, he has Dream House, Tintin, and The Girl With the Dragon Tattoo all out by the end of the year. MGM's bankruptcy troubles pushed Craig's next James Bond film out of its initial 2011 berth, but he certainly hasn't lacked for work since.
Jessica Chastain
As The Tree of Life expands out of limited release, audiences will get their first look at the flame-haired Chastain, who we recently tagged as one to watch. However, if Terrence Malick's metaphysics aren't your cup of tea, you'll be able to see her opposite Emma Stone in The Help and Michael Shannon in Take Shelter, and playing a young Helen Mirren in the long-delayed The Debt over the next few months.
James Franco
What would a list of ubiquitous performers be without him? Franco will definitely be seen this summer, starting with Rise of the Planet of the Apes. Beyond that, he has The Broken Tower (which he directed), Maladies, and The Stare all in the can (and is about to shoot Cherry and a Sal Mineo biopic). Those could eventually be released in dribs and drabs, or they could all come together at the same time, like Voltron, unleashing an unavoidable Franco-beast.
Justin Timberlake
Less than a month after Justin Timberlake gets down with his former girlfriend Cameron Diaz in the R-rated comedy Bad Teacher, he hooks up with Mila Kunis in the R-rated comedy Friends With Benefits. Then, this fall, he joins fellow ubiquitous actor Olivia Wilde in the sci-fi thriller In Time, where he plays her son. (Just go with it.)
Ryan Gosling
Between Lars and the Real Girl to Blue Valentine, there was nearly a three-year gap where Ryan Gosling wasn't seen on screen. Needless to say, he's making up for lost time this year: He'll play a studly ladies man in next month's Crazy Stupid Love, a studly stuntman in Drive, and a studly political mastermind in George Clooney's The Ides of March, all out by October.
Tom Hardy
Tom Hardy instantly became one of the most in-demand actors in town after co-starring in Inception, and you're about to see the evidence of that, because, starting in a few months, it'll be all Hardy, all the time. First up is Warrior, where he stars opposite up-and-comer Joel Edgerton. Then he's got the spy film Tinker, Tailor, Soldier, Spy and then This Means War (where he also plays a spy, albeit one in love with Reese Witherspoon). The Weinsteins have his flick, The Wettest Country in the World, but haven't yet given it release date; however, July 20 of next year is already marked off for Hardy to make his biggest splash yet as the villainous Bane in The Dark Knight Rises.
Jude Law
Somebody didn't listen to Chris Rock. Since Jude Law had his busiest year ever in 2004, he's worked much more sparingly, and has even taken the occasional year off. That all changes this fall, though: He's part of the ensemble cast of Steven Soderbergh's virus thriller Contagion, then he'll spend Christmas season starring in the Sherlock Holmes sequel and Martin Scorsese's Hugo Cabret. That's a whole lot of movies by most people's standards, but it's still only half of what he put out in 2004. Still, we're sure that Natalie Portman's spider-sense is justifiably tingling.