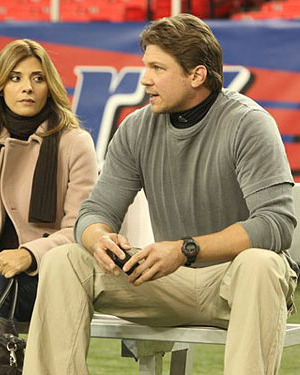 Photo: Quantrell D. Colbert/? USA Network
Necessary Roughness, a one-hour drama about a therapist who works for a football team (that's all like whaaaat we don't need therapy, one assumes), premieres tonight on USA. The problem is, twenty years ago Scott Bakula, Sinbad, and Kathy Ireland made a movie about a misfit college football team that was also called Necessary Roughness. With all due respect to the elegance of the "necessary roughness" pun — a play on the term "unnecessary roughness," considered a "personal foul" in most iterations of organized football — surely USA could have come up with at least one other worthy reference? Vulture tested the theory, brainstorming twenty alternative Necessary Roughness titles that touch upon, in wildly different levels of subtlety, logic, and appropriateness, both football and mental health care.
Here we go:


Out of Bounds


Encroachment


Roughing the Passer


Pass Interference


Down By Contact


Running the Option


Calling Audibles


Defensive Back


Sidelines


Assistant Life Coach


Neutral Zone


Throwing Out the Playbook


Zone Defense Mechanisms


First and We Have Ten More Minutes


Sudden Death Inside


Too Many Feelings on the Field


Post Troubling Mental Pattern


Tackling … the Issues


Free Associating Safeties


Blue 42 XY Flanker Split Hot Route Therapy Show


Okay, your turn!