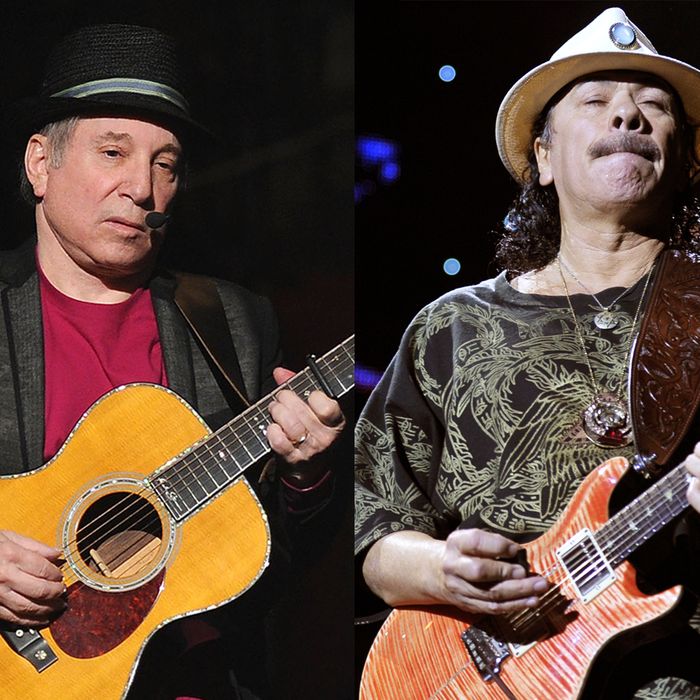 Photo: Jason Kempin/Getty Images; ETIENNE LAURENT/AFP/Getty Images/2010 Getty Images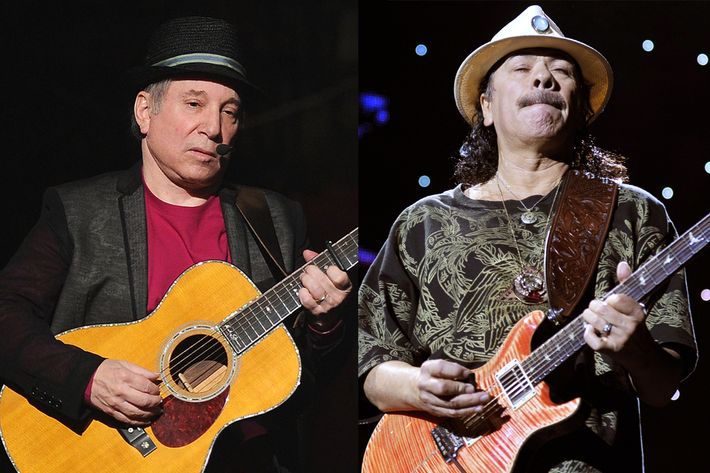 Up until last week, I'd never felt much sympathy for the Grammys, an institution that's always seemed muddled and faintly pointless. But a few months ago, the Recording Academy streamlined the awards, reducing the number of categories from 109 to 78. And then this month came the protests — musicians like Paul Simon and Santana registered their disappointment and disapproval, and Bobby Sanabria went so far as to call the changes a "subtle form of racism." The complaints tend to sound righteous, right up until you examine the eliminated categories. Once you've done that, the complaints start to look like they exemplify what's rotten about the entire Grammy system.
The most obvious new change — the one you'll actually notice during the broadcast — is that general pop awards will no longer be separated by sex, which should help them seem more like recognitions of artistic merit and less like the selection of a prom king and queen. Nobody is much complaining about that move, even though I imagine Usher and John Mayer have much to lose by it. No, the changes that have sparked protests, and strongly worded letters, are for "non-mainstream" awards, and categories the press likes to refer to as "ethnic." Latin and Contemporary Jazz no longer get their own awards; they have to compete in the whole jazz pool. And three recent new categories — for the best albums in Zydeco, Native American, and Hawaiian music — are being pooled under the larger umbrella of "Regional Roots Music."
"Latin Jazz was the one that concerns me quite a bit," said percussionist Bobby Matos — "but also Contemporary Jazz, which would mean people like Herbie Hancock and Wayne Shorter."
The Contemporary Jazz category, for the record, has existed for just under twenty years. In that span, it has been won six times by guitarist Pat Metheny, and four by trumpeter Randy Brecker. I have nothing bad to say about the artistry of either Metheny or Brecker, but it seems to me that any award they win more than 50 percent of the time could easily be replaced by their respective friends and families throwing them more lavish birthday parties than usual.
As for the Latin Jazz category: Over the past ten years, it has been won three times by Chucho Valdés (once with his father Bebo), twice by Eddie Palmieri, and twice by Charlie Haden. Lest you think its elimination will leave the Valdés family high and dry, we should note that Bebo has also won, over the past ten years, two awards in the Best Tropical Latin Album category (which remains a going concern), and three jazz awards from the Latin Grammys.
Meanwhile, the overall Jazz Instrumental Album category is constantly won by, um, Herbie Hancock, Wayne Shorter, and Chick Corea. Would it be so terrible for all these people to actually compete against one another, and take home one Grammy a decade, instead of three?
The award for Best Zydeco or Cajun Music Album? It's been given out four times so far; the Pine Leaf Boys have been nominated every time. (Cedric Watson and Michael Doucet follow, with three nominations each — one year, Doucet was on two different nominated albums.) Native American Music? It's been awarded since 2001: Mary Youngblood and Bill Miller each have two wins. The award for Hawaiian music has been handed out seven times, five of them to projects helmed by producer Daniel Ho. Does it require a whole award to remind the world, annually, that the Academy thinks Daniel Ho is the be-all and end-all of Hawaiian music?
Is this a "subtle form of racism?" Dodai Stewart, writing about the changes at Jezebel, claimed that "basically, the Academy is lumping together these 'ethnic' artists into a ghetto of 'otherness.'" And it's true that the Academy didn't see fit to combine similar awards for folk, bluegrass, and Americana, which are every bit as predictable. But all they've really done is pool the styles with the lowest number of entries. It's not precisely a pool of "otherness," either — one of the qualifying traditions is polka, whose own award was eliminated in 2009, having been won 18 out of 25 times by Jimmy Sturr and His Orchestra. (Sturr is now one of the top Grammy winners of all time, tied with Aretha Franklin, Paul McCartney, and … Pat Metheny.) This particular definition of "otherness" includes huge chunks of white people in Wisconsin.
Meanwhile, styles of non-roots music with far more releases and internal breadth are still uncomplainingly lumped together. The new rules have combined two separate awards into a single Best Hard Rock/Metal Performance category: Nobody expects the Academy to hand out individual Grammys for death metal, black metal, and grindcore. There are only two categories for the whole of "Dance/Electronica": Producers of minimal techno are not sending letters. There's one award for "alternative," not individual ones for, say, indie-rock, emo, and punk. The majority of music made on the planet falls into a single category — Best World Music Album.
The people complaining about the loss of these "non-mainstream" categories aren't really asking for a fair distribution of categories; they're asking for patronage. They're asking for the Recording Academy to act as a booster club and preservation society — to recognize and support these traditions as a special interest. Never mind that this is a kind of support new and fragile musical traditions don't get. Never mind that people in each of these genres are more than capable of recognizing their own achievements, and probably more effectively than the Academy does. (Hawaiian musicians have already complained that the Grammys don't seem to have heard of any of them besides Daniel Ho — who, for his part, seemed okay with the category's elimination, if only out of embarrassment.) Every other genre not recognized by individual institutional awards manages to find its own support system, right?
Combining some of these categories only stands to make them more useful. Tell me that the Recording Academy enjoyed a Pat Metheny record, and you have told me nothing. Tell me that it's actually the best jazz record released all year, contemporary or otherwise, and we're getting somewhere. Tell me that the Pine Leaf Boys' latest is not just another good zydeco album, but more of a standout than the year's offerings from Daniel Ho and Grammy legend Jimmy Sturr, and you're closer to telling me it's something I might want to pick up. If the Grammys could chop out another 40 awards or so — I'd start with "Best Rap/Sung Collaboration" and one of the two awards for packaging — they might even get time to hand that one out on TV.