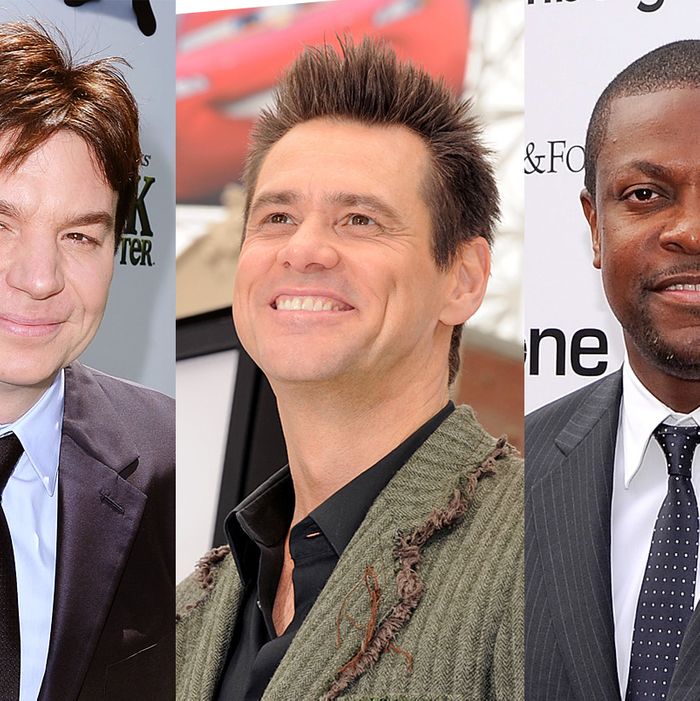 Photo: Kevin Winter/Getty Images for Paramount Pictures , Kevin Winter/Getty Images, Jemal Countess/Getty Images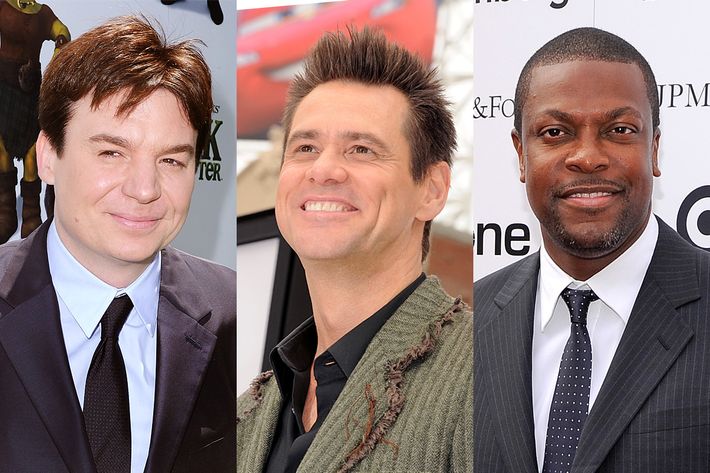 This Friday, you can catch Jim Carrey in the family comedy Mr. Popper's Penguins, and while it may signal that Carrey is entering a mid-career phase pioneered by Eddie Murphy (where formerly rambunctious comedy stars now share scenes with cute kids and even cuter animals), it closes the book on another chapter: Carrey's hiatus from the screen. Penguins will be the first live-action film Carrey has starred in since early 2008, when he finished filming I Love You Phillip Morris; that film hit several distribution snags and didn't make it into theaters until the end of 2010, but in the meantime, Carrey essentially took a few years off from his career — and he's not the only big comedy star to have done so.
Carrey would have had to take a much bigger breather to catch up to Mike Myers, who's become a virtual big-screen recluse. After The Cat in the Hat bombed in 2004, Myers didn't make another live-action movie for five years, instead drawing Shrek paychecks for a few days of work once in a blue moon. When Myers did resurface, it was with the calamitous The Love Guru, and aside from his single-scene cameo in Inglourious Basterds, he hasn't been seen in a movie since.
Still, no one tops Chris Tucker when it comes to a huge comedic star burrowing underground. After a promising 1997, when Tucker starred in Money Talks, The Fifth Element, and Jackie Brown, he became a superstar the next year with the first Rush Hour. In the thirteen years since, though, Tucker has made only two movies, and both were Rush Hour sequels. Studio executives that were initially eager to work with the actor have all but abandoned him, and he's thought to be practically unreachable when it comes to movie roles, having essentially turned his back on the business.
For Carrey and Myers, a vacation from the big screen could be seen as emblematic of a midlife crisis, but plenty of comedians have walked away after experiencing early success, too. Bill Murray took several years off after Ghostbusters made him the hottest prospect in Hollywood, simply because his dramatic debut in The Razor's Edge went unheralded that same year. (The mercurial Murray may need more coddling than his non-comedic counterparts: When he lost the Best Actor Oscar to Sean Penn in 2004, host Billy Crystal had to publicly plead with Murray not to stand and leave the ceremony.) Dave Chappelle took things even further, and after he walked away from his hit Comedy Central series Chappelle's Show in 2005, he quit acting altogether.
It shouldn't come as a surprise that comedians are a little darker than their screen personas would suggest, but who knew they were capable of so much drama? It's rare that other actors exhibit the same behavior; while they may take the occasional break from work, dramatic actors usually have better motivated excuses, like spending time with their kids or rehab. Could it be that our comic superstars get burned out fast, or are they simply more prickly than your usual actor?
Whatever the reason, those MIA actors are making the Judd Apatow troupe look better in comparison. The neuroses seem lower with actors like Seth Rogen, Kristen Wiig, and Jonah Hill, all of whom seem appreciative to get work, not eager to shun it. (Most of them can't pull the $20 million paycheck that Carrey and Myers would get in their heyday, but maybe they're better off for it.) When you look at all the actors who abruptly hit pause on their careers, it's no wonder that Steve Carell has become the industry's go-to guy for new comedy scripts: No one would have begrudged the actor some time off after leaving The Office, but he leapt right into a new movie, and his dance card has filled up with new projects. After all, he told the Guardian last year, he never aspired to become a movie-making diva. "I never dreamt of it," he said. "I honestly didn't. I dreamt of being employed. I set the bar there for myself. I dreamt of being able to make a living doing something that I love." Carell makes it sound so simple that you want to pose the question to Carrey and his brethren: Where has your love gone?