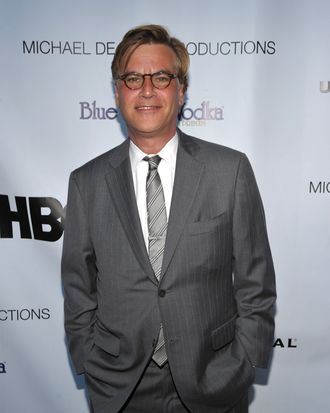 Photo: John Shearer/2011 Getty Images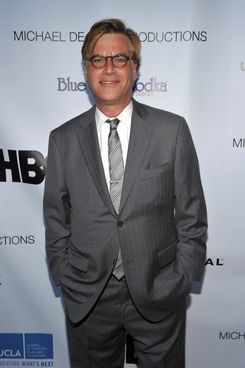 While he was writing the pilot script for his new HBO project More As This Story Develops, Aaron Sorkin reportedly spent some time on the set of Hardball With Chris Matthews. Makes sense, since Develops is a behind-the-scenes take on an all-news cable network. Likewise, it's not all that surprising that Sorkin would ask the camera-friendly MSNBC host to make a cameo appearance in the pilot: From Helen Thomas in The American President to Matthews himself in a 2005 episode of The West Wing, there's a history of journos playing themselves in movies and TV shows created by Sorkin. Unfortunately, Vulture hears that plans for Matthews to shoot a roundtable debate scene in Develops alongside conservative muckracker/ Weiner-eater Andrew Breitbart have had to be scrapped because, according to a production insider, Matthews's bosses at MSNBC nixed the idea.
It's not like MSNBC has a blanket no-scripted-programming order for their anchors: Matthews played an MSNBC reporter two years ago in the Russell Crowe pic State of Play. And a guest spot on Sorkin's show would likely be good for publicity; assuming it goes to series, Develops will likely boast an audience filled with the sort of left-leaning smarties targeted by the news-and-opinion network. So what was the problem? Our spy speculates that even though Sorkin's ideology meshes with MSNBC's, the network's brass may have taken issue with the way More portrays the world of cable news and its corporate culture. In the pilot script we've seen, it's a land of egomaniacs working for wealthy drunks. (UPDATE: Our source has further elaborated to us that MSNBC also didn't like the fact that parts of the show seemed to be skewering left-leaning media.)
Interestingly, the lead character (to be played by Jeff Daniels) is a passionate, liberal Keith Olbermann–esque character who comes off as a jerk. Since Olbermann left MSNBC on bad terms (and, in his press rounds for his new Current TV show, missed few opportunities to take shots at his old home), you'd think execs would welcome the chance to have Matthews be part of a show that tweaks him back. We asked reps for MSNBC and Matthews, but they had no comment. HBO also declined comment, noting More is still in the pilot stages and that neither Matthews nor Breitbart have ever been confirmed as cast in the project.